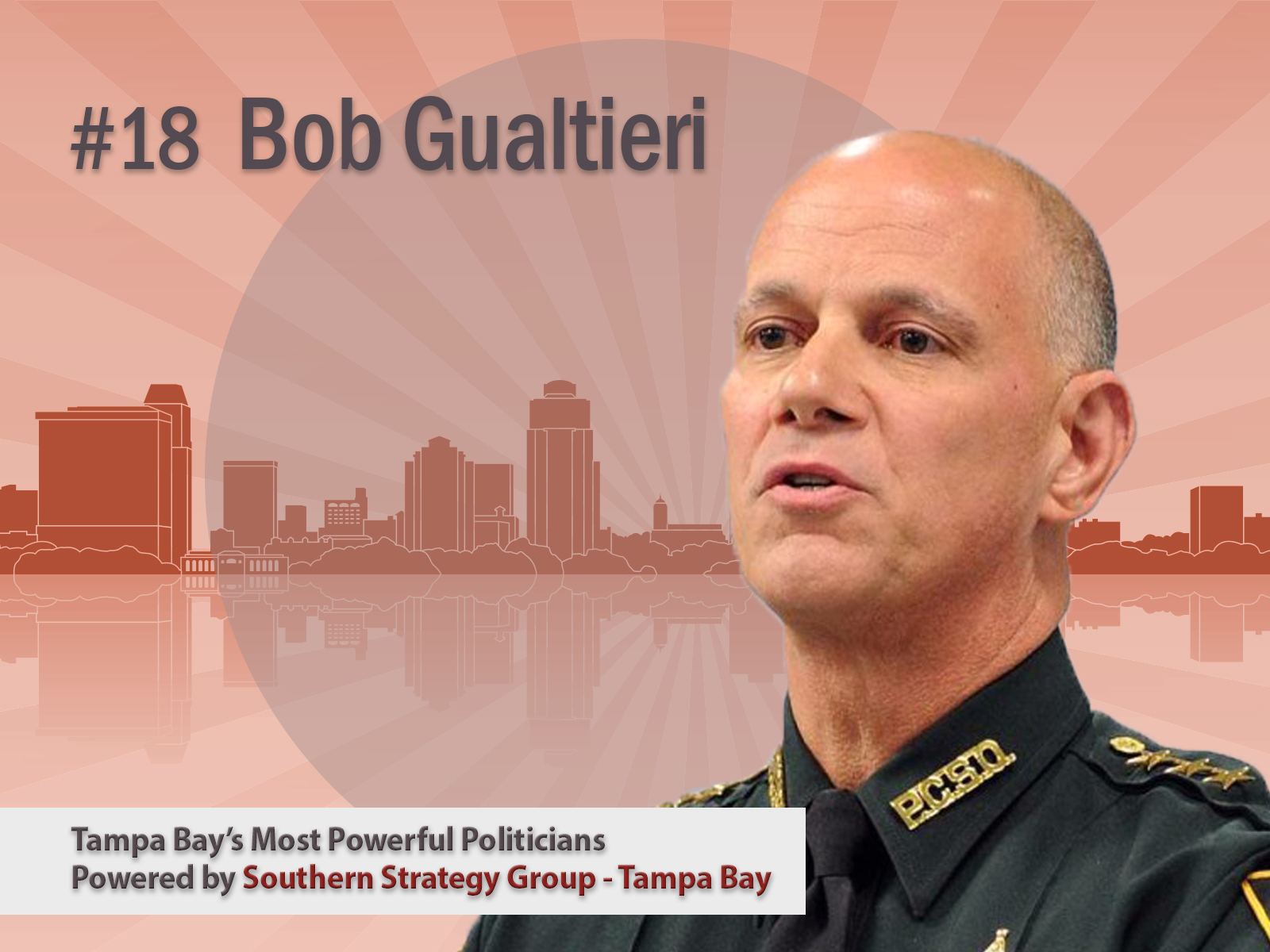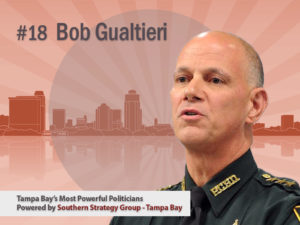 As sheriff of the most densely populated county in the state, Pinellas County Sheriff Bob Gualtieri's role goes well beyond overseeing the department's day-to-day. He's often caught in the middle when hot-button national issues and law enforcement collide — and that's a responsibility he appears to embrace.
Gualtieri first took office in 2011. He successfully fended off a tough re-election challenge from former Sheriff Everett Rice the following year and easily won another term four years later.
Though he's sheriff in a county with an incredibly diverse constituency, he's never shied away from his espousal of Republican politics. He's often a presence at campaign rallies for Republican candidates.
A top cop being a card-carrying member of the GOP certainly doesn't make Gualtieri unique.
What does make him stand out is his willingness to have a dialogue with those who don't agree with him.
Take immigration.
Earlier this year, Gualtieri took a ton of flak for spearheading a controversial agreement between 17 Florida county sheriffs and Immigration and Customs Enforcement that critics. It stipulated that the 17 agencies would hold undocumented immigrants arrested and released on unrelated charges for 48 hours to give ICE a chance to pick them up and, likely, deport them.
He could have ignored the people who disagree with him, but he chose dialogue. In April, he participated in a debate with members of the Florida Immigration Coalition at Allendale Methodist Church, a hub of progressive activity in St. Petersburg. It's highly doubtful any minds were changed, but in an ultra-polarized political climate like this one, to even participate in a conversation with ideological opposites is brave.
He also wasn't afraid to take part in the complex policy debate that took shape in the wake of the Parkland massacre.
In March, Gualtieri was tapped to lead a commission that included state Sen. Lauren Book, a South Florida Democrat, and two fathers of murdered Parkland students on the Marjorie Stoneman Douglas High School Public Safety Commission, which aims to examine the shooting and what could have been done differently to save lives.
He's also been a large part of the local conversation about how to fund the upcoming batch of armed school resource officers the state now mandates. That, of course, requires a dialogue with the majority-Democrat Pinellas County Commission, an entity with which he enjoys a positive relationship despite political differences.
"Mutually respected by both Republicans and Democrats statewide, Sheriff Gualtieri has one of the best relationships in history with his County Commission and has also been a powerful policy advocate in Tallahassee," Southern Strategy Group's Laura Boehmer said.
Given his passion, media presence and talent, one might be inclined to wonder whether he has any sights on a run for the legislature, Congress or something else in 2020. Stay tuned.
Gualtieri was No. 14 on last year's list.
For a complete explanation of how this list was created and who made up the panel that amassed it, please read here.