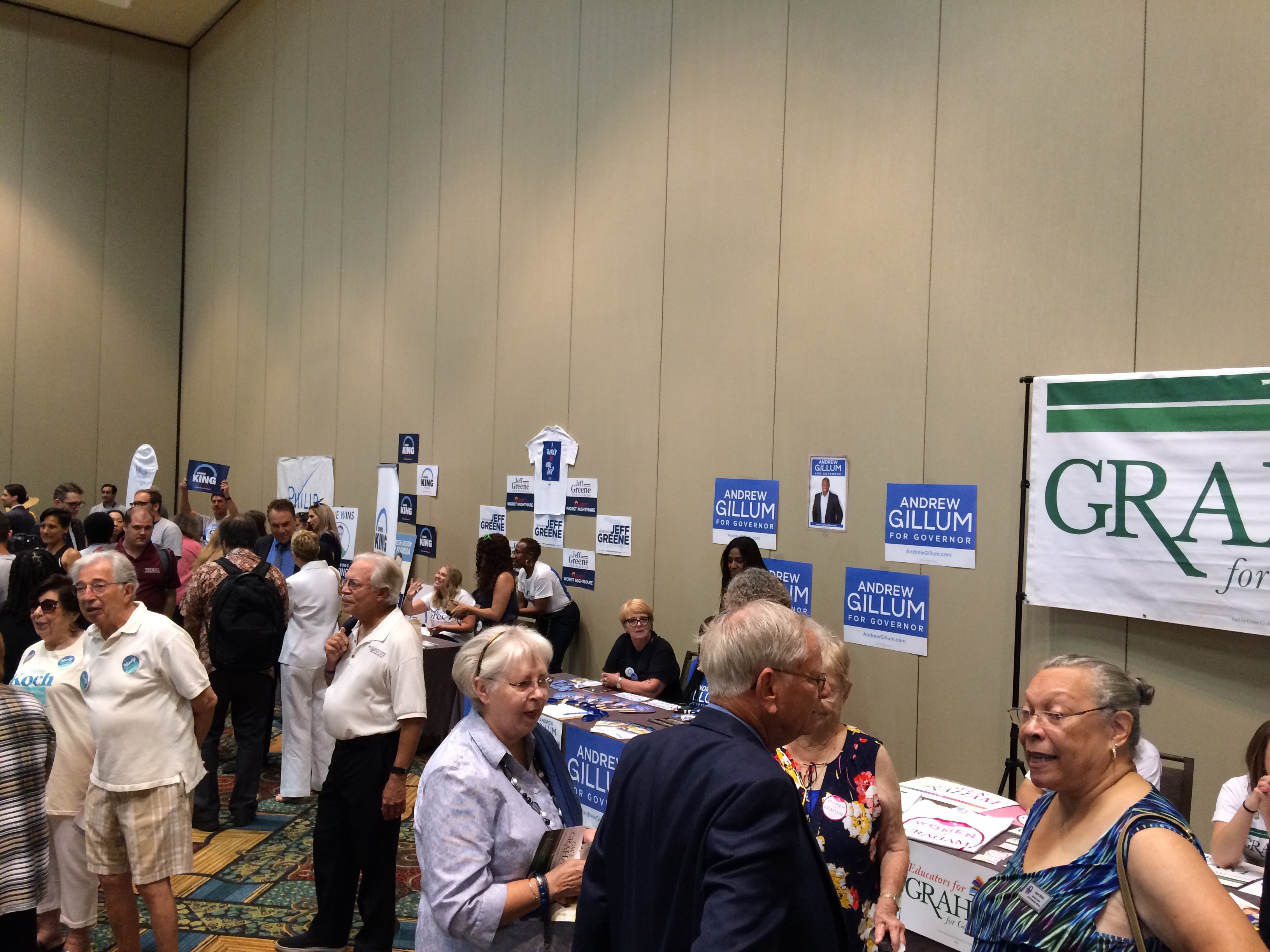 Voters and activists have packed The Diplomat Hotel through the weekend during the Democrats' Leadership Blue summit. Saturday, they got their chance to meet the campaigns up close.
Volunteers, and even some of the candidates, set up to meet with party loyalists and give their pitch on why their team will be the winning team come August.
Jessica Cottrill, a volunteer for the Chris King campaign, was particularly passionate. "I've been around politics since I was eight years old. And I've never been this driven, this excited by any candidate." She said only Barack Obama's presidential run in 2008 came close.
When asked what drove her support for King, Cottrill said, "He doesn't say things unless he's really invested time and studied the information. He's just brilliant."
The most raucous group of supporters belonged to the Levine campaign, who flooded the room around the candidate as he entered.
But Levine volunteers said that enthusiasm isn't just a coordinated stunt. It comes from the atmosphere inside the campaign.
"He is someone that all of us really, truly believe in. And that is why we have so much excitement coming from our team," said Marissa Weiner.
Kevin Simauchi, another Levine volunteer, added, "The campaign is a family. Everyone looks out for each other."
During a visit to Jeff Greene's section, the candidate himself jumped in, sounding confident in his position in the race. He noted Levine, the self-described frontrunner of the race, running nearly even with Gwen Graham in some polls. "Not that impressive after a year of campaigning."
A representative from the Andrew Gillum campaign highlighted recent signs that the campaign is gaining steam.
"It's going great. We've got lots of momentum going right now," said David Metellus, Deputy Field Director with the Gillum campaign.
He referenced recent campaign events as well as the endorsement and financial support of billionaire Tom Steyer.
"We have a great group of volunteers," he added, noting it will will be that group which puts the campaign over the top.
Graham saw similar excitement at last night's "Women for Graham" rally. And the Democrats are looking for this sort of passion, as they seek to take over the governorship for the first time this century.
Despite their campaigns' respective confidence, only one will be successful comes August 28, when Democrats head to the polls to choose their nominee.