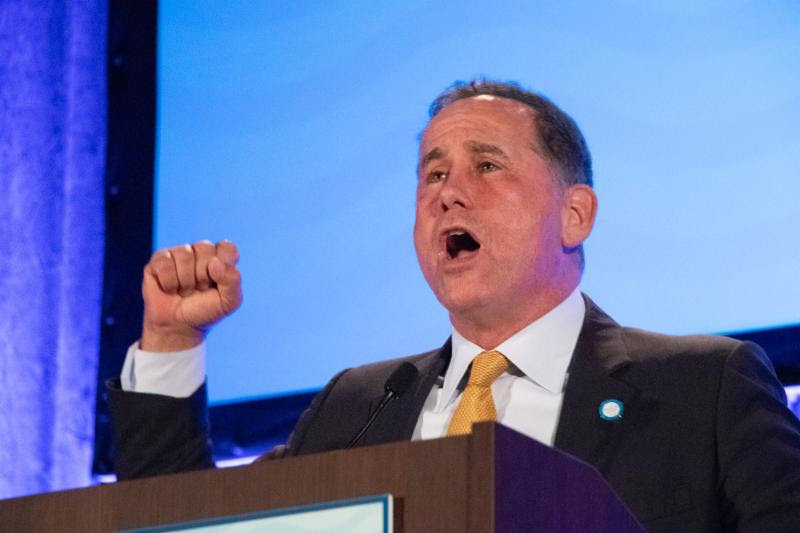 Philip Levine is fighting hard to hold onto his slight lead in the polls, as he made the rounds at the Leadership Blue conference at The Diplomat Hotel in Hollywood.
The event provided candidates with the opportunity to connect with activists and interest groups, providing at least 14 different caucuses advocating for different constituents.
Levine praised the format in comments to Florida Politics. "I think that it's giving everyone the opportunity, especially with these caucuses, to address very specific issues with folks from different segments of society."
He also hit on a range of issues during the conversation, starting with the health care system. Levine bashed outgoing Republican Gov. Rick Scott's handling of health care, particularly his refusal to expand Medicaid under the Affordable Care Act.
"We're going to accept and demand more Medicaid expansion money. This governor, for ideological purposes, played up to the Tea Party and he turned his back on Floridians. He turned his back on hospitals. He turned his back on so many people that don't have health insurance."
Levine also touched on the opioid crisis hitting Florida and the country as a whole. Once again, he put blame on the Scott administration for its failure to crack down on big pharma.
"It's a shame that the current administration waited eight years to sue the pharmaceutical companies," said Levine.
"If I'm governor, we're going to ramp up those lawsuits against the pharmaceutical companies and we're going to demand millions and millions of dollars so that we can put it into opioid addiction fighting."
The former Miami Beach mayor also put forward a three-point plan on education.
"Number one, we're going to invest in it. Number two, we're going to pay our teachers $10,000 more than they're earning now so they get a competitive national salary. Number three, we're going to create ESA, the Education Security Administration, where we begin to harden our schools and make the more secure."
Levine compared that latter proposal to the establishment of the Transportation Security Administration, or TSA, following the attacks on September 11, 2001.
He added he wants to stop investing in charter schools and put that money toward the public school system instead.
Like billionaire Jeff Greene, Levine has faced criticism from Andrew Gillum over his wealth and how it would affect his decision-making when in office. But Levine says those criticisms are misguided.
He cited his history in business, building a booming marketing business from just $500 in capital.
"After I was successful at that, I decided to give back and help the state that helped me. And I think that what's most important is to understand the formula that made our country successful, and that's called the American dream."
Leinve continued, "That's the basis that all Americans seek. That's the basis that all immigrants come to our country for, is to live the American Dream. Every organization has a formula. Coca-Cola has the syrup. We have the American dream."
Whether that message will play in a Democratic primary, whose base is increasingly skeptical about the fairness of the U.S. economy, remains to be seen.
Then again, Levine is performing well in the polls so far. If that translates into votes, he'll be able to take that message all the way to November's general election.