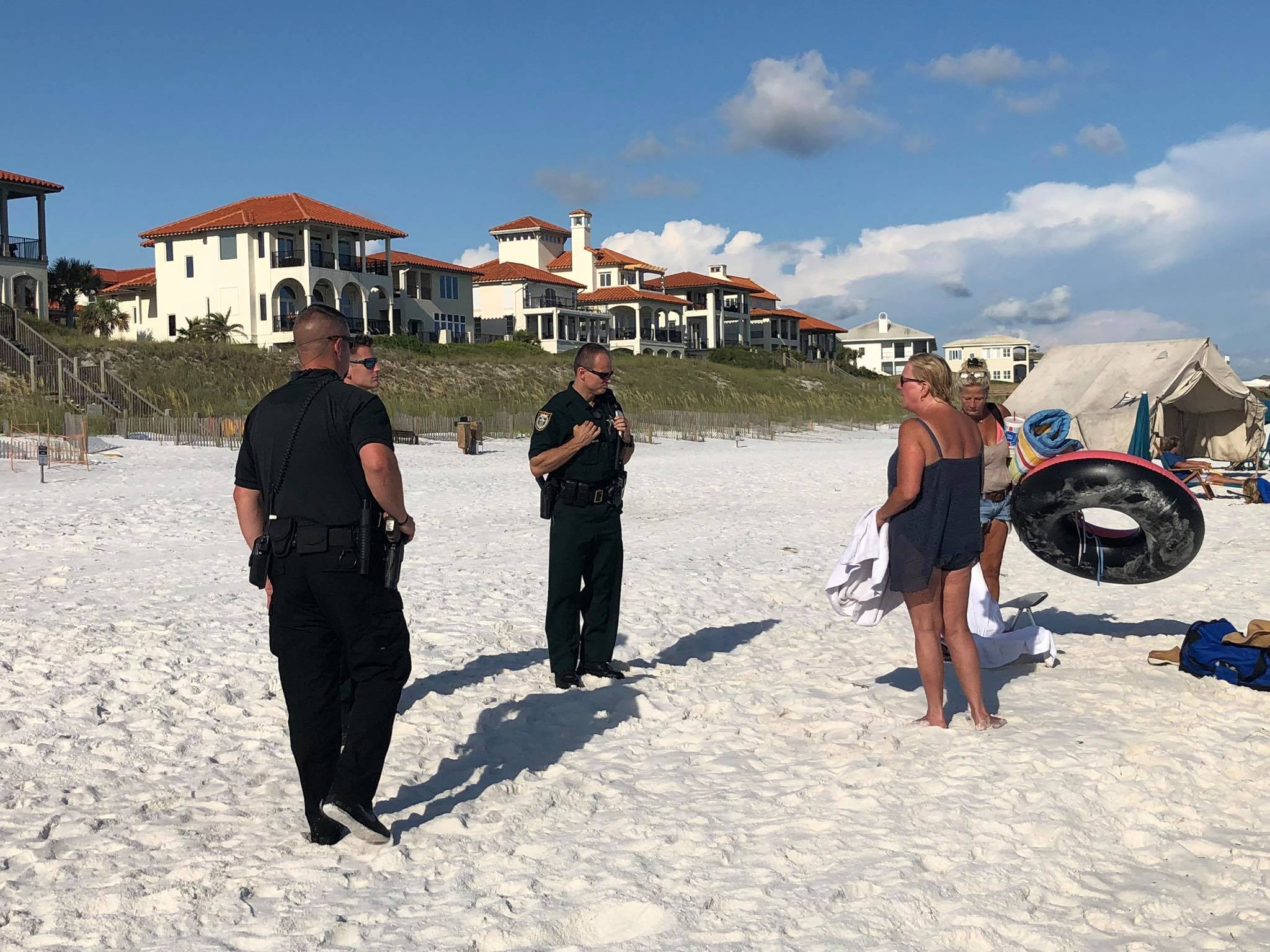 "It is so confusing."
That's the takeaway of Walton County Sheriff Michael Adkinson Jr., regarding the state of public access to private beaches following the enactment of HB 631.
Adkinson spoke with Florida Politics after a Facebook posting over the weekend appeared to show a confrontation resulting from the new law in Walton County's Santa Rosa Beach area.
According to Ryan Nesset, who authored the post and appears to oppose the law actively, "The two ladies were told they were trespassing on a private beach in Walton County, Florida today.
"They were told if they did not move they would be arrested, all thanks to the new private beach law that went into effect on July 1. The law removed the customary use ordinance that the county had that said all the beaches are for the public."

His post had nearly two thousand shares at the time of this article's publishing.
Adkinson, however, says the characterization is overblown, noting the women agreed to leave before ever being threatened with arrest.
In the past, the public has been allowed to use certain portions of these private beaches under what's known as "customary use."
The Florida Supreme Court has ruled that private beachside property owners cannot restrict access to the beach for people who have used the area for years, so long as that use had been "ancient, reasonable, without interruption and free from dispute."
Many feared HB 631 would change that reality. The bill went into effect on July 1 after being signed into law by Gov. Rick Scott back in March.
The law aimed to change the process by which local governments could ensure public access to privately-owned beaches.
Previously, city and county governments were able just to pass an ordinance granting public access to those privately-owned beaches.
But HB 631 pre-empted local governments from taking that action the future. Instead, if a local government wanted to make those beaches available to the public, it would must first to sue the private landowners and obtain approval for a new ordinance from a judge.
To be clear, this law did not affect publicly-owned beaches. Examples include Miami Beach, which is owned by the city, or any beaches which are part of Florida's state parks system. Those beaches have always been, and will remain, open to the public.
But access to private beaches has changed, according to Adkinson: "You can't be on these beaches without permission."
He says under HB 631, beaches that are part of private property are now equivalent to a person's backyard. "There's absolutely no difference between a neighborhood home in the middle of somewhere, and walking on the beach."
That stands in stark contrast to statements from some supporters of the bill.
"Our right to enjoy the beaches is protected by the Florida Constitution," wrote GOP state Rep. Paul Renner of Flagler County, a supporter of HB 631. "Neither the Legislature nor the county can interfere, period." Renner also is slated to be House Speaker in 2022-24.
He made those comments in a guest article for the Palm Coast Observer. In it, he argued public access to these beaches would remain.
"The new law does not change Florida law relating to customary use, so the outcome is the same; but it does streamline the process to save time and money for everyone involved, including the government and the taxpayers who fund it."
The only changes, he argued, would be the process by which local governments could enact "customary use" ordinances.
"Through the courts, Florida law has recognized our right to the 'customary use' of that private property because we have been using it for years. Those rights are completely preserved under the law just passed. Stated differently, your rights and mine to use the beach have not changed one bit."
Scott's Communications Director John Tupps also issued a statement to Florida Politics disputing the law's effect. "This law does not 'ban' or privatize in any beach in Florida. If a local government wants to expand the public beach area, this bill simply outlines the legal process to accomplish that."
Tupps also noted the bill received support from Democrats as well, including state Rep. Katie Edwards-Walpole. "We're not talking about privatizing beaches," she said to the House Judiciary Committee, in comments reported by the Tampa Bay Times.
Not so, Adkinson says. And he warns other counties may be dealing with this issue in the future.
"Anybody that is saying this doesn't affect them, or 'we don't have this problem,' simply does not understand the issue."
Further complicating matters, there remain areas on private beaches where public access is still allowed, even under the new law. Regions undergoing nourishment are one such exception, and Adkinson says this was the source of the confusion regarding the women from Nesset's Facebook post.
"They were saying where they were was re-nourished. And it actually was not." The sheriff says after the women were informed they were not in a nourishment area, they voluntarily left.
But Adkinson also says he hopes Walton County settles this issue soon, even if that means going to court to secure the ability to pass a new ordinance.
He made clear he's not taking a public position on the law, and is there to enforce the rules either way. But he says the public should be spared from such confusing changes regarding what is and isn't allowed.
Case in point, the 1st Judicial Circuit State Attorney's Office, which covers Walton County, reversed positions in a week over whether to prosecute trespassing on private beaches.
After originally saying prosecuting such offenses would be unfair before a court's decision on a new ordinance, the office changed course and said decisions would be made on a case-by-case basis to "determine if criminal charges are appropriate."
Nevertheless, Adkinson says his sheriffs aren't looking to arrest anyone outright.
"We are not going to be actively arresting people for trespassing. We are going to mediate, and we are going to find ways to mitigate this issue and balance the best interests of the public and the rights of the private property owner."