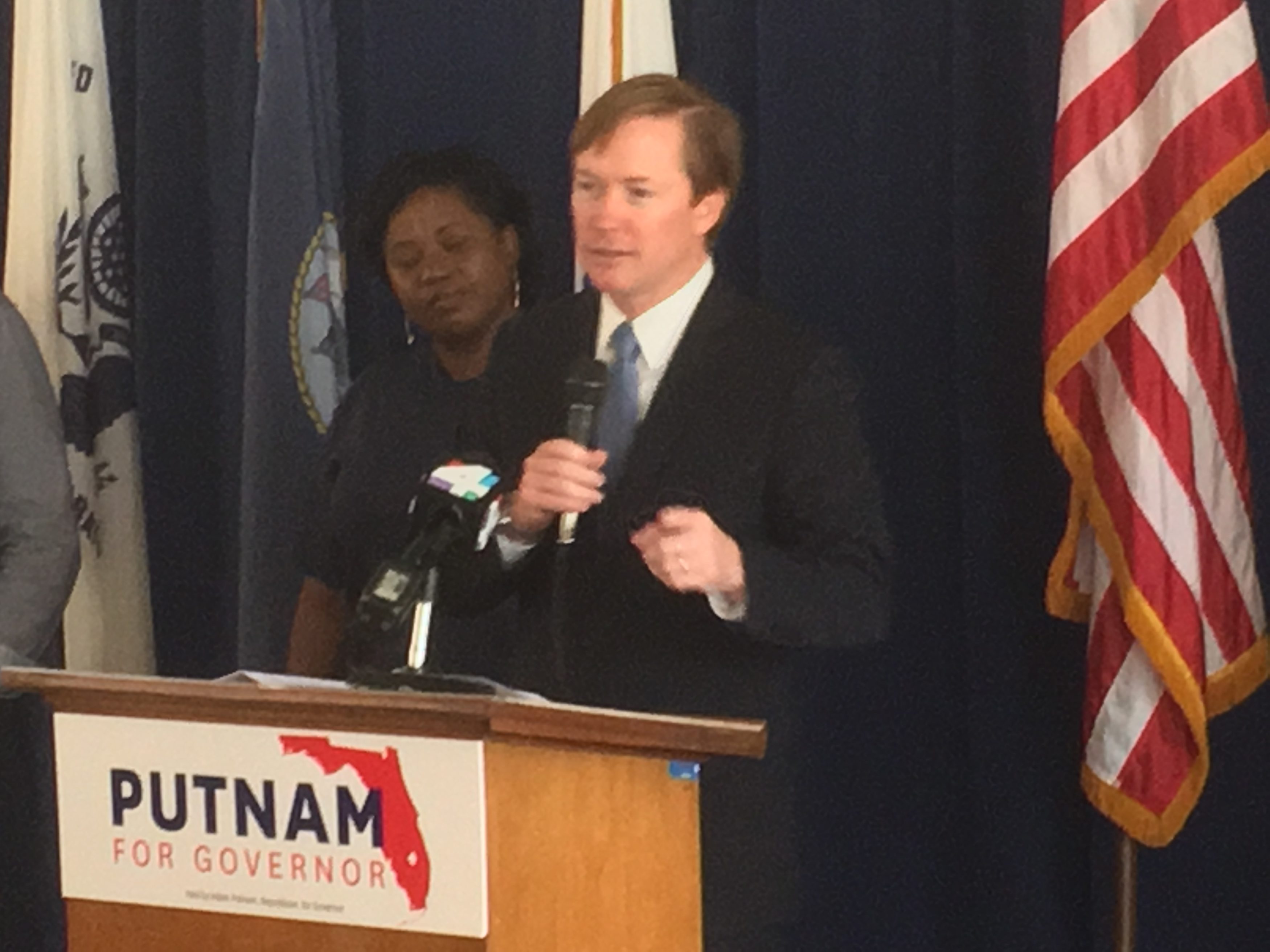 Friday saw Agricultural Commissioner Adam Putnam, a Republican gubernatorial candidate, in Jacksonville pushing his "Florida Military and Veterans First Agenda."
Among the planks to that agenda: expanding nursing home beds and offering veterans' support hotlines; extending homestead exemptions to surviving spouses, and "protecting and growing" the military; and protecting the Joint Gulf Range and Jacksonville Range Complexes for training.
Putnam has a history of drawing strong crowds in Jacksonville, but Friday's was not one of them. The event started late, and attendees were urged to sit close to the front.
Putnam, who seemed to be the presumptive Republican nominee for months, has a fight on his hands. He's running against U.S. Rep. Ron DeSantis, who actually was a veteran and reminds audiences statewide that his opponent went from college to a career in politics. President Donald Trump backs DeSantis (in spite of Putnam's boosterism on Twitter), and so does the Koch machine.
Meanwhile, more than one consultant polling the governor's race says that the DeSantis swing in recent public polls is reflected in their internals.
The candidate, when asked if he worried that the campaign was slipping away, said "I wake up every day worried. I'm fighting to the bitter end."
"We're running a grassroots campaign … a Florida First campaign … a substantive campaign," Putnam said, noting that he's rolled out "a jobs agenda, a family agenda, a public safety agenda, and now a veterans' agenda."
We asked Putnam why Trump and the Koch brothers back his opponent. His answer was non-responsive to the question.
"I'm focused on my campaign, and I'm focused on a Floridians' campaign," Putnam said, noting that 2/3 of Florida's elected sheriffs have endorsed him.
With Donald Trump Jr. coming in to stump with DeSantis, and the President himself potentially doing the same, we asked Putnam if his criticisms of Trump during the 2016 primary season would come back to haunt him.
Putnam, as a Breitbart hit piece noted, "called Trump 'abhorrent and dishonorable,' 'vile and obscene,' and asserted that Trump is not "a level, steady, consistent guy who is well-read."
We wondered, specifically, what has changed since 2016 and now.
"I support the President. I support Trump's agenda. I've been very clear about that," Putnam said.
"I think that what he's doing to lower our tax burden, to unleash the power of American entrepreneurs is outstanding. I love what he's doing on denuclearizing North Korea. And so many other things."
"Like many people, including my opponent, we supported other people first, but we both support the President." Putnam said.