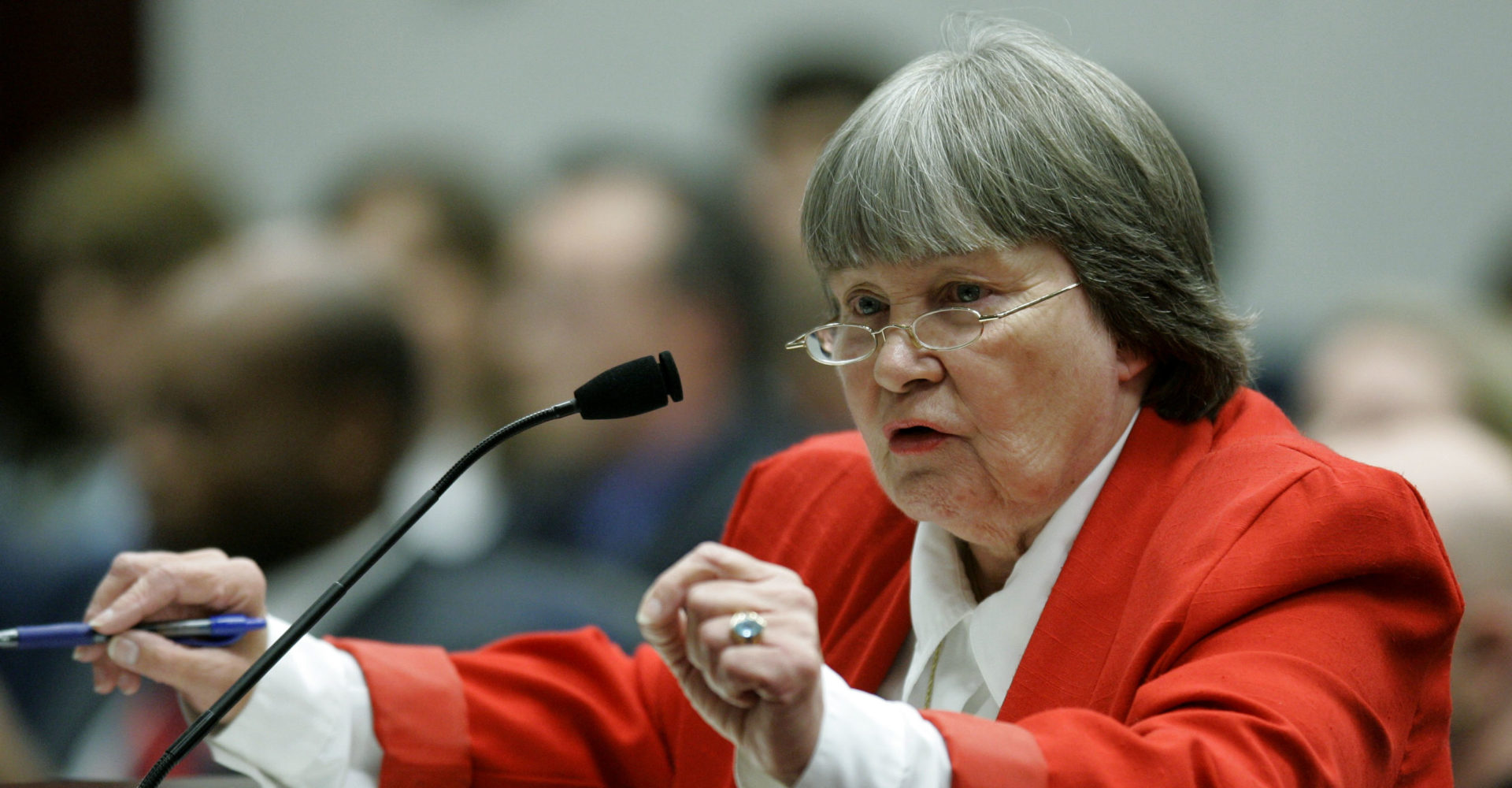 Veteran Florida-based National Rifle Association lobbyist Marion Hammer is seeking $1 million in damages, saying she was harassed and threatened by four men from across the country.
Hammer filed a lawsuit, including a motion for preliminary injunction, in federal court in Tallahassee on Friday. The case was first reported by the Tallahassee Democrat.
She described herself as "a 79-year-old grandmother and nationally renowned civil rights advocate who has spent the better part of her life protecting the Second Amendment to the U.S. Constitution."
Hammer is the "victim of cyberstalking, harassment, intentional infliction of emotional distress, and intrusion upon seclusion under Florida statutory and common law," her complaint says.
Her verified complaint says her troubles began after "the tragic shooting that occurred at Marjory Stoneman Douglas High School and continuing after the national debate over gun control took center stage." A Feb. 14 mass shooting at the Parkland, Broward County high school left 14 students and three staff members dead.
She lobbied against the "Marjory Stoneman Douglas High School Public Safety Act" eventually passed by lawmakers and signed by Gov. Rick Scott, billed as a "comprehensive approach to addressing issues (of) firearm and school safety, and community mental health resources."
Hammer soon became "the target of a coordinated attack intended to humiliate, harass, and cause substantial emotional distress," the complaint says.
"For example, Hammer received the same postcards from various individuals throughout the United States, often mailed from the same location," it says. "In several instances, the content of the communications (including email and social media) Hammer received used the same specific terms and phrases, thus demonstrating direction and cooperation."
The complaint includes a long list of vituperative messages she says she has received, most using epithets and foul language.
"Whenever she is in public she worries that the people who have been harassing her will confront her and that a confrontation could turn violent," it adds. "… She adjusted her schedule and the places she eats with her family so that they are not predictable. Her entire family group does not go anywhere together any more."
The named defendants "sought out Hammer's e-mail address" and one sent her "graphic photos of gunshot victims, including an unidentified person in a hospital bed with gaping leg wounds, and a photo of President John F. Kennedy's head after he was assassinated."
Others consisted of "indirect and/or direct threats accompanied by humiliating and abusive personal attacks."
Hammer said she's not alone, mentioning Republican Attorney General Pam Bondi being recently "confronted and harassed by protestors" coming out of a theater in Tampa where she had watched a Mr. Rogers documentary, and state Sen. Dana Young, a Tampa Republican, being yelled at that she had "blood on her hands" and called a "killer" and "murderer."
She seeks an court order forbidding further communication to her from the defendants, calling it "beyond all bounds of decency" and "odious and utterly intolerable in a civilized community."
"Harassment is not speech: It is wrongful conduct that may take the form of speech," the complaint says. "Consequently, it can be enjoined without running afoul of the First Amendment."
She's represented by attorney Shane B. Vogt of Tampa.
Updated at 6:15 p.m. — The News Service of Florida reports a similar second lawsuit was filed later in the day by Hammer in Leon County Circuit Civil court against Brian Fitzgerald, identified as a 66-year-old resident of Miami-Dade County.
__