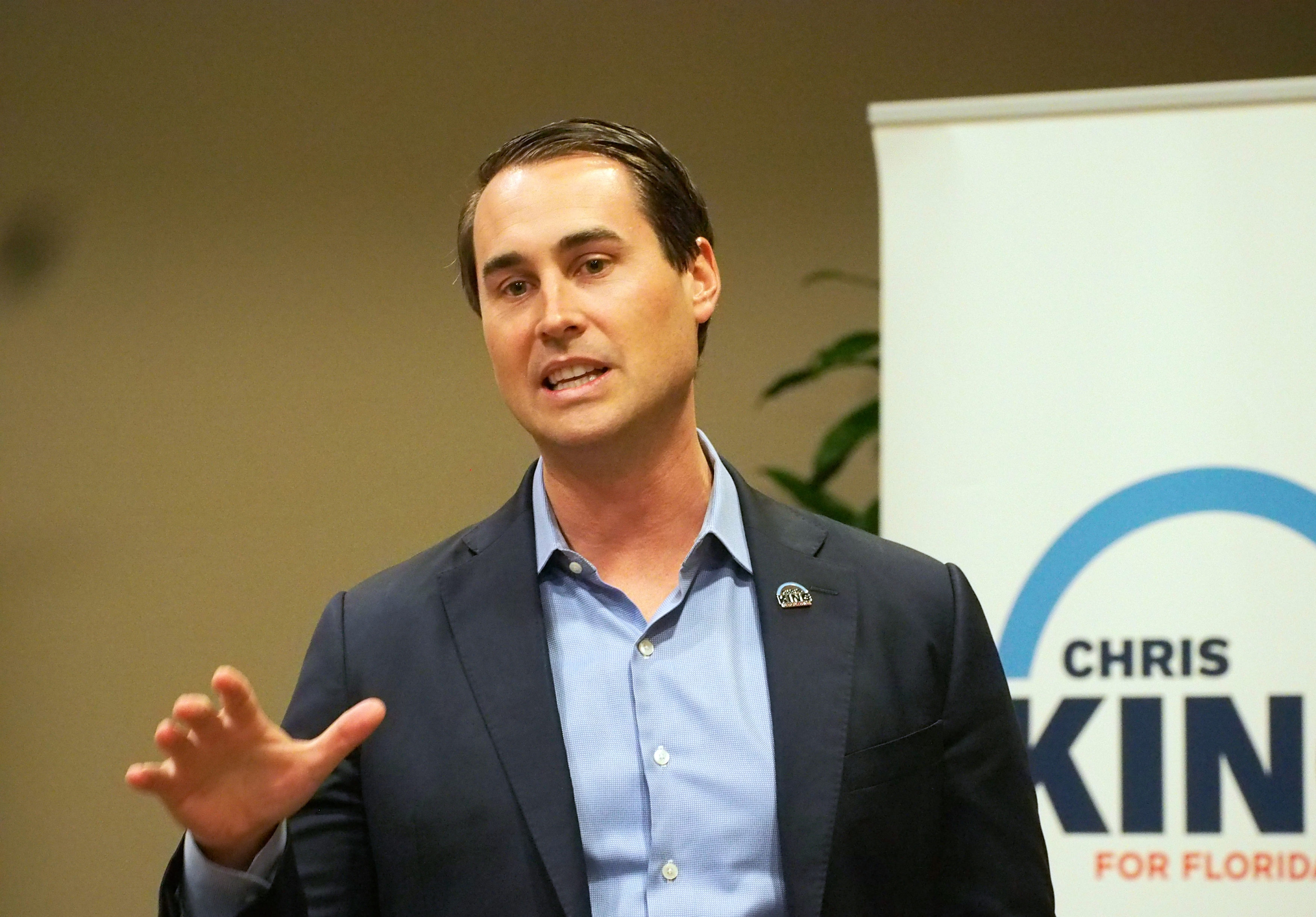 From the beginning, gubernatorial hopeful Chris King has wanted to be the Democrat leading the charge that Florida's powerful sugar industry is responsible for the environmental messes of the Everglades and coastal algae blooms, and now he's got a tussle going with the mayor of Clewiston over it.
King's campaign couldn't be happier, putting out a news release Monday, including a brief video of comments Clewiston Mayor Mali Gardner made about him, and a fundraising letter declaring that the sugar industry's supporters are "attacking Chris for standing up to the sugar industry in their own backyard."
Gardner, a banker who's been on the Clewiston city commission for 19 years and who is in her second stint as mayor, doesn't see it that way.
She said she was just trying to set the record straight on what she believes is the true source of the water management and coastal algae pollution problems: Central Florida development, not sugar farmers. Her comments about King were off the cuff, perhaps a little harried, and essentially not well-stated, unfortunately sounding as if she was going after him personally, she conceded.
"Yes, I was upset Saturday when I realized he was there and trying to do a political stunt," Gardner told Florida Politics Monday. "I probably shouldn't have said anything."
It all came together at the conclusion of a big East Coast-West Coast caravans event Saturday. Activists and others concerned about the environmental disasters plaguing the Everglades, Lake Okeechobee, and the Treasure and West Coasts started on both sides of the state and converged on Clewiston. King took part. So did Republican gubernatorial candidate Ron DeSantis, who has carved out the Republican wing [essentially all to himself] of charging that the messes have their roots in the sugar industry's multigenerational hold on the region and broader sway over Sunshine State politics. DeSantis, however, didn't go to Clewiston.
Gardner and others in Clewiston set up a stage and had a few speakers ready to address the 200 or so people who arrived. King thought he was going to speak, and there were indications that some activists who came also thought they might get to speak, but that didn't happen. Instead, it was Gardner and a handful of other local officials.
Here's what she said, at least in the snippet of a video released by King's campaign:
"When you look at that water quality that's coming from Orlando, someone said Chris King is here, I've never met him. That is his development, his group, his, his whole, the, the whole development has happened because the system was allowed to do that."
King is a Winter Park businessman whose company owns and manages a number of senior and affordable housing projects but doesn't have any big developments sending any significant amounts of polluted water runoff southward.
King's campaign called Gardner's statement a ridiculous lie and an unhinged claim and noted that the town she is mayor of is home to the corporate headquarters of U.S. Sugar Corp. Clewiston also labels itself "America's Sweetest Town."
"Floridians deserve an honest broker who won't buy into Big Sugar's false choice pitting agriculture against environment. Chris is a bold, progressive leader who believes Florida needs a new path to preserving environmental treasurers and growing jobs and opportunities across the state," King campaign spokesman Avery Jaffe stated in a news release. "The mayor's strange comments blaming Chris personally for Lake Okeechobee's toxic algae discharges serve neither goal and they're another reason why conventional politics has not and cannot provide the solutions Florida needs to solve this crisis."
Gardner said the King campaign's attempt to turn her comments into political fodder was exactly what she had feared, and why she didn't let him onto the stage on Saturday. She said she had attempted to use King to personify Central Florida development in general, not to explicitly blame him personally, and "I should have clarified it a little better.
"But it was so hot out."
Gardner said she and others at the Clewiston event wanted to talk about the source problems. Those, she said, involve the straight flow of phosphorous-heavy water from the 3.5 million acre watershed of Central Florida into the 730-square-mile lake, with no currently viable way to avoid massive flooding of the communities like Clewiston and the farms in the area, without discharging water east and west.
She added that it's never been about something called "Big Sugar," but about individual farmers, real people in the region who are "neighbors and friends that get up early in the morning to head out to work — whether in the field or in an office. They shop locally, bank locally, eat locally, send their children to the local schools, help out with community events and those who wish worship do so at the church of their choice.
"Saturday's event was the East and West coasts meeting in Clewiston about Lake Okeechobee, the liquid heart of the Everglades," Gardner said. "Locally, we have known that Lake Okeechobee is not the problem. The issue is too much water coming in from the Orlando area, developments, the channeling of the Kissimmee River, and it is a straight flush down into Lake Okeechobee. That is what is killing the lake, and that is what Saturday was all about."
The King campaign disagreed, saying the event was about the East and West coasts being made to pay the price, through toxic algae blooms caused by the discharges, of protecting the sugar fields south of the lake, and charging that idea simply wasn't being presented in Clewiston on Saturday.