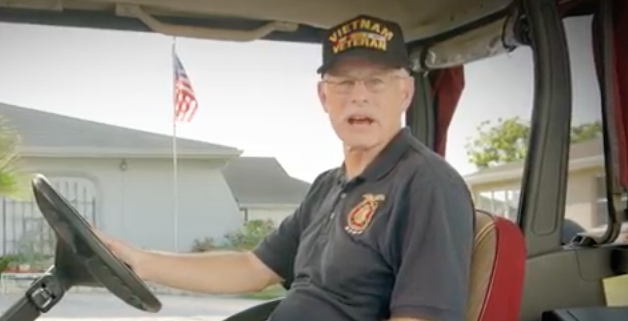 Adam Putnam is launching a new television spot featuring Florida seniors to denounce Republican gubernatorial primary opponent Ron DeSantis for seeking to cut Social Security and Medicare,
But there's an added twist: Putnam's ad attempts to divide DeSantis from his main endorser — someone very popular among Republican seniors — President Donald Trump.
"Congressman DeSantis voted to cut Social Security and Medicare … That's not what Trump wants," Vernon Elarth of Sun City Center states in the ad.
The 30-second spot, "Seniors First," is the first ad Agriculture Commissioner Putnam launched directly attacking DeSantis (or even acknowledging him). It comes as the most recent polls show DeSantis surging dramatically in popularity since their nationally-televised debate in Orlando on June 28.
DeSantis came to Congress in a Tea Party surge in 2012 and has been a rock-ribbed member of the conservative Freedom Caucus since. While in Washington, he has staked out an almost quirky ultraconservative persona.
That (and his bromance support for Trump) may have won him the president's endorsement in the Florida Governor's race, but it also occasionally divided him from establishment state conservatives on such issues as sugar and entitlements.
In the retirement-rich Sunshine State, Putnam's campaign is pouncing, citing three recent DeSantis budget votes, contending each could have cut Medicare or Social Security. In fact, all three measures failed.
The ad begins with Luke Amato of Sun City Center watching Trump on TV, declaring: "What we're going to do is we're going to save Medicare, we're going to save Social Security."
"Trump has got our back, but I'm not so sure about Ron DeSantis," Amato adds.
That theme continues as Amato, Elarth and Dee Williams, also of Sun City Center, express disappointment in DeSantis, saying he wants to cut Social Security, Medicare and raise the retirement age.
"I don't trust Ron DeSantis," Williams declares.
Florida Democrats weighed in with a smirk, arguing that during his tenure in Congress, Putnam did the same thing, voting to gut Social Security, raise the retirement age, and "end Medicare as we know it."
Social Security and Medicare, of course, are both federal issues outside of the reach of Florida's next Governor.
Nevertheless, a news release from Putnam's campaign concludes that he "is committed to putting Florida's senior citizens first, and won't cut benefits for seniors."