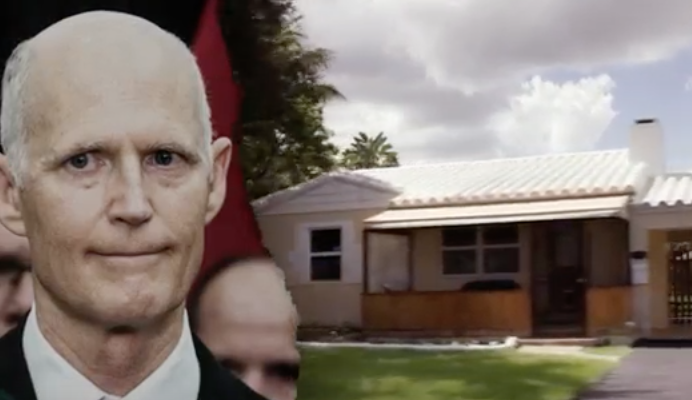 A new statewide TV commercial being launched Wednesday by the Democratic group Majority Forward declares that Republican U.S. Senate candidate Rick Scott slashed Florida health care funding during his nearly eight years as governor.
The ad, "Vetoed," charges that Scott vetoed nearly $200 million in health care funds, "slashing home healthcare for seniors and vaccinations for kids, cutting doctors at rural hospitals and treatment for opioid addiction. Instead Scott backed his party and gave tax cuts to corporations and the wealthy – people like him."
Scott faces Democratic incumbent U.S. Sen. Bill Nelson in the Nov. 6 election.
Scott's senatorial campaign responded with a statement charging that the group cherry-picked vetoes without explanations for why individual items were vetoed, and ignored other efforts in which Scott helped increase funding for healthcare for seniors, vaccinations for children, rural health care, and treatment for opioid additions.
Majority Forward is a 501(c)(4) organization afiliated with the Democrats' Senate Majority PAC. Majority Forward was formed in 2016 and is a "dark money" organization that does not have to disclose its donors, and doesn't.
The group said the commercial is being broadcast statewide, backed by a $2.7 million buy.
"Rick Scott needs to quit catering to the wealthy and put the hardworking men and women of Florida first," Hannah Hurley, spokesperson for Majority Forward, stated in the release. "Scott has a record of putting the needs of billionaires and his political cronies over the well-being of every day Floridians, and his actions as governor, where he slashed critical health care funds and gave tax cuts to the wealthy, just further proves this point. Florida families deserve better."
Replied Scott's campaign Press Secretary Lauren Schenone:
"Bill Nelson and his Democratic loyalists' attempt to cherry-pick information without acknowledging the Governor's history of fighting for these priorities is just the latest effort to mislead Floridians. Governor Scott's record is clear: he has secured major investments and legislation to support healthcare services for our state, and unlike Bill Nelson and Congress, he has done this while combatting reckless spending that would harm hardworking taxpayers. With every misleading attack ad Nelson's friends release, it becomes more and more clear that even after nearly half a century in Congress, there is nothing positive to be said on what Bill Nelson has actually done for Florida."