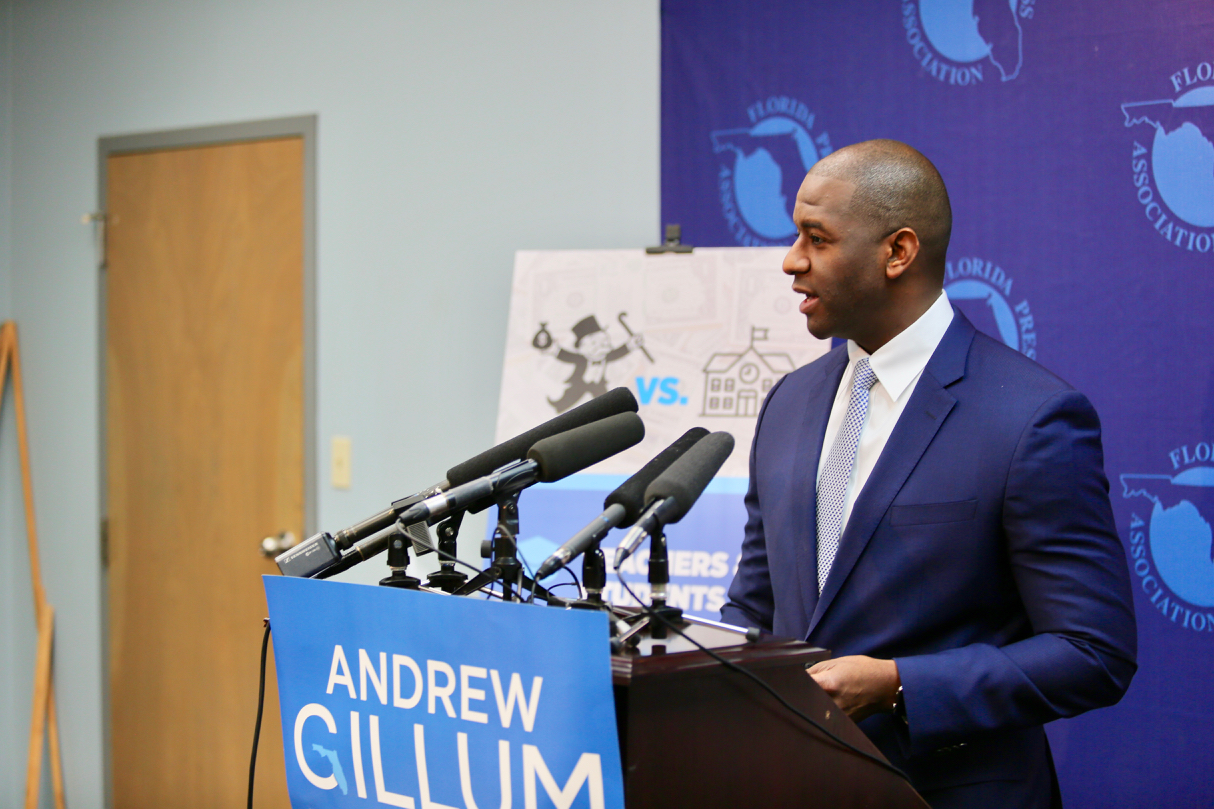 Tallahassee Mayor and Democratic candidate for governor Andrew Gillum Monday called on Gov. Rick Scott to declare a state of emergency and suspend the state's "stand your ground" law by executive order.
In a news conference in Tallahassee, Gillum said the law has become an "opportunity for vigilantes to agitate conflict" from behind the legal shield of the self-defense provision.
The July 19 shooting of Markeis McGlockton in Clearwater has sparked another debate over the controversial measure. The stand your ground law, enacted in 2005, allows people who are attacked to counter deadly force with deadly force in self-defense without any requirement that they flee.
As Jacob Sullum of Reason explained in a Monday blog post, "Michael Drejka told police he shot McGlockton, who had just shoved him to the pavement in the parking lot of a convenience store in Clearwater, because he was afraid (McGlockton) was bent on continuing the attack."
A spokesman for Scott later Monday said the governor "expects that every Florida law be enforced and applied fairly by law enforcement and state attorneys, who are elected by Floridians."
Indeed, "several prominent Florida Republicans have criticized Pinellas County Sheriff Bob Gualtieri's misrepresentation of (the) law, (saying) Gualtieri was simply wrong when he claimed the standard for using lethal force is 'largely subjective,' " Sullum also wrote Monday.
Gualtieri declined to pursue a case against Drejka.
"If the Legislature wants to make any changes to clarify Florida's laws next Legislative Session, they can do so," added Scott spokesman McKinley Lewis in an email.
That's not good enough for Gillum, who wants action now: "I don't believe that 'stand your ground' has a place in civilized society," he said.
Gillum pointed out that surveillance video of the incident, "which began with a dispute over a handicapped parking spot, shows McGlockton backing away when Drejka draws his pistol," as Sullum put it.
Gillum said if elected governor he would press to repeal the 'stand your ground' law "so that no more life is senselessly lost, particularly among people of color."
McGlockton, 28, is black; Drejka, 47, is white, and has a concealed carry permit.
A Periscope video of Gillum's remarks are below.
Andrew Gillum #FlaPol https://t.co/JhJ84vhcZb

— Jim Rosica (@JimRosicaFL) July 30, 2018