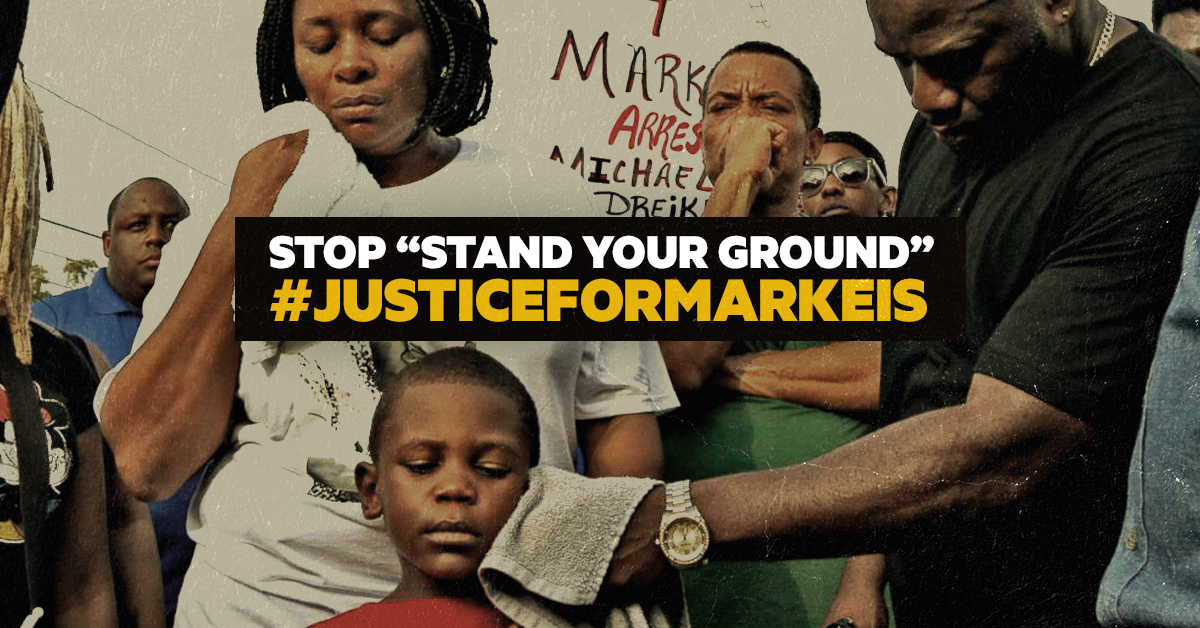 National racial justice group Color of Change opened a state-level political committee Tuesday as it gears up a campaign to take on Florida's controversial "Stand Your Ground" law.
Color of Change, which bills itself as the "nation's largest online racial justice organization," launched its campaign to "Stop 'Stand Your Ground'" after recent killing of Markeis McGlockton in Clearwater.
McGlockton was shot outside of a convenience store two weeks ago after intervening in an argument between his girlfriend, Britany Jacobs, and Michael Drejka. McGlockton pushed Drejka to the ground and Drejka pulled out a handgun and shot McGlockton in the chest. Security camera footage from the convenience store appears to show McGlockton backing away from Drejka after he drew his weapon.
Pinellas County Sheriff Bob Gualtieri announced a day later that an arrest would not be made because the shooting fell within the bounds of the "Stand Your Ground" law, however, he also expressed concerns with a provision added to the law in 2017 that requires law enforcement prove someone did not feel threatened before arresting them or pressing charges.
That change, as well as the original "Stand Your Ground" law, were priorities of the National Rifle Association.
As part of Color of Change's effort, it has filed paperwork to open a political committee, ColorOfChange PAC. The committee will allow it to accept contributions and use that money to influence state-level races. The committee is chaired by Arisha Hatch, the managing director of campaigns for Color of Change. The group's CFO, Ismael Savadogo, is listed as treasurer, and Tallahassee attorney Jennifer Blohm is listed as the registered agent.
Color of Change has had a Florida political committee in the past. Also named ColorOfChange PAC, that committee operated from September 2016 through July 2017 and received more than $225,000 in contributions, including $200,000 from For Our Future PAC and $25,000 from MoveOn.Org.
"Now, once again a family is without a father and a community is left to question: when will Black Lives Matter?" the group's campaign page asks.
Following the group's account of McGlockton's story is a petition supporters can sign to encourage Bernie McCabe, the state attorney for Pinellas and Pasco counties, to file charges against Drejka.
"We urge you to swiftly bring justice to the family and loved ones of Markeis McGlockton. The 'Stand Your Ground' law is dangerous and should be a license to kill. Markeis was just a person protecting his family. Your office has a responsibility to not let a killer go free. Your action as State's Attorney is important in ending this fatal and failed law, that has harmed so many families and our communities. We call on you to file charges against Michael Drejka immediately," the petition reads.
The first finance report for the new ColorOfChange PAC is due Aug. 10, with further reports required to be filed weekly through the general election.