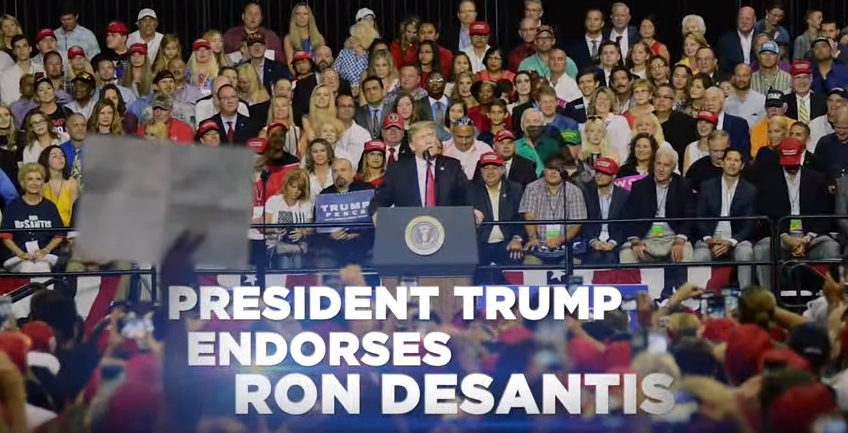 An ad released Monday by U.S. Rep. Ron DeSantis, a Republican candidate for governor, reminds Florida voters of the central distinction between him and opponent Adam Putnam.
Namely, the President backs DeSantis.
The 30 second spot begins with stentorian music, and Trump enumerating DeSantis' virtues: "A true leader, a proud veteran, a tough, brilliant cookie … Ron DeSantis."
Using what appears to be artificially-sweetened audience noises, the crowd's rapture continues without interruption as DeSantis vows to "make our state without fear" by vowing to continue "conservative policies," which include "get[ting] the Constitution back in our classrooms." fighting illegal immigration, enacting e-Verify, and stopping "sanctuary cities."
One of those has already been accomplished: there are no sanctuary cities in the state.

"Everybody needs to support Ron DeSantis," Trump says, closing the ad.
With a debate against Putnam two days away — the last debate between the candidates before the Aug. 28 primary — the knock on DeSantis has been that he hasn't demonstrated a real interest in Florida issues.
The Tampa Bay Times, in its endorsement, chided Trump's candidate: "DeSantis shows little understanding of state policy or of the challenges facing this state, and Florida Republicans should look beyond the president's tweets as they choose between the familiar conservative and the newest flavor of firebrand."
What's clear, however, is that in survey after survey, the Trump/DeSantis appeal overwhelms the chiding of center-left opinion pages. And the DeSantis campaign is closing out as it opened — betting on Trump in the primary, with a strategy evolution during the general.
DeSantis played up the Trump connection in an ad with wife Casey DeSantis last week, teaching one child to build a wall and another to read off of Trump signs.
That ad went viral, with much of the media elite panning it as they gave it free coverage.
The hope from the DeSantis camp is this one does likewise.