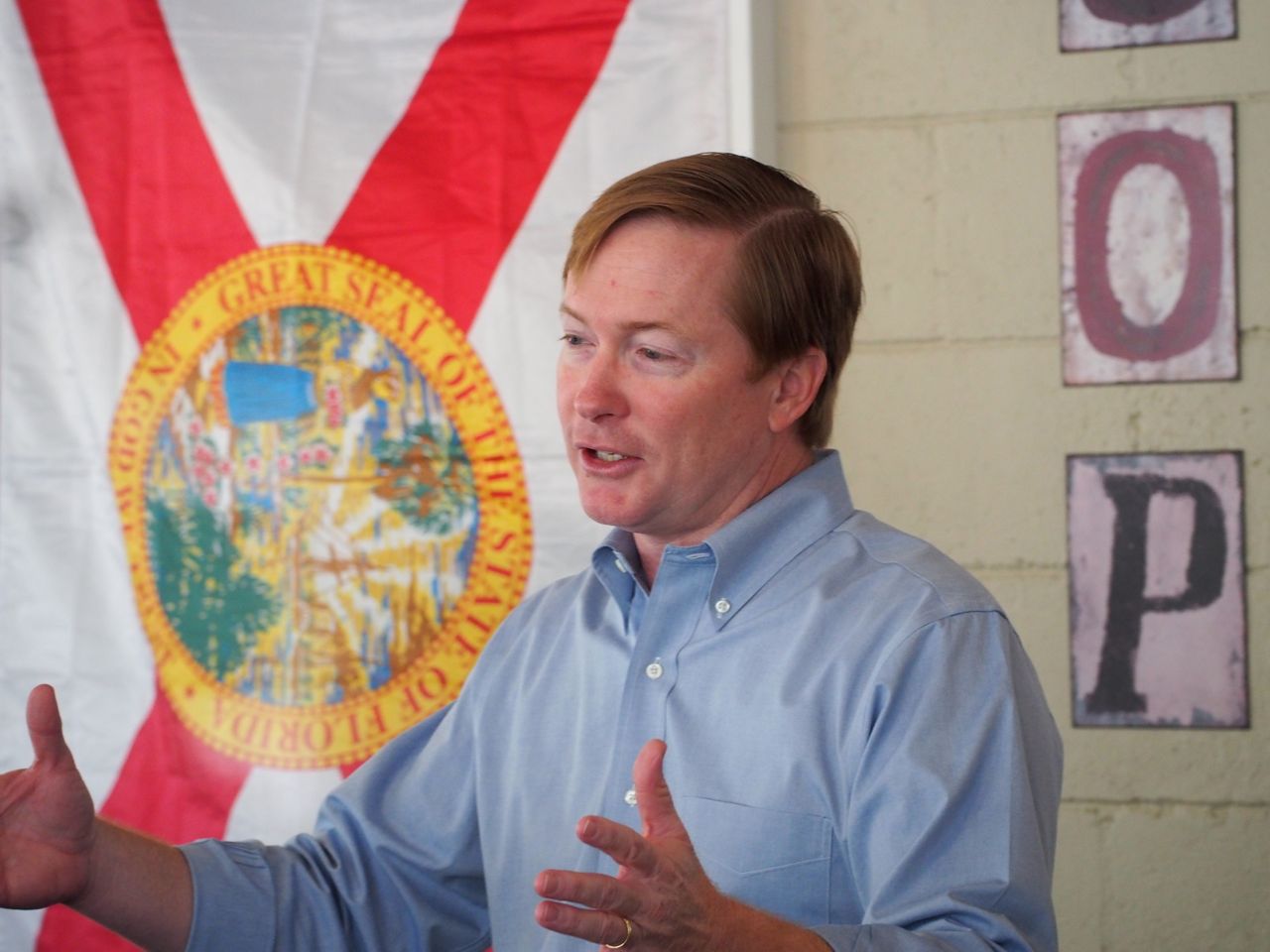 You fool, Prince Geoffrey says to his brother Richard in the dungeon scene from "The Lion in Winter." "As if the way one fell down mattered."
"When the fall is all there is, it matters," retorts Richard the Lionheart.
For Adam Putnam, who is just 44 years old but has already served in the Florida Legislature, the U.S House of Representatives, and on the Florida Cabinet, the fall is all there is.
In poll after damning poll of the GOP primary for Florida governor, Putnam trails U.S. Rep. Ron DeSantis by numbers too great for him to overcome in the final weeks of the campaign. The dire nature of Putnam's predicament is worse than what the polling reveals because early voters are casting their ballots now. Even if Putnam were to rise in the polls during the last days of the campaign — and there is no evidence to suggest he will — it will be too late.
(Two quick asides here: First, Team DeSantis shouldn't act as if it has done anything particularly wonderful to put themselves in this position; remember, DeSantis was an also-run in the 2016 GOP primary for the U.S. Senate seat Marco Rubio had briefly decided against running for. The only difference between then and now is Trump's Twitter account. Second, as Putnam's position worsens, keep in mind that 63 percent of the "insiders" surveyed JUST TWO WEEKS AGO by the Tampa Bay Times' Adam Smith were still predicting Putnam would win the GOP nomination.)
The only question to be answered by the election results is whether Putnam can do better versus DeSantis than Tom Gallagher did against Charlie Crist in 2006. The margin in that race was 30.5 percentage points. It may seem ridiculous to suggest that Putnam — who in June was leading DeSantis by as much as 10 points — could lose 2-to-1, but that's the power of a Donald Trump endorsement.
There is no clearer indication of the state of the race than the flurry of activity along Adams Street in Tallahassee, where many of the state's most prominent lobbying shops have offices. Six months ago, these lobbyists were competing with each other over who could deliver the bigger check to Putnam's political committee. Today, the question these same people are asking is how can they "get right" with DeSantis. The bandwagon is already crowded.
(The answer, by the way, to getting right with DeSantis is simple: Whatever the amount was on the check to Putnam needs to be doubled to DeSantis in the general election.)
Some, including Steve Hantler for RealClearPolitics, are suggesting that Putnam should immediately bow out of the race and back DeSantis.
"Putnam need not light his hair on fire and go out in a blaze of glory, fighting to the bitter end in a GOP battle that can only serve to weaken the candidate most likely to face Graham in the fall," writes Hantler.
I disagree, albeit only partially.
Putnam should not drop out.
He has done nothing scandalous to warrant withdrawing from the race. In fact, the same polling that shows him losing to DeSantis also shows Putnam with pretty decent favorability numbers. If you look at the size of the crowds attending Putnam's rallies, it's evident that folks still want to hear what he has to say.
Putnam dropping out would also send a horrible message to every young person coming up in politics. It would tell them that when the going gets tough, the tough … um … quit and head back to Bartow. By sticking in the race, no matter how daunting the odds, Putnam can play the role of Don Beebe and show everyone that even when you are down 52-17 in the Super Bowl, you still try to chase down showboaters like Leon Lett.
Putnam also needs to make sure that he doesn't spend all of his political committee's money on this race. He should save $1 million for future endeavors and, more important, $500,000 or so to take care of the staffers who have stayed with his thus far. They may have trouble finding work immediately after this campaign, so he needs to do right by them.
Most important, Putnam needs to pull down any negative ads he's running against DeSantis.
On Friday, Putnam launched a new salvo against DeSantis, low-lighting DeSantis' "betrayal" of Florida. The ad ain't pretty.
It's a double-edged sword for Putnam. The best way for him to cut into DeSantis lead is by going negative. The worst thing Putnam can do to his reputation is attempting to tear down DeSantis.
Putnam should take a look at what happened in Georgia, where a similar situation played out in that state's GOP primary for Governor.
According to the Atlanta Journal-Constitution's Greg Bluestein, the Putnamesque candidate, Casey Cagle let loose. He amped up his negative attacks on the Trump-backed Brian Kemp. His final ad was particularly scathing — and Cagle hoped that low voter turnout favored his campaign. But his attempts fell flat.
At one of his final campaign events, Cagle sounded a wistful tone about what could have been. He vented about the negativity that dominated the race.
"It's always easy to be a Monday morning quarterback and look back," he said. "I wish we had run ads telling my story, the story of where I came from, to be able to be where I am today is a story of the American dream."
Putnam should avoid Cagle's fate — not the part about losing to a Trump-backed opponent — but of going so negative in the final stages of the campaign that Republican voters punish you with a rout instead of a loss.
Putnam should finish his campaign by telling his story. Republicans still want to hear that.