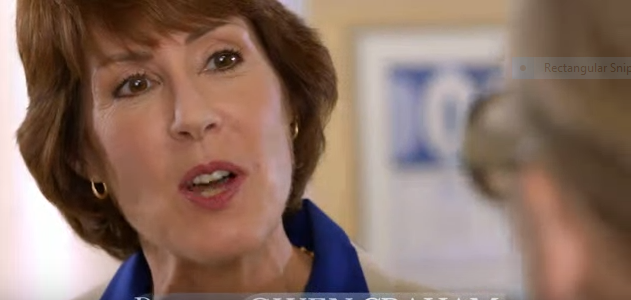 Former Congresswoman Gwen Graham has been the front runner in the Democratic primary for Governor for a couple weeks, and a new poll from the Associated Industries of Florida shows she's starting pull away from her competitors in the closing weeks ahead of the election.
AIF's numbers show Graham started the month with a 35 percent support — the highest mark in any poll to-date and a massive increase from the 24 percent share she held back in mid-July. Former Miami Beach Mayor Philip Levine and Palm Beach billionaire Jeff Greene don't take second-place, either. That honor goes to "not sure," which polled at 23 percent.
Graham's increased lead seems to be coming from those heretofore undecided voters, who made up 31 percent of primary voters just three weeks ago. As their share shrunk 8 points, Graham's support increased 11. Those other three points appear to have come from Levine, whose support dropped by two points as he rejoined the scrum at the bottom of the race.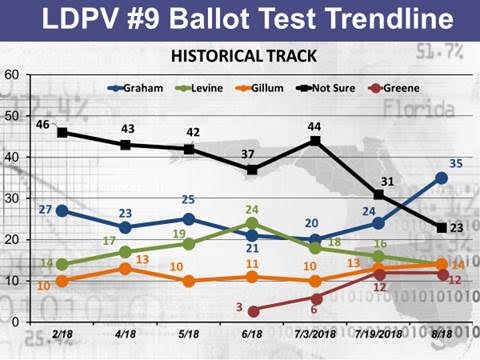 He, Greene, and Tallahassee Mayor Andrew Gillum are bunched up in the low teens, according to AIF, which did not measure support for Central Florida businessman Chris King, who often shows up in single digits in most polls.
Gillum and Levine tie for No. 3 with 14 percent support apiece, followed by Greene with a 12 percent share.
For Gillum, that's 1-point improvement over AIF's previous last measure, taken July 19. Greene, on the other hand, has stagnated, while Levine slipped another two points. The last time AIF had Levine in the top spot was in their June 18 poll.
The AIF results come as Levine's campaign released another poll it commissioned that showed them in a much better position. Graham still leads that Public Policy Polling survey, albeit with 26 percent support, while Levine is the clear No. 2 with a 22 percent share and plenty of daylight between him the rest of the field.
What the AIF results more closely mirror are the recent internal numbers released by the Graham campaign. Their most recent poll, commissioned from Democratic pollster ALG Research, also put her support level in the 30s with her competitors far behind.
The primary election is Aug. 28. The winner of the Democratic nomination will go up against either U.S. Rep. Ron DeSantis or Agriculture Commissioner Adam Putnam on the November ballot.