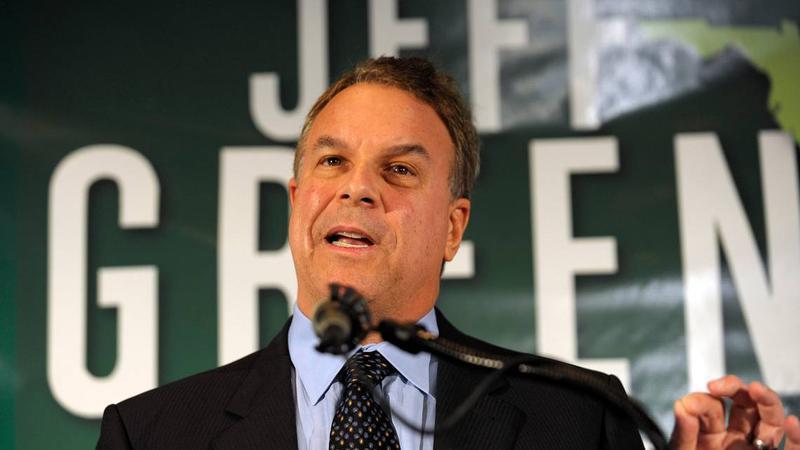 Just hours after a five-year-old police report surfaced describing Jeff Greene smacking a waitress on the arm to get her attention, the Florida chapter of the National Organization for Women is calling on the Palm Beach billionaire to drop his bid for the Governor's Mansion.
"This type of assault is rooted in power imbalance, and so it's unfortunately not surprising that a billionaire like Jeff Greene victimized a female employee," Terry Sanders, Florida NOW president, said in a prepared statement late Thursday evening. "It was incredibly brave of her to report the assault, and we stand with her."
"Jeff Greene should immediately drop out of the race," reads an accompanying news release.
The incident described, first reported by CBS Miami, relates to a December 2012 encounter between Greene and then-24-year-old cocktail waitress Lisa Ann Thomas.
Thomas worked at Greene's Omphoy Beach Resort in West Palm Beach and filed a police report, telling authorities then that Greene "smacked her on the arm" and told her to "turn down the music," according to the report.
Thomas told the officer filling out the report that she did not suffer injuries and did not feel Greene intended to hurt her. She did not pursue charges against Greene, according to the report.
Citing the #MeToo movement and recent related efforts that exposed a number of high-profile men who have abused their power to undermine and sexually exploit women, Sanders charged that the report is an example of "assault."
"Now, more than ever, we need to listen to survivors, respond quickly and decisively to reports of abuse, and hold abusers accountable," Sanders said. "Women in Florida have had enough of men taking advantage of us."
Greene's campaign provided the following statement to CBS before the outlet published the story:
"It's unfortunate that the Republicans are bringing such a non-story into the political bloodstream in an attempt to weaken Jeff's campaign. As can be read in the police report, this is simply a case of an employee having a bad day.
"Jeff was having dinner with his wife and children three days after Christmas. The music was loud and the guests at the next table were having a hard time getting the staff's attention to ask them to turn down the volume.
"As the owner of the hotel, Jeff walked up to the former employee, tapped her on the arm, and asked her to turn down the volume. As you can read in the report, the former employee was 'offended' by Jeff's actions – but did not have any injuries, did not think he intended to physically hurt her, and confirmed that no fighting words were spoken.
"Jeff wishes this former employee all the best."
Greene campaign spokeswoman Claire VanSusteren told CBS that Thomas did not obtain a related legal settlement. Thomas quit her job after the incident.
VanSusteren, via Twitter, also responded to news of Sanders calling on Greene to drop out of the race. VanSusteren claims Sanders told her Florida NOW is acting in retaliation to Greene attacking Democratic opponent Gwen Graham's "record." Sanders denied VanSusteren's claim.
Graham is the only woman in the race. Florida NOW has not endorsed in the Democratic primary for Governor. But Sanders, according to campaign finance records, donated $100 to Graham in June.
"Just spoke with Terry & expressed my disappointment that she is politicizing this report – which the employee wanted to be kept private," VanSusteren tweeted. "She essentially expressed this was a tit for tat because she was upset about Jeff's ads on Graham's record. Welcome to politics, folks."
According to Sanders, that "totally did not happen."
"This is about women being silenced," added Sanders. "This woman [Thomas] quit her job over the attack … women are being silenced and told "'don't make a fuss, he's the boss.'"
Also criticizing Greene is Unite Here, a union for service industry workers that has endorsed Democratic candidate for Governor Philip Levine.
"It would be a shame if that's how [Greene] thinks about people he wants [to] vote for him," tweeted the Unite Here account.