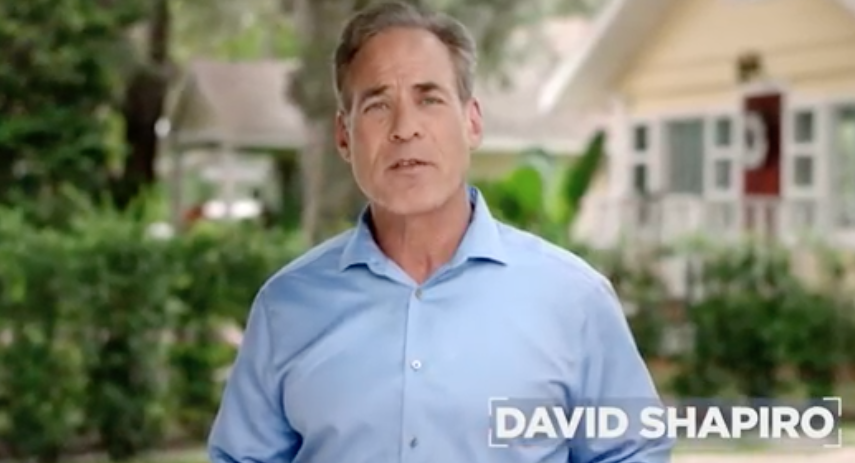 David Shapiro has made climate change an issue in his campaign for Florida's 16th Congressional District. Yet despite that focus, it appears Shapiro has invested in several companies pegged as some of the biggest contributors to greenhouse gas emissions, according to one study.
That study, summarized by The Guardian, shows a numbered list of 100 companies ranked by the percentage of global greenhouse gas contributions. According to Shapiro's financial disclosure forms filed with the U.S. House, the Democratic candidate is invested in nine of those companies. That includes ownership of stock in ExxonMobil (ranked 5 on the list) and Chevron (12), two of the top 12 emitters.
Shapiro's financial disclosure shows he owns between $1,001 and $15,000 of stock in each of those companies, along with ConocoPhillips (ranked 21 on the list) and EOG Resources (84).
Shapiro also owns between $1 and $1,000 of Anadarko Petroleum (47), Occidental Petroleum (55), Devon Energy (62), Marathon Oil (64), and Murphy Oil (96).
"Sneaky Shapiro says one thing publicly but privately does another," said Max Goodman, campaign manager for Republican U.S. Rep. Vern Buchanan, who occupies the CD 16 seat. "He cannot be trusted."
But Alex Vuskovic, Shapiro's campaign manager, told Florida Politics these stocks were purchased as part of a retirement fund, and were not selected by Shapiro individually.
This follows previous reporting by Florida Politics that showed Shapiro owned stock in Walmart, AT&T and Kimberly-Clark. He recently bashed all three companies in an op-ed for the Sarasota Herald-Tribune, despite that stock ownership.
Buchanan also released an ad hitting Shapiro for ownership in Halliburton, gun companies and drug companies, calling Shapiro "two-faced."
Subsequent reporting by ThinkProgress showed Buchanan owns mutual and index funds which also invested in some of those companies.
It turns out those mutual funds also invest in all nine companies on the list of greenhouse gas emitters than Shapiro is invested in as well.
However, the Buchanan campaign contends that Buchanan did not decide to invest in these stocks individually. Rather, the stocks inside the funds are pegged to the market's overall movement and are not selected by Buchanan himself.
"Congressman Buchanan is so desperate to cover up the fact he's using his position in Washington to line his own pockets, including voting for a tax bill that helped finance his new $3.5 million yacht, that he's attacking David over stocks he also holds," Vuskovic added.
"That might be normal for Washington politics, but it does nothing to patch the $1.9 trillion hole in the deficit that Congressman Buchanan created, which will put our social security and Medicare at risks."