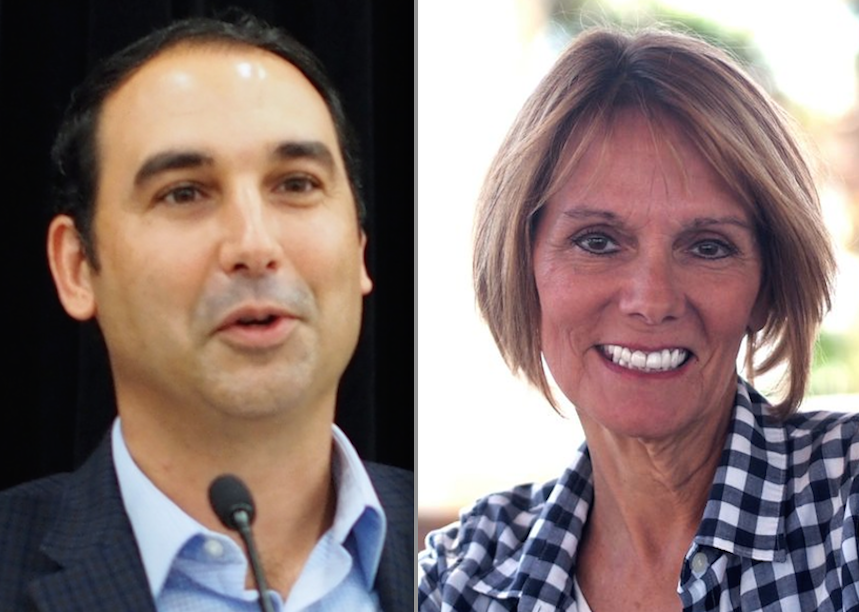 Democrats' voter registration gains in greater Orlando is spelling bigger challenges for several Republicans running in GOP-held Florida House seats.
It includes state Reps. Mike La Rosa and Bob Cortes, whose districts are turning bluer as they seek re-elections this fall.
In many ways, Central Florida mirrors statewide trends in the era of President Donald Trump, with Democratic voters increasing as percentages of the electorates in urban and, increasingly, in suburban areas. Republicans are gaining voters in more outlying areas that may be parts of the metropolitan media market but center more on smaller cities such as Melbourne, Daytona Beach, and Leesburg.
Democrats are seeing improved chances for their ambitions to knock off Republicans in the immediate Sanford-Orlando-Kissimmee corridor and gaining more advantage in their safe urban districts. However, in a few areas farther from the urban core, Republican voter bases are growing. That's solidifying the GOP's holds for such seats as House District 52 in north Brevard County and House District 25 in Volusia County, and also making inroads in more purple areas such as House District 27 in western Volusia.
La Rosa's House District 42, which includes part of Kissimmee but otherwise covers huge, mostly rural parts of Osceola County and some of east Polk County and a few small towns, is a bit of an exception. That's due in large part to the swell of Democratic voters throughout Osceola County.
Republicans have lost almost two percentage points of the HD 42 voter base in the latest book closings for the Aug. 28 primary compared with the 2016 primary. As a result, Democrats in that previously purple district now have almost a 6-point advantage over Republicans in voter registrations.
Democratic HD 42 nominee Barbara Cady said she's sensing that on the campaign trail, saying voter turnout will be critical to her hopes to unseat La Rosa.
"I think it's going really good. the campaign is terrific. … I think we have a good chance in November," said the Democratic activist from Kissimmee. "I have a cautious, optimistic sense that it's just about voter turnout, and that's what we're focusing on. If they come out to the polls, we have a really good chance."
Yet  La Rosa, of St. Cloud, is a well-known figure; a three-term representative who has won easy re-elections; chairman of the House Tourism Gaming Control and Tourism Subcommittee; and an active fundraiser, who's outraised Cady $158,000 to $42,000.
He said things are going well for his campaign.
"Of course the district is changing. It's been changing since Day 1 for me, and I just do what I need to do to represent the district," La Rosa said.
As Osceola turns deep blue throughout and HD 42, taking in most of the more conservative areas, is turning pale blue. The latest voter numbers show the HD 42 voter base to be 37 percent Democrat, 31 percent Republican, and 32 percent independent.
Cortes' House District 30 in south-central Seminole County is following the lead of that county's voter base, where Democrats have made the most significant gains, relative to Republicans, since 2016. Democrats picked up two percentage points in HD 30, and now have almost a 4-point advantage there, 37.4 percent to 33.5 percent.
Cortes, a two-term lawmaker from Altamonte Springs who is reportedly on U.S. Rep. Ron DeSantis' short list of possible Lieutenant Governor running mates, awaits the Democratic primary to see whom he will face in November. The Democratic battle is between Maitland City Councilwoman Joy Goff-Marcil, Brendan Ramirez, and Clark Anderson.
Others where Republican voters slipped as percentages of their districts' overall electorates: Seminole County districts represented by Republicans, House District 28 with Jason Brodeur and House District 29 with Scott Plakon.
Also feeling the pinch are three Orange County districts represented by Republicans, House District 44 with Bobby Olszewski, House District 47 with Mike Miller, and House District 50 (split between Orange and Brevard counties) with Rene Plasencia.
Miller is not seeking re-election in HD 47. Democrats are running activist Anna Eskamani, while lawyer Mikaela Nix and businessman Stockton Reeves VI are battling toward the Aug. 28 Republican primary.
The other four Republican-held districts in Orange and Seminole still have more Republican voters than Democratic voters, but the gaps are shrinking.
In HD 28, where Brodeur is not running for re-election, and where Republican David Smith will be facing Democrat Lee Mangold, Republicans' advantage is now five percentage points, down from seven.
In HD 29, Plakon's 8-point advantage for Republican voters in 2016 is down to 5 points. He awaits the winner of a Darryl Block–Tracey Kagan Democratic primary.
In HD 44, Olszewski's district, Republican voters had almost a 6-point advantage in 2016, and that's down to 3. He awaits the winner of the Melanie Gold–Geraldine Thompson Democratic primary.
In HD 50, Republicans' advantage has slipped by almost 2 points, and they now have an advantage of 36 percent to 34 percent for Democrats. Plasencia's facing his own primary challenge from Republican George Collins, with Democrat Pam Dirschka waiting for next.
Only one Central Florida seat held by Democrats saw any shrinkage of its Democratic voter base compared with Republicans, but that's a relatively safe seat in Volusia County, House District 26, held by Democratic state Rep. Patrick Henry. Even with a 2-point swing toward Republicans in the past two years, the district still is 41 percent Democrat and 30 percent Republican, by voter registration.
Most of the deep-red or deep-blue Central Florida districts got more so in the past two years.
In Republican strongholds, state Rep. Thad Altman's advantage in House District 52 in Brevard County has increased to slightly, with Republican voters now up 19 percentage points over Democrats. State Rep. Jennifer Sullivan's House District 32 in Lake County plus a corner of northwest Orange County, saw Republicans edge up toward a 14 point advantage in voter rolls. House District 51, held in Brevard County by state Rep. Tom Goodson but featuring a Republican primary battle this year between Tyler Sirois and Cocoa Mayor Henry Parrish, saw Republican voters' increase to an 11 percent advantage over Democrats.
In Democratic strongholds, state Reps. Bruce Antone in House District 46 in Orange County; John Cortes, in House District 43 in Osceola County; and Kamia Brown, in House District 45 in Orange County, do not have Republican opponents. Here's why: Democratic voters expanded their dominance in each of those districts to way more than 30 points greater than the percentages of Republican voters.
In partisan contested races, state Rep. Amy Mercado's District 48 in Orange County tipped a bit further toward Democrats, who now have a 30-point lead over Republicans there; and state Rep. Carlos Guillermo Smith's House District 49 in Orange County saw Democratic advantage grow to be 15 percentage points better than Republicans in voter registration.