Wells Fargo closed down campaign accounts for Agriculture Commissioner candidate Nikki Fried after finding out she supported legalizing medical marijuana and accepted money from players in the industry.
The Fort Lauderdale Democrat plans to address the bank's "arbitrary, unprecedented action" at a Tallahassee news conference at the Capitol Monday morning.
The bank first started inquiring about Fried's political position on marijuana on July 11, about a month after she opened a campaign account with the bank.
Antoinette Infante, a Miami-based senior "relationship manager" and business banking vice president at Wells Fargo, wrote to the campaign that bank officials uncovered information Fried was "advocating for expanded patient access to medical marijuana."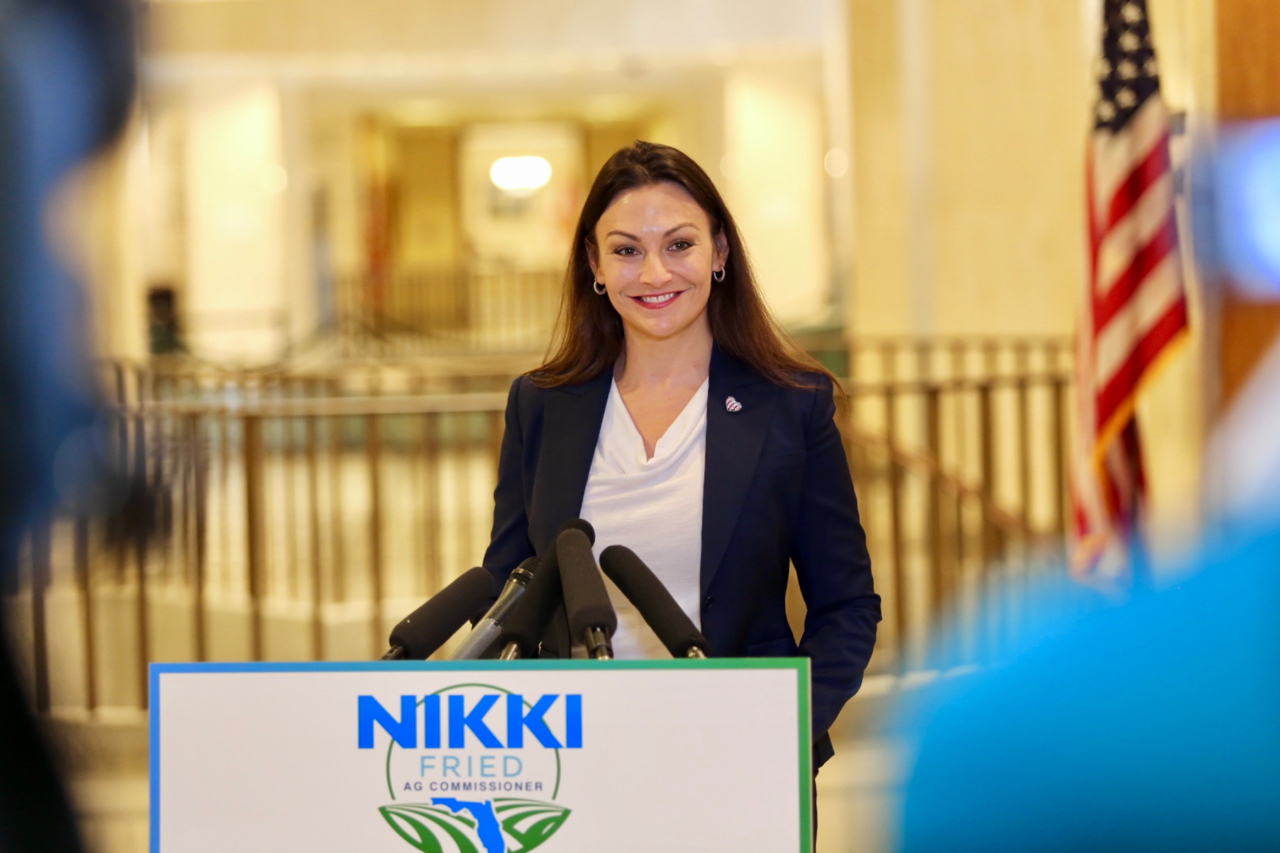 "Can you confirm the types of transactions expected for this customer & if any of the transactions will include funds received from lobbyists from the medical marijuana industry in any capacity?" Infante wrote in an email to Fried campaign treasurer Gloria Maggiolo.
Fried in fact holds medical marijuana access as a central plank of her campaign. She used to be a registered lobbyist working on behalf of the industry, and she's taken contributions from players in that space.
A review of Fried's campaign finances shows donations from Savara Hastings, executive director of the American Medical Marijuana Physicians Association, and Jake Bergmann, CEO for medical marijuana company Surterra Holdings, among others in the industry.
In a letter noting contributions "will be, and have been" received from medical marijuana lobbyists, executives, employees and corporations, Maggiolo wrote back to Wells Fargo questioning the unusual inquiry.
"I've never received a request of this nature from a financial institution," Maggiolo wrote.
Wells Fargo on Aug. 3 notified the campaign it would need to close all accounts at the institution. The bank sent out a letter to that effect the same day.
"As a result of a recent review of your account relationships, we determined that we need to discontinue our business relationship and close the account," the letter reads. Indeed, all accounts were closed as of Saturday, Aug. 18.
Medical marijuana is legal in Florida: More than 71 percent of voters in 2016 voted in favor of a constitutional amendment legalizing cannabis for debilitating medical conditions.
Since then, the regulation of the industry evolved slowly in Tallahassee. Orlando attorney John Morgan is supporting a legal challenge to Florida's ban on smoking medical marijuana.
Morgan, as it happens, has been a major supporter of Fried. Last week, he served on a host committee for a fundraiser for the candidate in Orlando.
But Morgan has been a major financial player in politics for years; it's hard to imagine Wells Fargo would refuse to cash his checks.
The big banks, though, have struggled with doing business with cannabis retailers. Because federal law still prohibits the sale of marijuana, even in states where it has been decriminalized for medical or recreational purposes, most FDIC-insured institutions won't risk doing business with marijuana companies.
That led GRN Funds in July to announce it would enter the Florida market and do business with companies that can't work with other banks.
But financial institutions say trepidation in handling marijuana money comes from fear of being charged with money laundering.
Closing down Fried's accounts goes a step further, refusing to do business with someone who supports the legalization or medical marijuana and who might accept money that comes from individuals potentially profiting from its sale.