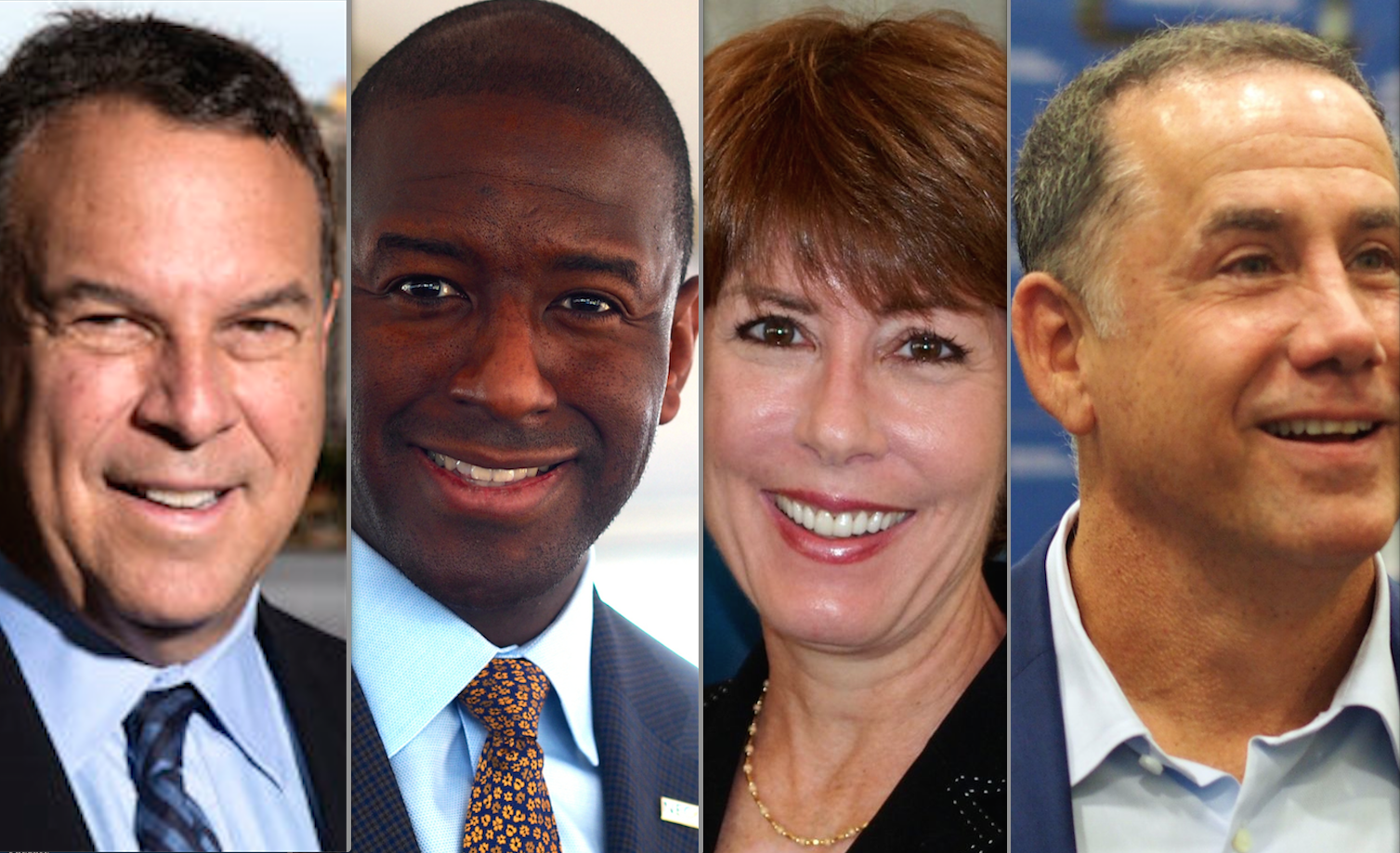 Gwen Graham and Philip Levine have jostled for the top spot in the Democratic primary for Governor for months, but the final poll ahead of Tuesday's election shows Graham is the clear front-runner for the nomination with a still-surging Andrew Gillum, not Levine, taking the No. 2 spot.
The St. Pete Polls survey, crowd-funded by Florida Politics' readers, shows the former Congresswoman with 32 percent support among likely Democratic primary voters, followed by Gillum at 25 percent and Levine at 22 percent.
Palm Beach billionaire Jeff Greene is barely clinging to a double-digit share of the vote, though he plans to keep his TV ads on the airwaves until the clock hits double zeroes. Orlando-area businessman Chris King, who has rarely broken the 10 percent threshold throughout his campaign, is floundering at 2 percent.
The poll results show a strong break toward Graham compared with other recent measures in the five-way race, where Levine held a razor-thin lead among early voters and was statistically tied with Graham among Democrats who were waiting to cast their ballot.
According to the new poll, there has been a tectonic shift as more early votes have landed.
More than half of those polled said they've already voted, and among that crowd, Graham was the clear favorite. She was the pick for a full third of early voters, while Gillum again took second place at 27 percent. Levine, who has poured millions into his bid, took third-place among those who've ticked a box, with 23 percent supporting the former Miami Beach Mayor.
The pecking order is the same among Democrats who are waiting for Election Day to exercise their franchise — Graham leads Gillum 30-23 percent, followed by Levine at 21 percent.
There is a ray of hope for Gillum and Levine: 8 percent of Democrats are still undecided, and 5 percent say they're backing a second-tier candidate. However, there's little time left to pound the pavement, and those voters would have to break decisively for one of the other candidates to strip Graham of her queen of the hill status.
One noteworthy trend this go-around: Gillum is now dominating his opponents among black Democrats, 49 percent of whom say they're backing the Tallahassee Mayor.
Gillum has not come close to that level of support among black voters thus far. At the beginning of the month, only 23 percent of black Democrats were backing him, giving him a 1-point lead over Levine. Now, no other candidate even breaks out of the high teens.
Among white Democrats, Graham held 41-23 percent lead over Levine, with Gillum pulling 15 percent.
Broken down by age, Gillum leads among millennial voters with one-third support and he's also the top pick among Gen-Xers, with 36 percent backing him followed by Graham 10 percentage points behind. Graham holds a 2-point edge over Gillum, 30-28 percent, in the 50- to 69-year-old bracket, while voters over 70 preferred her by a 15-point margin.
The winner of Tuesday's election will go up against either U.S. Rep. Ron DeSantis or Agriculture Commissioner Adam Putnam in November. If polling on the GOP side of the race proves accurate, it looks as if DeSantis will win the Republican nomination with ease.
The St. Pete Polls survey was conducted through an automated phone call polling system on Aug. 25. It received 2,342 responses from Democratic voters who said they had voted or planned to vote in the primary election. The results were weighted to account for proportional differences between the respondents' demographics and the demographics of the active Democratic primary voter population for the state of Florida.
The poll has a margin of error of plus or minus 2 percentage points at a 95 percent confidence level.