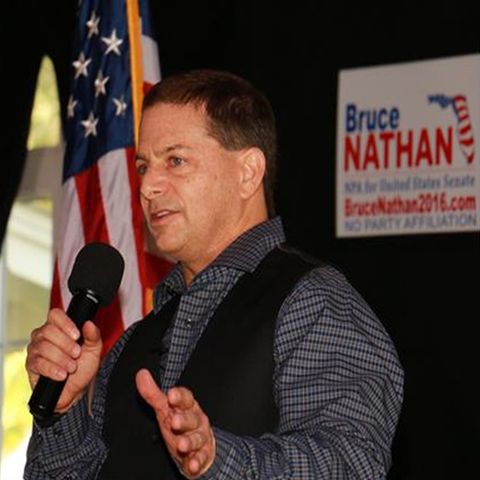 Republican gubernatorial candidate Bruce Nathan on Monday announced he plans to switch his party designation and run for governor as an independent on the general election ballot—unless the Republican nominee picks him as a running mate.
A press release from Nathan's campaign suggests that, should the Stuart Republican switch to a no-party-affiliation candidacy and move to the November ballot, he could have an impact on the race's outcome even if he does not win.
"If all of Bruce's voters vote for him in another tight November general election (and he will likely get many more, due to less competition and the ability to raise money), this would likely alter the outcome of the November election," reads a release sent by Jason Gilbert, Nathan's campaign manager and chief strategist.
Actually, some polling bears that out.
Results from a Gravis Marketing survey released in advance of the Tuesday primary shows Nathan in fourth place with 4 percent, behind U.S. Rep. Ron DeSantis (39 percent), Agriculture Commissioner Adam Putnam (27 percent) and Republican Liberty Caucus of Florida chairman Bob White (6 percent).
Indeed, that's a picture of someone who likely can't win the primary election or the general election—or really even come close—but who could easily thumb the scales one way or another in a state where the last two gubernatorial elections came down to a 1-percent difference and less than 65,000 votes.
And considering he's been running as a Republican for months, that could be bad news for a hypothetical DeSantis/Someone-Besides-Nathan ticket in a couple months.
The campaign says Nathan already discussed the legality of a party switch at this stage with officials from the Division of Elections.
Nathan repeatedly expressed dissatisfaction throughout the primary season with the respect shown to his candidacy by party leaders, complaining when straw poll organizers around the state did not give him the same speaking time as DeSantis, Putnam or even White.
Of course, his independent candidacy isn't a given.
The release announcing his impending party switch came with the subject line: "BREAKING News Florida Lt Governor" and the final line contained a hint (or threat, depending how it's read) at how to prevent Nathan's spoiler candidacy.
"Will the GOP winner Tue night consider Bruce as Lt Governor to eliminate this possibility?"