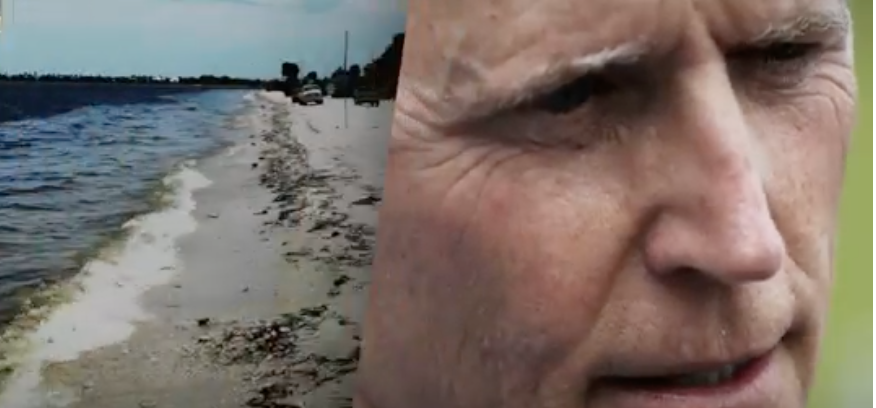 A Democratic political action committee is launching a $2.9 million, statewide television campaign aimed at convincing Floridians that the red tides and algae blooms are all Republican Gov. Rick Scott's doing.
Majority Forward's new commercial, "Mess," shows harrowing video of dead fish, dead manatees, fouled waters and beaches, and ill beachgoers while laying out a case, with newspaper headlines and quotes backing the argument that Scott's environmental record is to blame.
Majority Forward is a 501(c)(4) organization affiliated with the Democrats' Senate Majority Political Action Committee, though the exact sources of its money are not reported. The Senate Majority PAC is backing the re-election campaign of Florida's Democratic U.S. Sen. Bill Nelson, who's facing Scott in the Nov. 6 election.
Scott campaign spokesperson Chris Hartline responded with this statement: "Bill Nelson and his pals in Washington have failed to protect Florida's environment for decades. Now, Nelson's pals are spending millions of dollars in false attacks to prop up his failing campaign. It's not surprising that Bill Nelson is confused about Florida's environmental crisis."
In previous commercials, Nelson and Scott have blamed each other for the algae blooms and red tides. Nelson used the same arguments that Majority Forward is using, that in Scott's eight years as Governor he has overseen rollbacks in state environmental protections while the blooms appear to be getting worse. Scott argued that the problems must be solved by federal legislation, which Nelson has failed to secure.
Specifically, Majority Forward's new commercial charges that Scott oversaw $700 million cut from water protection budgets, slashed environmental safeguard regulations and gave a pass to corporate polluters.
"And we got this," the commercial's narrator concludes, with video of dead manatees.
"Rick Scott took campaign cash from the sugar industry, allowed them to continue to pollute Florida's waterways, repeatedly struck down environmental protections, and now Florida is dealing with one of the worst red tides in years," J.B. Poersch, president of Majority Forward, stated in a news release. "Rick Scott deserves the blame for the current crisis plaguing Florida's waterways. His coziness with Big Sugar coupled with his complete disregard for protecting Florida's environment led the Sunshine State to where it is today. It is now on Rick Scott to do his job and clean up the mess he helped create."