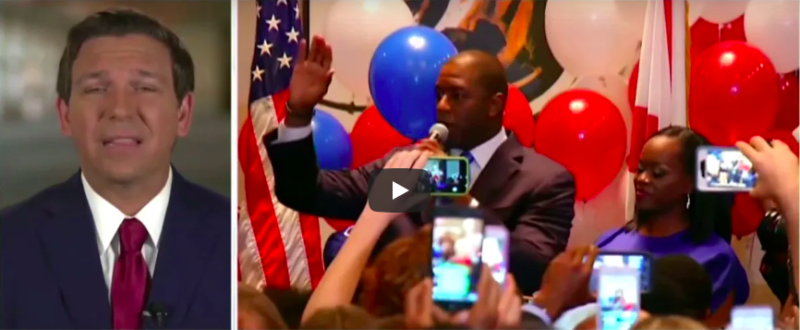 Republican candidate for Governor Ron DeSantis put a "monkey" on his back, making what opponents are calling a racist comment about Democratic gubernatorial nominee Andrew Gillum on Fox News Monday morning.
"To make sure that we continue Florida going in a good direction, let's build off the success we've had (with) Gov. (Rick) Scott," said DeSantis, a Congressman from Ponte Vedra Beach.
"The last thing we need to do is to monkey this up by trying to embrace a socialist agenda with huge tax increases, and bankrupting the state. That's not going to work; that's not going to be good for Florida."
DeSantis is white; Gillum is black. Comparing African Americans to apes or monkeys usually is considered disparaging.
DeSantis "was obviously talking about Florida not making the wrong decision to embrace the socialist policies that Andrew Gillum espouses," campaign spokesman Stephen Lawson said in a statement.
"To characterize it as anything else is absurd. Florida's economy has been on the move for the last eight years and the last thing we need is a far-left Democrat trying to stop our success."
Still, it earned DeSantis a blasting from, among others, liberal super PAC American Bridge 21st Century. It "conducts opposition research to aid Democratic candidates and organizations," according to FactCheck.org.
"It barely took 12 hours for Trump yes-man Ron DeSantis to make a racist comment about his opponent," American Bridge spokesperson Zach Hudson said. "DeSantis's comments are disgusting and he should be ashamed of himself."
Added Democratic Governors Association spokesman David Turner: "Resorting to dog-whistle politics within hours of winning the GOP nomination shows a desperate candidate who will stoop to new lows in order to court and give voice to fringe elements of society."
DeSantis won Tuesday's primary election to become the Republican candidate for governor in November; Gillum, the mayor of Tallahassee, edged out his competition to be the Democratic nominee and the first African American to do so.
In one 1999 example, then-major league pitcher John Rocker took a shot at black teammate Randall Simon, calling him a "fat monkey."
In June, Lake County Republican Committeeman Ralph Smith defended Roseanne Barr's tweet comparing former President Barack Obama adviser Valerie Jarrett to an ape "by just doubling down on the racism," Orlando Weekly reported.
Another expression, to "get (one's) monkey up," usually means to make somebody angry. 
From the context, however, it does appears that DeSantis was trying to say voters shouldn't 'mess up' the state, or something similar, by electing Gillum.