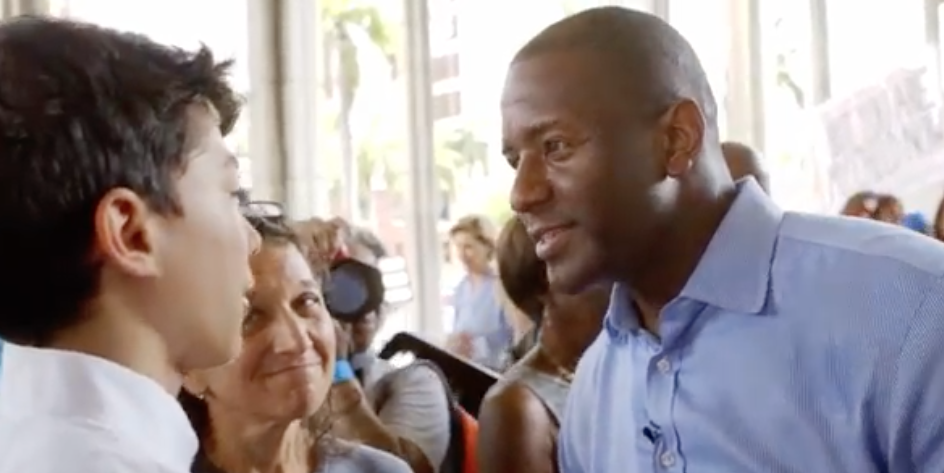 The nations largest public employee union has endorsed Democratic gubernatorial nominee Andrew Gillum.
The American Federation of State, County and Municipal Employees (AFSCME) announced its endorsement Thursday, two days after Gillum defied every pre-election poll and came out on top in the five-way Democratic primary for Governor.
"Andrew Gillum understands the issues facing Florida's working families because he comes from a working family, he understands his success is due to hard work and the support of public institutions, and, most importantly, he has continued standing with working families every step of the way," said AFSCME executive director Jana Weaver.
AFSCME, which has more than more than 1.6 million working and retired members, said its membership held a statewide call after Tuesday's primary to discuss the general election and decided that Gillum rather than Republican nominee Ron DeSantis would be the best pick for public employees in November.
"It is clear that for the dedicated public workers who never quit serving their communities that Andrew Gillum is the clear choice and we are going to work hard every day until November to bring it home. He doesn't just talk the talk, Andrew Gillum knows how to deliver the change our state needs," Weaver said.
"While Ron DeSantis is focused on his cable news headlines, Andrew Gillum has put together a real agenda to tackle our state's income inequality, make a real investment in public education, protect our communities from senseless gun violence and expand healthcare access," she concluded.
In the same announcement, AFSCME said it was also backing the Nikki Fried for Agriculture Commissioner. Fried was a late entry into Democratic primary for the statewide seat, but quickly surpassed her primary challengers in fundraising and earned 58 percent of the vote in the three-way race.
"Nikki Fried will put an end to the scandals and issues that have plagued a department central to the prosperity of our entire state," Weaver said. "She will work with the dedicated state workers in the department to implement the goals Floridians have clearly stated they want while tackling the challenges, such as climate change, that threaten our future."
With the addition of Gillum and Fried, AFSCME has backed every Democrat running statewide in 2018. Prior endorsements went out to U.S. Sen. Bill Nelson, who will face term-limited Gov. Rick Scott in the fall; Attorney General nominee Sean Shaw, who defeated Ryan Torrens in the primary and now faces former circuit court judge Ashley Moody; and Jeremy Ring, who is running for Chief Financial Officer against incumbent Republican Jimmy Patronis.
__
Updated Friday — Later Thursday night, the Committee on Political Education of the Florida AFL-CIO announced it had voted to endorse Gillum for Governor.
Florida AFL-CIO is the state federation of unions representing over one million union members, retirees, and their families in the state.
"For too long Florida's working people have been left behind by corporate special interests in Tallahassee," Florida AFL-CIO President Mike Williams said in a statement. "We need a Governor that will boldly fight for the issues that affect workers every day."