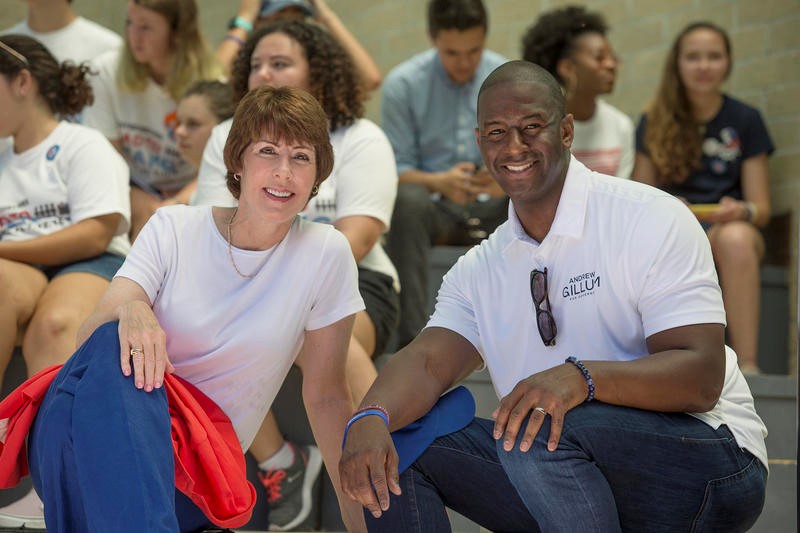 Democratic gubernatorial nominee Andrew Gillum and second-place finisher Gwen Graham ran tough campaigns against each other in the Democratic primary, but Gillum allowed Monday that Graham is "in the mix" for the Lieutenant Governor spot on the ticket.
The decision must be made by Thursday. Gillum is reportedly considering Graham, former U.S. Rep. Patrick Murphy, Lauren Book, state Reps. Kristin Jacobs and Amy Mercado, and Palm Beach County Mayor Melissa McKinlay.
Speaking to media Monday in Jacksonville, Gillum didn't sound like he was done with his vetting process. Yet, despite the sometimes chippy nature of the primary sparring between the two camps, Graham (the presumptive nominee until the ballots started rolling in from metropolitan areas) could be on the ticket, Gillum said.
Gillum described the LG pick as his "number one priority at this time."
"Gwen is in the mix, of course," Gillum said. "I'd say anyone who ran for governor is also in the mix."
Whether Gillum will ultimately pick Graham or another primary rival such as Philip Levine or Chris King, remains to be seen.
However, for those who believe the ticket would be stronger with Graham — a strong draw with moderates and Blue Dog Democrats — there is still hope.