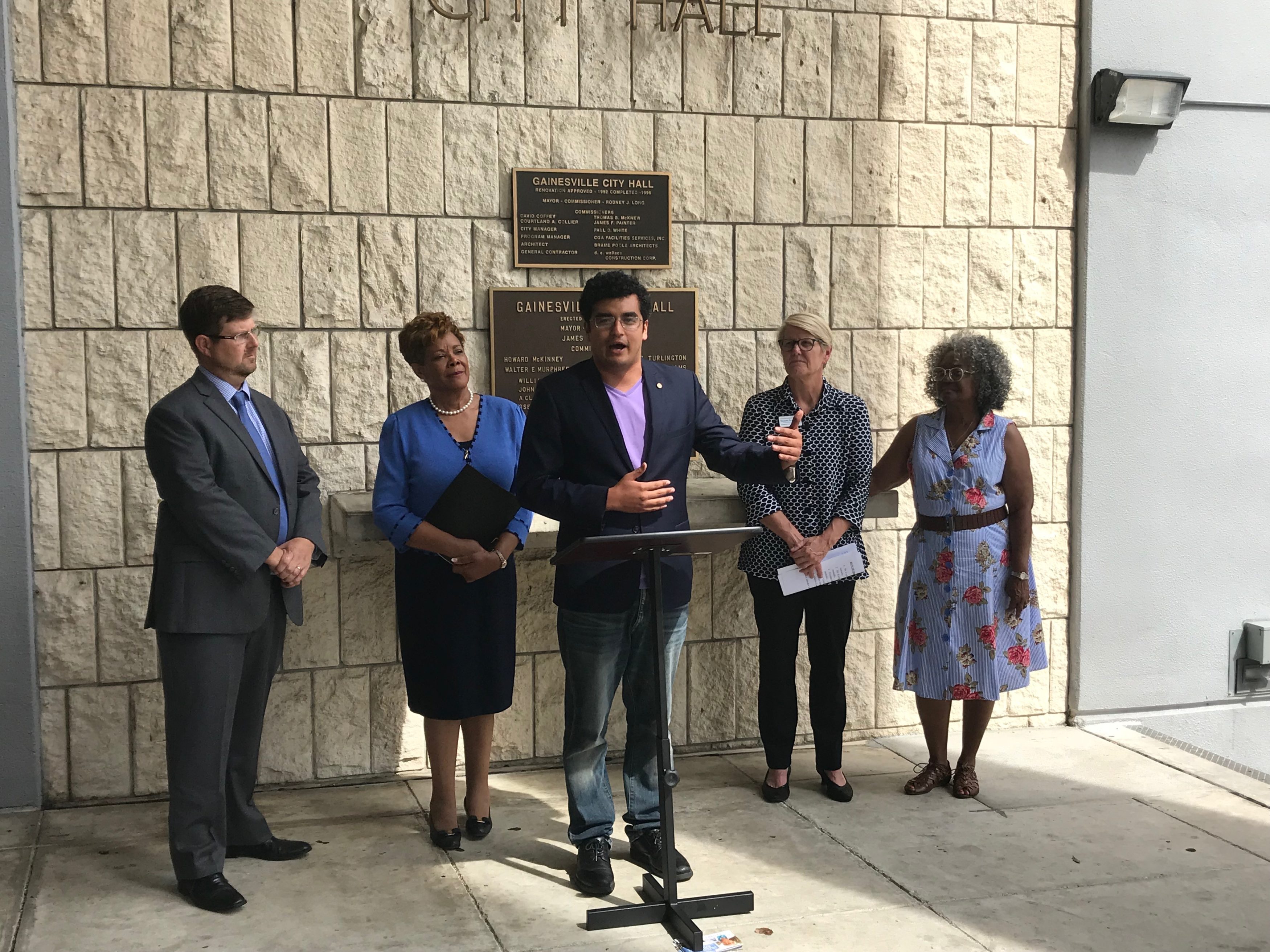 Gainesville Democrats held a press conference at City Hall on Tuesday afternoon where they lambasted Republican gubernatorial nominee Ron DeSantis' record of voting against health care protections during his three terms in Congress.
Alachua County Democratic Party Executive Committee Chair Cynthia Chestnut, Gainesville Mayor Lauren Poe, City Commissioner David Arreola, Florida's 3rd Congressional District nominee Yvonne Hayes Hinson and Senate District 8 nominee Kayser Enneking all gave their own takes on what Florida Democrats say is DeSantis' recording of "voting against Florida" in the U.S. House.
"Ron DeSantis has spent the last six years in congress attacking healthcare," Chestnut said, citing DeSantis' votes to "gut protections" for individuals with pre-existing conditions and his support for the House bill to repeal the Affordable Care Act, which would have stripped health insurance coverage from 67,200 people living in CD 3 according to the Congressional Budget Office.
Additionally, data compiled by the left-leaning Center for American Progress estimates that there are 280,300 Floridians living in CD 3 with pre-existing conditions.
There were no mentions of "monkey" comments or out-of-state racist robocalls — each of the speakers focused on the clear difference between Democratic gubernatorial nominee Andrew Gillum and DeSantis when it comes to healthcare.
Gillum, who defied all polling by winning the five-way Democratic primary for Governor last week, is a proponent of Medicaid expansion as well as "Medicare for All." It is estimated that Medicaid expansion provide health coverage to 800,000 Floridians.
"When you need healthcare in America, you get it by law," said Enneking, a physician. "But this healthcare is often too late. 'Trump Care,' which is what they support, would deny coverage for pre-existing conditions.
"Medicare is the best system of healthcare in America — why should Americans have to wait to 65, or 67 in Ron DeSantis' world, to get it?" she asked.
Hinson, who faces incumbent Republican U.S. Rep. Ted Yoho in November, said she "believes healthcare is a right and not a privilege. Ron DeSantis thinks it's a privilege."
"As Governor, Ron DeSantis will deny coverage to 800,000 Floridians. Everyone deserves healthcare and I will make sure they get it," she said.
Arreola, the youngest commissioner ever elected in Gainesville, said he spent some time as one of DeSantis' constituents when he attended Flagler College. During his time at the St. Augustine campus, he said DeSantis cast votes that would strip away his coverage under the ACA provision that allows young adults to remain on their parent's healthcare plans until age 26.
"Florida cannot rely on Ron DeSantis to expand healthcare," he said.
Poe, who was elected Gainesville Mayor in 2016, said the stark contrast between the Republican and Democratic healthcare platforms would be evident up and down the ballot in November.
"For U.S. Senate, we have Bill Nelson, a staunch defender of healthcare," he said, before reminding those present that Gov. Rick Scott, who is challenging Nelson in the fall, "defrauded Medicaid" to the tune of $1.7 billion when he ran hospital chain Columbia/HCA.
To solve the healthcare crisis, Poe said "we need to elect Democrats top to bottom."