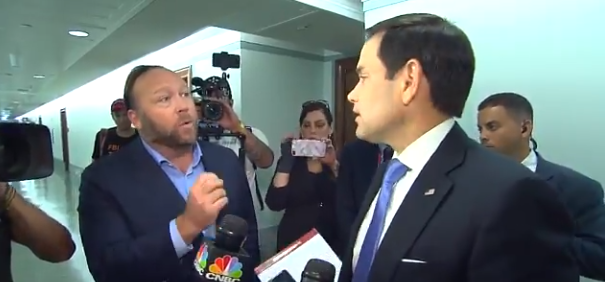 Infowars provocateur Alex Jones irritated Sen. Marco Rubio Wednesday, causing the Senator to tell Jones that he would "take care" of him if need be.
Rubio was in a media gaggle Wednesday (during a recess in a Senate intelligence hearing regarding Twitter and Facebook) when Jones patted him on the shoulder, causing the Senator to grimace in disgust.
"Don't touch me again, man … You're not going to get arrested, man. I'll take care of you myself," Sen. Rubio tells hoax conspiracy theorist Alex Jones as Jones interrupts his interview and touches his shoulder. https://t.co/mmMMdobyRd pic.twitter.com/hayi5SkZax

— NBC News (@NBCNews) September 5, 2018
"Don't touch me. I'm asking you not to touch me," Rubio said to Jones. "I don't want to be touched. I don't know who you are."
Jones protested.
Rubio emphasized that he was serious.
"You're not going to get arrested," Rubio told Jones. "I'll take care of [it] myself."
Jones, clearly relishing the successful provocation, said: "He'll beat me up!"
Rubio grimaced again.
"I didn't say that," said the Senator.
Rubio, per The Hill, marveled at Jones, "a heckler in a press gaggle."
Jones seemed to be attempting to call Rubio's attention to so-called "shadowbanning of conservatives," while Rubio reiterated his concern about foreign interference in elections via social platforms, until the gaggle was derailed.