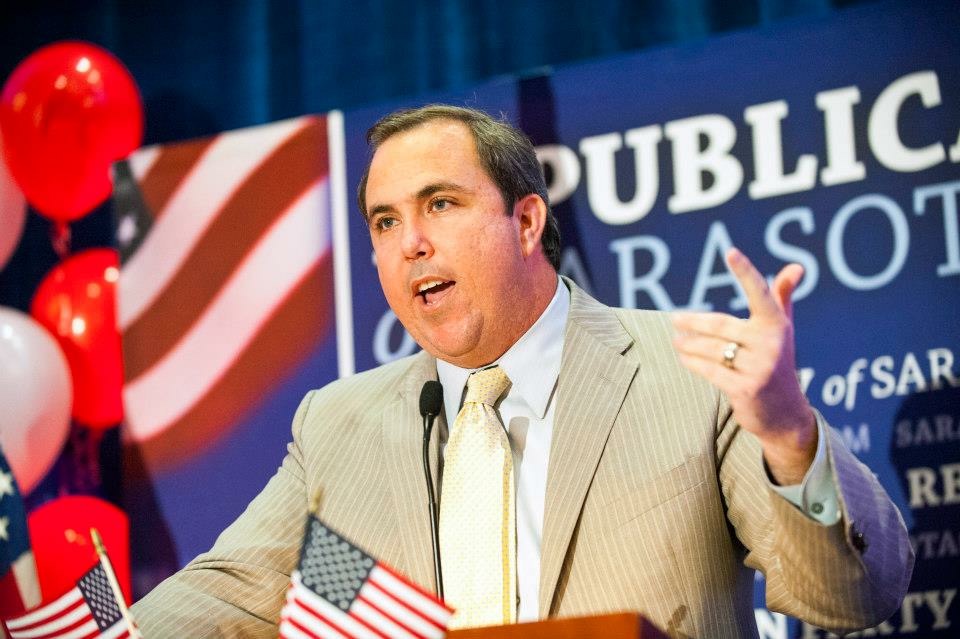 Sarasota Republican Rep. Joe Gruters will be raising cash in Tallahassee later this month for his bid to succeed Greg Steube in Senate District 23.
The Sept. 18 reception will be held in the library of the Governors Club, 202 South Adams St., from 5 p.m. to 6:30 p.m. Those looking to attend can direct their RSVPs to Kristin Lamb via Kristin@FLFStrategies.com or 850-339-5354.
Gruters is the chair of the Sarasota County Republican Party and also served as co-chair Donald Trump's Florida campaign. He was elected to House District 73 two years ago in a blowout win against Democratic nominee James Golden.
Before Gruters' House re-election campaign got fully underway, there was a seismic shakeup in the Sarasota delegation caused by U.S. Rep. Tom Rooney's announcement that he would not seek re-election in Florida's 17th Congressional District.
Steube, just two years into his first term in the state Senate, and Venice Rep. Julio Gonzalez declared for the race and Steube ultimately won the Republican nomination with ease.
Still, that left SD 23 open and gave Gruters the opportunity to make the jump to the state Senate years earlier than he would otherwise. His only opponent in the Republican-leaning seat is Democratic nominee Faith Olivia Babis.
As of Aug. 23, Gruters had more than $115,000 in hard money in the bank with another $13,000 or so in his affiliated political committee, Friends of Joe Gruters PC. When Gruters files his next round of reports, he'll show at least $3,500 in contributions thanks to state Rep. Ben Albritton helping out fellow Republican Senate candidates last month.
Babis, meanwhile, has only raised a little over $25,000 for her campaign and has about $5,000 in the bank. Her lax adherence to state campaign finance laws earlier on in the race led to the Florida Division of Elections levying some hefty fees against her, though they are currently being appealed by elections attorney Mark Herron.
SD 23 covers all of Sarasota County and a portion of coastal Charlotte County. Trump carried the district by 15 points two years ago as Steube defeated Democratic challenger Frank Alcock 59-41 percent.
Election Day is Nov. 6. The fundraiser invitation is below.