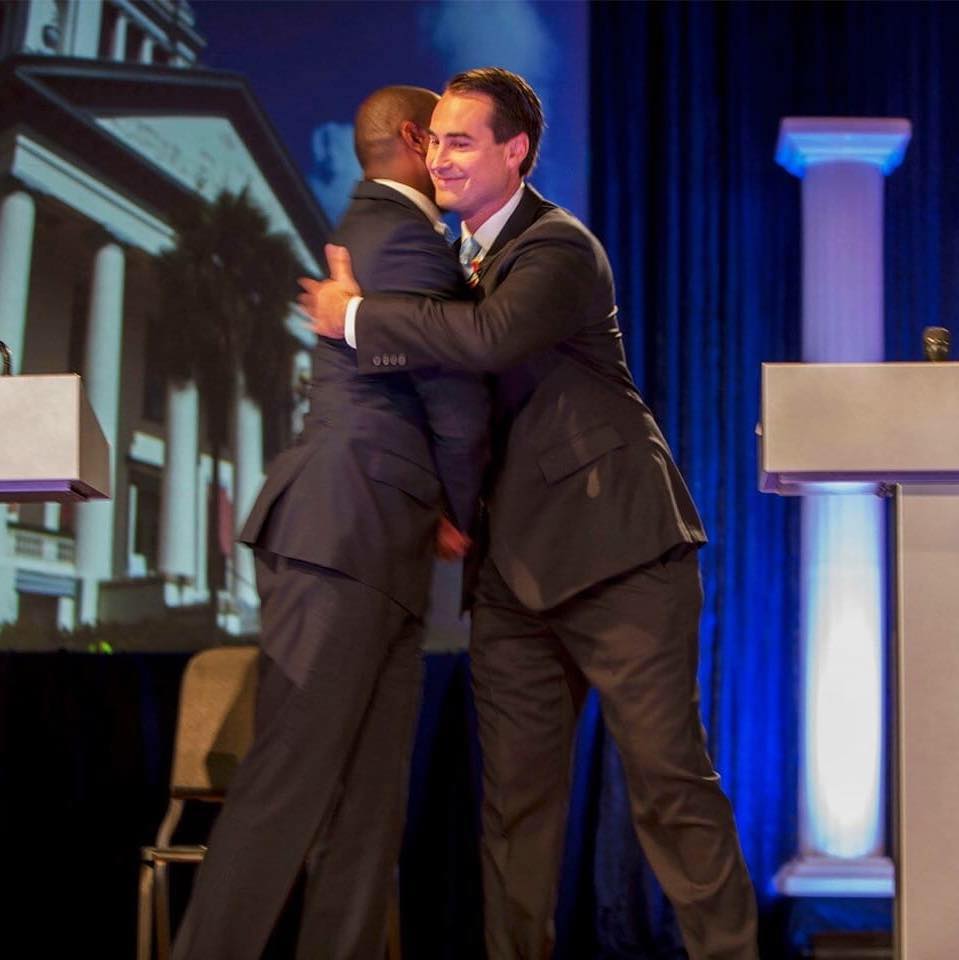 Only a few times during his unsuccessful Democratic gubernatorial run did Chris King discuss his evangelical Christian faith, and almost no one paid any attention.
Now a new national profile of King appearing in New Republic magazine is exploring whether Democratic gubernatorial nominee Andrew Gillum might turn his running mate loose preaching Gospel from the political left.
The article "Chris King is wealthy, white, and an evangelical Christian. But will that help Gillum win the governorship?" by Orlando-based freelance writers Mark I. Pinsky and Loraine O'Connell, published Tuesday by New Republic, speculates that King's evangelical Christian faith might be used as a campaign asset this fall if the Democrats seek to win over those Christian voters who might have more liberal political views but instinctively fear Democrats as hostile to their faith.
"Evangelicalism might have held King back in the Democratic primary, but in a statewide general election, his ties to the Christian community could be an asset, and Gillum's decisions of late suggest he understands that," Pinsky and O'Connell write.
King's evangelical credentials run deep. Among other things, the article notes his membership in the Fellowship of Christian Athletes at Winter Park High School; with Campus Crusade for Christ at Harvard University; and in adulthood, including today, as an elder at the nondenominational, evangelical church where his family worships in Orlando.
Pinsky, who also recently published a New Republic article that all but predicted former U.S. Rep. Alan Grayson's spectacular fall from grace in the Democratic Party, has profiled King in the past, in a book exploring evangelical Christians in Central Florida. Pinsky followed King's career since his religion became a controversial issue at Harvard in the late 1990s.
The New Republic explores the political alliances and voting blocks the Democrats and Republicans can expect to build as Gillum and King face U.S. Rep. Ron DeSantis and his running mate, state Rep. Jeanette Nuñez. The evangelical Christian block has been so Republican for so long that Pinsky and O'Connell don't begin to suggest that Gillum and King could win it.
But the authors note that at times when Democrats (including Barack Obama) have seemingly picked up a few points from evangelicals, flipping a few moderate Christian voters might become a key part of the Democrats' strategy, especially in an election that is already appearing to be a rock-hard 48-48 split of the Florida electorate.
"Gillum himself is Baptist, and in August he spoke to supporters outside the Bethel Church in Richmond Heights, the South Dade neighborhood where he grew up. Apart from his numerous visits to African-American churches and appearances with black preachers, Gillum did not explicitly raise religion, nor, for the most part, did his opponents or interviewers," Pinsky and O'Connell write.
"Still, his choice for lieutenant governor suggests that he will lean into it in his quest to win the governorship."