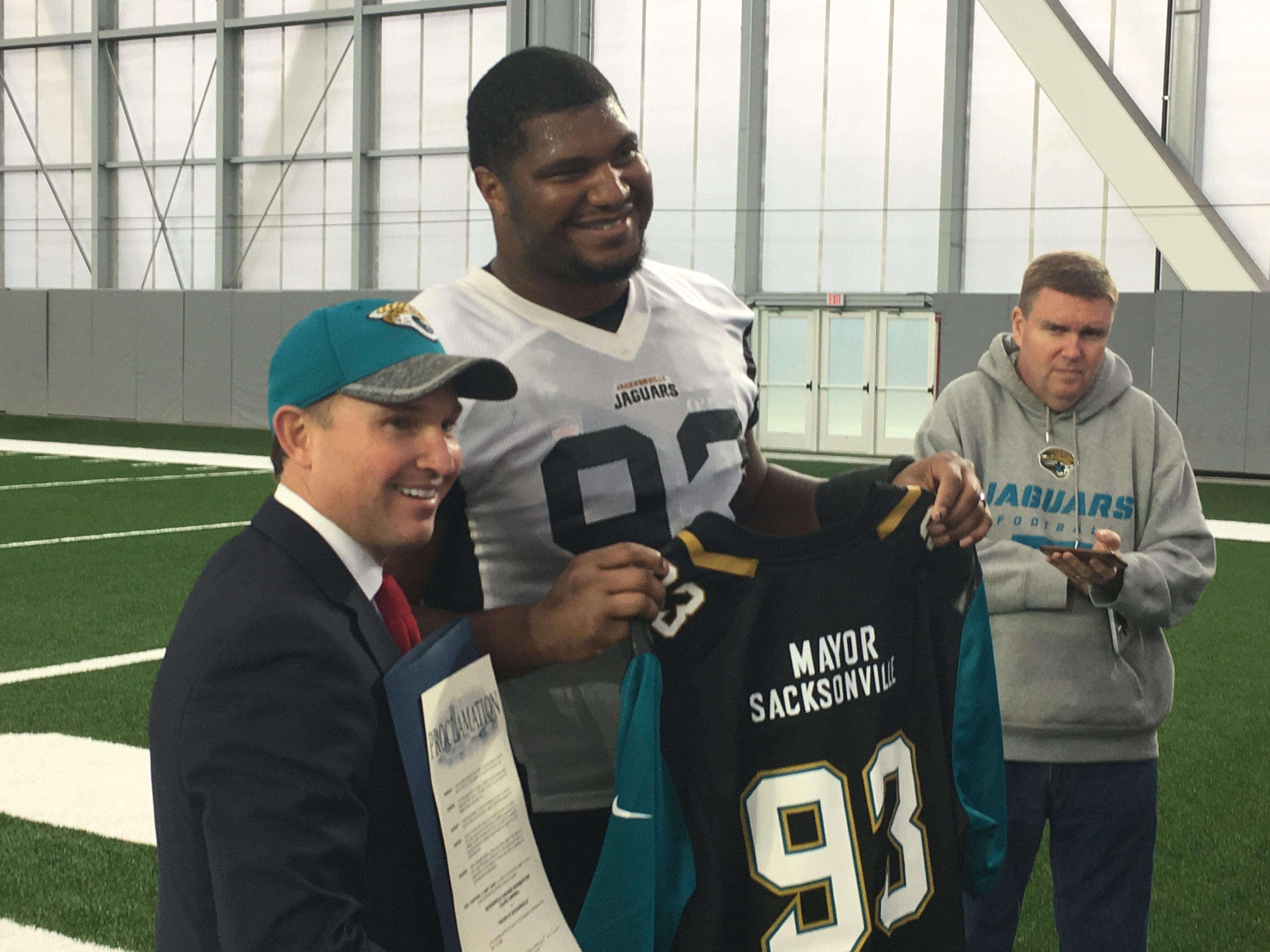 The Jacksonville Jaguars returned to prominence in 2017, and Mayor Lenny Curry — the team's most high-profile fan — was along for the ride.
In December 2017, Curry went so far as to issue a mayoral proclamation — deeming defensive end Calais Campbell the "Mayor of Sacksonville."
Jax mayor @lennycurry declares @Campbell93 mayor of #Sacksonville — @Jaguars DE clearly Building Something That Lasts. pic.twitter.com/sPEhjmw70P

— AG GANCARSKI (@AGGancarski) December 8, 2017
The city and the mayor capitalized on the co-branding. As the Jaguars' launched their playoff run, ESPN took interest in the Sacksonville brand.
"We are heading down to Jacksonville this week to speak to the Jaguars defensive line, and Calais Campbell, who last month you proclaimed as the 'Mayor of Sacksonville.' Would you have a window of availability any time on Thursday or Friday to be interviewed on camera about your proclamation," the producer wrote.
As the Jaguars move into a year in which they and the Sacksonville brand are feted by the league, a former Jaguar (linebacker Dan Skuta) contests the team's attempt to trademark the brand.
Dan Skuta, who played linebacker for the Jacksonville Jaguars in 2015 and 2016, has filed documents with the US Patent & Trademark Office that oppose the team's attempt to trademark SACKSONVILLE (via @JoshGerben) pic.twitter.com/65mW2ARTZh

— Darren Rovell (@darrenrovell) September 12, 2018
Skuta first established the brand in 2015, and per his legal filing, merchandised the Sacksonville brand. The brand, which Skuta's company had failed to trademark, was compromised when the Jaguars began to appropriate the hashtag.
There is an active legal challenge, but the glacial pacing of it suggests that it is likely that Sacksonville will find its place next to Dilly Dilly in the cultural graveyard before it is resolved. The current schedule has an oral hearing set for March 2020.
However, the trademark dispute illustrates both the fungible nature of NFL careers and how quickly a trademark can move from obscurity to prominence.
We've reached out to the Jaguars and Curry for comment, and will update when we hear.