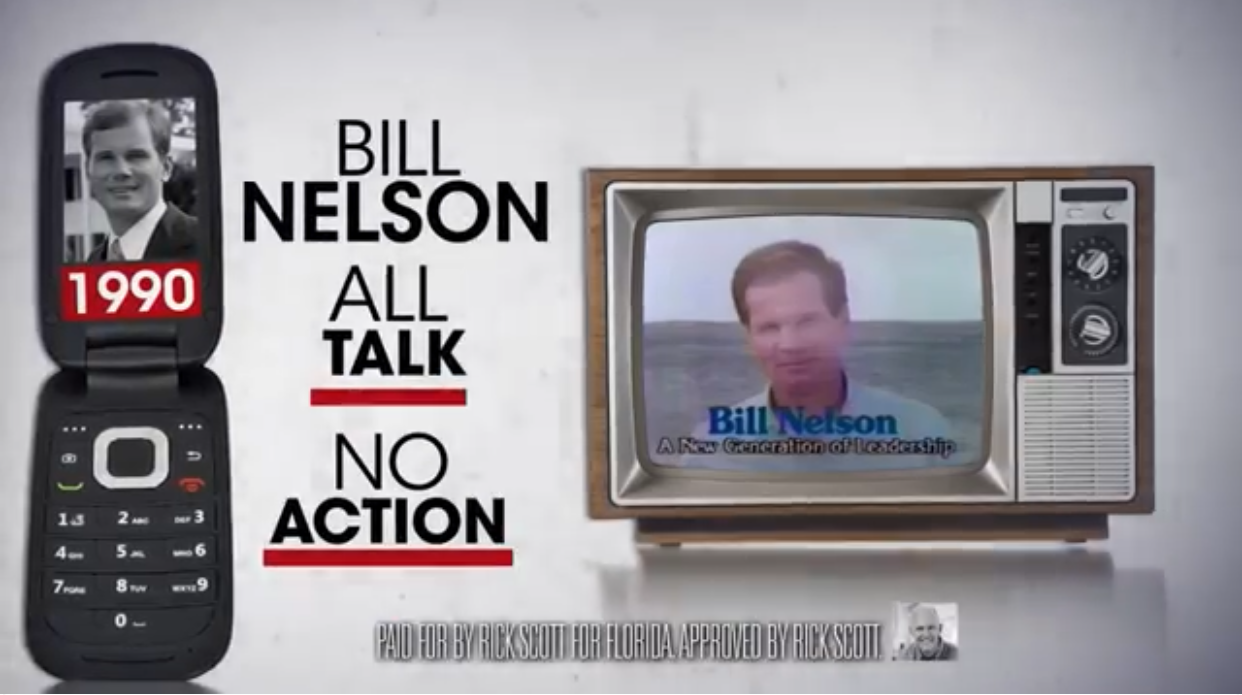 Another day, another ad buy from the Rick Scott Senate campaign.
Friday's iteration drove home a message that is increasingly familiar; namely, that Sen. Bill Nelson has done "nothing" for "for Lake O in Washington."
The Scott spot throws back to a 1990 Nelson ad, in which the Senator vowed to "fight to stop the poisoning of lakes and streams across this state. Lake Okeechobee is dying because of the massive dumping of pollutants."
Alas, contends the ad, Nelson "failed … couldn't get anything done" and is "all talk, no action."
The Scott campaign has been messaging on Nelson's lack of efficacy on this issue for the better part of the summer.
Early August saw an ad buy where the Scott campaign contended "Washington politician Bill Nelson made a pledge 30 years ago to solve this problem, but Nelson's a talker, not a doer. With Bill Nelson, we get more waiting, more talk, and more algae."
Like the current spot, the August buy hearkened back to Nelson's now-fateful 1990 pledge.
Nelson's campaign pushed back in August against these claims.
"Experts and scientists agree, Rick Scott's almost eight-year assault on the environment has exacerbated the toxic algae outbreak plaguing much of Florida," Sebastian Kitchen, a spokesperson for the Nelson for Senate campaign, stated in a written response.
"And now once again — he's lying about Bill Nelson's record to hide from his own record of hurting Florida's environment. Rick Scott has done a poor job as governor because he's slashed budgets for environmental and water management agencies, cut enforcement of environmental regulations, allowed more toxins in the waterways and stopped efforts to monitor leaking septic tanks, which altogether have helped create the algae crisis we're facing today," Kitchen contended.
Days after the Scott ad dropped, Nelson responded with his own buy, pinning the blame on the "manmade crisis" on Gov. Scott.
Scott's campaign asserted that the Governor "invested record amounts in Florida's environment and has stepped up time and time again when Washington politicians like Bill Nelson failed to meet their commitment to our state."
"It was Governor Scott who secured state funding for repairing the Herbert Hoover Dike at Lake Okeechobee, supported legislation to accelerate the EAA reservoir, received a commitment from the president's administration to speed up dike repairs and secured funding through the Army Corps of Engineers to complete dike repairs by the Governor's goal of 2022," the Scott campaign said.
The new Scott ad is below, seemingly released to double down on its own messaging, as if daring the relatively resource-poor Nelson to commit more of his campaign's money to litigating an argument rehearsed well over a month ago.
Material from FP's Scott Powers was used in this post.