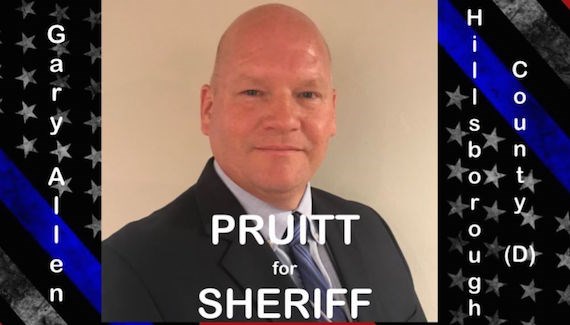 Gary Pruitt's career at the Tampa Police Department is his main selling point in his bid for Hillsborough County Sheriff, but a look over his personnel file and Hillsborough Circuit Court records shows a wanton disregard for the rules and, in some cases, the law.
Pruitt, who is running as a Democrat, says he's "passionate about serving the citizens of this county" and has made the case that rank and file law enforcement officers are workhorses who go uncelebrated, even among their co-workers, despite getting the job done.
In his words, "those in the ranks sergeant and below do 90 percent or more of the service to the citizens but receive less than 10 percent of the respect from staff."
But as the old saying goes, respect is a two-way street. And when Pruitt was a corporal at TPD, he showed little deference to the rules governing romantic relationships in the workplace.
According to internal affairs records from 2011, Pruitt flagrantly broke the rules regarding fraternization between officers — and he violated his supervisory responsibilities to do so with a woman, Kimberly O'Connor, who held a lower rank than he did.
"Corporal was having a close, personal relationship with a female on the squad that he also supervised," the IA file reads. "This relationship had been going on for some time and was not disclosed to any other supervisors in the department nor was the relationship disclosed at all until it was blatantly obvious and after the corporal was questioned by his managers."
The heart wants what the heart wants and there's no stopping a couple intent on being together. That is, until the relationship produces a child. Once that happened, it appears as if Pruitt was more than happy to skip out on his paternal responsibilities.
According to a bundle of court documents filed between 2012 and 2015, Pruitt routinely shirked his fatherly duties — it took a court order to get him to submit to a paternity test, and he had no problem skipping out on paying $1,000 in pre-natal medical expenses before his daughter was even born, and was even dinged for using his TPD vehicle to show up to a civil mediation hearing.
Pruitt was just as dismissive about playing a part in his child's development when the time came for swim lessons, and had no problem labeling O'Connor's attempts to collect as bothersome.
At one point, Pruitt sent an email to the mother of his child with the subject line "*****YOU HAVE BEEN BLOCKED*****" and told her that "since you have ignored my repated (sic) requests to stop harassing me I have added you to my E-mail blocked list. Any future e-mails from you will be automatically deleted."
If that seems harsh, he told O'Connor that he "absolutly (sic) hates communicating" with her and lobbed a further accusation that she was "having your cake and eating it too." He added that "it would be cheaper" if he had his wife watch the child "instead of paying you all this money."
Though he seemingly counted every nickel he had to outlay to support his progeny, by 2015 he was woefully behind on his child support payments. According to court documents, he was more than 30 days delinquent on $4,000 in child support payments to O'Connor.
As it stands, Pruitt has dumped $10,000 into his campaign to replace Sheriff Chad Chronister, though it seems there may be a better use of his funds. After all, his daughter's hopes and dreams are no less important than his own.