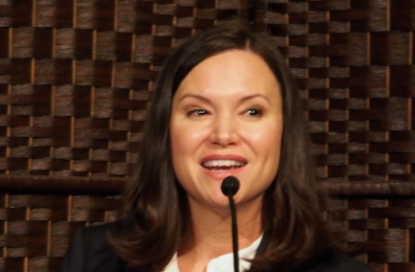 The U.S. Securities and Exchange Commission accused one of Republican Attorney General candidate Ashley Moody's financial supporters of manipulating stock markets to make millions for himself and co-conspirators.
According to a complaint brought against Barry Honig, he and a ring of South Florida investors orchestrated a classic pump-and-dump scam.
Moody campaign officials say they are refunding Honig's contributions and disassociating from him completely, but the micro cap fraud case draws fresh questions how Moody as attorney general might treat white collar crime should more donors come under scrutiny.
Pump and Dump
SEC officials say Honig and other investors arranged the discount purchase of stock in three different companies, then engaged in deceitful trading to create the illusion of market activity.
The group of investors sold the stock at inflated prices, reaping millions at the expense of duped investors.
"As alleged, Honig and his associates engaged in brazen market manipulation that advanced their financial interests while fleecing innocent investors and undermining the integrity of our securities markets," said Sanjay Wadhwa, senior associate director in the SEC's Division of Enforcement.
"They failed to appreciate, however, the SEC's resolve to relentlessly pursue and punish participants in micro cap fraud schemes."
According to the SEC, Honig acted as "primary strategist" in the micro cap fraud scheme. The scheme involved at least three unnamed companies, according to the SEC.
First, Honig and other investors, including Miami billionaire Phillip Frost in two of the businesses, bought a large amount of stock at a discount by purchasing a shell company, executing a reverse merger or engaging in financing favorable to the company.
Then investors sat on the cheap stock while Seeking Alpha blogger John H. Ford, another defendant in the complaint, or another "promoter" wrote misleading articles hyping the stock, the SEC alleged. The ring of investors meanwhile engaged in trades to create a false impression of market activity right before "news" broke in the blogs.
The SEC says Honig directed executives at the companies to sign public filings omitting his and other defendants' ownership in stock or the size of their holdings.
Finally, the investors dumped their stock as prices jumped. The SEC complaint says investors made $9.25 million in stock sales from one company, $9.5 million from a second and $8.3 million from a third.
Potential for Favoritism
All the investors in the scheme — Honig, Frost, John Stetson, Michael Brauser, John R. O'Rourke III and Mark Grossman — live in South Florida, while the company executives facing charges were based in New York at the time of the activity; Ford lives in California. The SEC says the illegal practices took place from 2013 through this year.
Only Honig donated to the Friends of Ashley Moody committee. In the past, he has given to congressional campaigns for former Republican U.S. Rep. Ginny Brown-Waite and retiring GOP U.S. Rep. Ileana Ros-Lehtinen, according to Open Secrets.
The SEC filed its complaint in federal court in Manhattan, but it involves plenty of financial activity in Florida, and as more details come out, state laws may come into play.
The Florida Attorney General's Office includes a Consumer Protection Division that investigates and litigates civil cases including theft and deceptive trade practices.
Officials with the Moody campaign now are distancing themselves from Honig.
"Upon learning of the SEC complaint filed against Barry Honig earlier this month, Melanie Bonanno, chair of the Friends of Ashley political committee, started the process to refund his contribution," said Christina Johnson, a Moody campaign spokeswoman.
The refund doesn't yet show up in the state's campaign finance database, but the committee shared a copy of the check.

Bonanno sent a letter to Honig on Sept. 11, three days after the SEC announced charges: "In light of the pending SEC complaint, enclosed please find a refund of your donation."
But opponents likely won't make distancing Moody from Honig easy. The Boca Raton businessman had been one of the top 30 donors to Friends of Ashley Moody as of Sept. 7, the last filing deadline.

Of course, the potential influence of political donations has caused headaches for the Attorney General's Office before.
Attorney General Pam Bondi suffered withering criticism over a $25,000 donation by the Trump Foundation in 2013 to a political committee supporting Bondi's candidacy.
The donation came as New York Attorney General Eric Schneiderman filed a lawsuit accusing Donald Trump and his Trump University of deceptive conduct.
Officials at the Attorney General's office before the donation was made told two newspapers they were looking into the Trump University case, but after the donation, the office said it was not pursuing its own investigation, according to liberal watchdog group CREW.
The issue became a national story after Trump launched his presidential bid and Bondi endorsed him. Bondi also endorsed Moody immediately after she launched her candidacy.
Democratic opponent Sean Shaw's campaign made mention of the Bondi controversy in its own critique of the Friends of Ashley Moody connection to Honig.
"America already has its hands full with the amount of corruption coming from the Trump White House," said Shaw spokesman Michael Starr Hopkins.
"Pam Bondi accepted $25,000 to call off the Trump University investigation and it looks like Ashley Moody was willing to be bought for less until she got caught. Floridians deserve better."