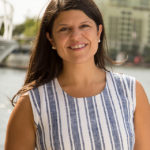 Whenever a public figure faces charges of sexual assault, we follow the same broken cycle — an allegation is made, the accused person denies it, and the survivor is attacked. Then a chorus of voices amplified through cable news discounts the accusation and says, "even if it's true, it's not that bad."
This is a familiar story for many women. It's my story too.
Dr. Christine Blasey Ford has lodged a credible allegation of sexual assault against Supreme Court nominee Brett Kavanaugh. Since coming forward, she has faced criticism and threats. She and her family have been forced into hiding. If she chooses to testify before the Judiciary Committee, she'll face a level of scrutiny unlike anything we have seen since the Anita Hill debacle in 1991.
In college, I was the victim of a sexual assault that I have not discussed publicly until today. I did not report the assault because while I cannot speak for all victims, my experience has taught me that to be assaulted is to be traumatized. It is to be left with lingering feelings of doubt, grief, fear and rage. It is to revisit the tragedy over and over and to constantly question if you're to blame. It is to go months and years with pain buried deep in your consciousness and then to have a certain smell or sound bring it flooding back as if you were reliving it. To be sure, it is something that you cannot understand unless you've experienced it.
For Dr. Ford to have experienced an assault at the hands of Judge Kavanaugh, to speak up, then to face smears and unwarranted retaliation from people making no effort to understand her ordeal is a national travesty.
Her decision to come forward could not possibly have been easy. Even I, who represented abused women in court and founded the Florida Women's March, have struggled with whether to tell my story. But we need to speak up if we want to make change.
When 73 of 75 Republicans in the Florida House signed a letter supporting Kavanaugh, they asked us to ignore the very serious allegations leveled against him. Their letter ends with "Recognize the truth, unify the country, confirm Judge Kavanaugh …" Florida Republicans aren't just calling for the country to unify around Kavanaugh. They're calling for extreme partisans to unify against all allegations of sexual assault. They think that if they stand together, no woman can get in their way.
It's time to prove them wrong. Women need to be heard. We need to be believed. Most of all, we need a seat at the table so that we can lead the charge against a toxic culture of permissiveness. The "Me Too" movement shined a light on the stories held secretly by so many of us. It slowly began to destigmatize a subject we urgently need to address. Any attempts to undermine the credible claims of women who come forward to speak their truths fly in the face of the advances we have made. I refuse to turn back the clock on our progress.
___
Emma Collum is an attorney, activist and co-founder of the National Women's March. She is also a Democratic candidate for Florida House District 83.