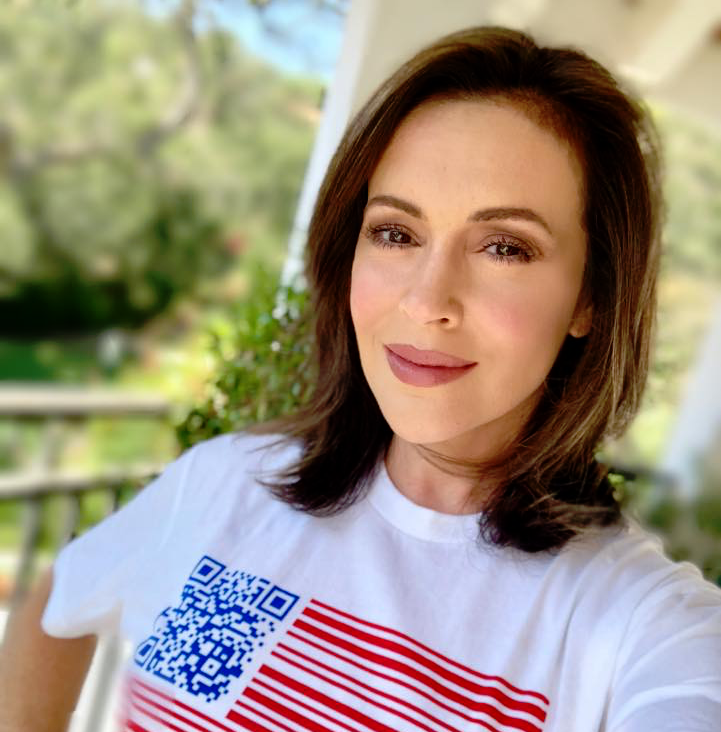 Actress and activist Alyssa Milano, a day after capturing press attention at Brett Kananaugh's confirmation hearings, will campaign for Democratic gubernatorial candidate Andrew Gillum in Florida.
The "Charmed" star will speak at a grassroots rally in Hollywood (the one in Florida), where she plans to discuss women's healthcare and highlight Gillum's plans to expand healthcare access in the Sunshine State. She will speak at Hollywood Vine at 4 p.m.
On Twitter, Milano said she'd spend the day volunteering for Gillum's campaign.
Hello, Florida! I'm going to be spending the day volunteering with your next Governor, @AndrewGillum.

— Alyssa Milano (@Alyssa_Milano) September 29, 2018
The actress in recent years embraced a political role in feminist politics, particularly as part of the #MeToo movement.
While Milano didn't coin the phrase, the moniker of the movement largely got popularized thanks to Milano tweeting the two words in October 2017, just as the Harvey Weinstein scandal consumed the film industry.
Me too.

— Alyssa Milano (@Alyssa_Milano) October 15, 2017
More recently, Milano could be seen in attendance at the Supreme Court confirmation proceedings in Washington, D.C.
She attended testimony by associate justice nominee Kavanaugh and by Palo Alto University professor Christine Blasey Ford, who accused Kavanaugh of assaulting her at a party while both were in high school.
"I wasn't there with any political agenda," she told The Hollywood Reporter. "I was there to support a survivor of sexual assault."
Milano attended the hearings as a guest of California Sen. Dianne Feinstein.
The Gillum campaign says Milano will also touch on the make-up of the Florida Supreme Court today. Three state justices must retire in January, and outgoing Gov. Rick Scott remains engaged in ongoing litigation with the League of Women Voters and Common Cause over who should appoint replacements.
The actress currently stars in Insatiable, a new comedy on Netflix.
But she's also increasingly active in Democratic politics. According to Open Secrets, the actress this election cycle donated money to Democrats around the country running for Congress, including Harley Rouda, Brianna Westbrook, Conor Lamb and Jon Ossoff, who ran unsuccessfully last year in a Georgia special election.
She's also supported Ayanna Pressley, who this month upset incumbent Massachusetts congressman Michael Capuano in a Democratic primary.