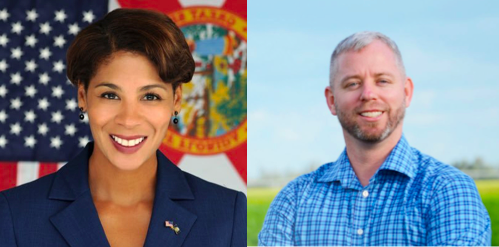 A lawsuit by politicians Pam Keith and Roy David Walker postponed a decision to replace deceased congressional candidate April Freeman on the November ballot. But a Tuesday deadline looms.
The Florida Democratic Party held a conference call with Democratic county chairs today scheduled to discuss a replacement nominee for Freeman, who died unexpectedly last Sunday night. But a judge's order stopped any decision on Saturday.
Freeman in August won the Democratic nomination in Florida's 17th Congressional district. She faced Republican Greg Steube, a Sarasota area state Senator, in the heavily Republican district. Steube cancelled all campaign activity for a week after Freeman's unexpected death.
Applicants to replace Freeman included Keith and Walker, but a state statute excludes anyone who attempted to seek another public office in the same year from consideration.
Keith this year sought the Democratic nomination in Florida's 18th Congressional District in August and lost to Lauren Baer. Walker, formerly a candidate for Agriculture Commissioner, lost the Democratic nomination to Nikki Fried.
The two candidates filed a lawsuit Friday in federal court arguing the law disqualifying them should be ruled unconstitutional.
"Running for office is not a crime," reads a motion by plaintiffs. "It is not an action that should be discouraged. It in no way renders a person unfit to speak on behalf of others, contemplate legislation or carry out any other duties of a member of Congress."
Federal Judge Elizabeth A. Kovachevich will hold a hearing on Monday and expects to issue a ruling quickly.
JoAnne DeVries, chairman of the Sarasota Democratic Party, says county chairs could convene as soon as Monday evening to make a decision. The 17th district spans portions of nine counties: Sarasota, Charlotte, Polk, Highlands, Lee, DeSoto, Okeechobee, Hardee and Glades.
State law calls for the Florida Democratic Party to consult with county chairs to choose a replacement nominee. The party must submit a name to the Division of Elections by 5 p.m. Tuesday or all votes for Freeman will not be counted for a new nominee.
To date, DeVries said, county chairs have not recieved a complete list applicants, who had to submit interest before a Friday deadline. But press accounts show Keith and Walker aren't the only hopefuls impacted by the state law.
Todd Truax, who ran in Florida's 19th Congressional District this year, also applied for consideration, according to The News-Press.
Bill Pollard, who lost the nomination to Freeman in August, told Florida Politics after Freeman's death that he would consider running if the party wanted him, but says he did not apply because he could not pay the required $10,400 filing fee and had "insufficient support."
Ballots have already been set for the Nov. 6 general election, so Freeman's name will appear on the ballot. Elections officials say once a replacement gets named, notices will be sent with vote-by-mail ballots and posted in polling locations explaining votes for Freeman will count for the new nominee.