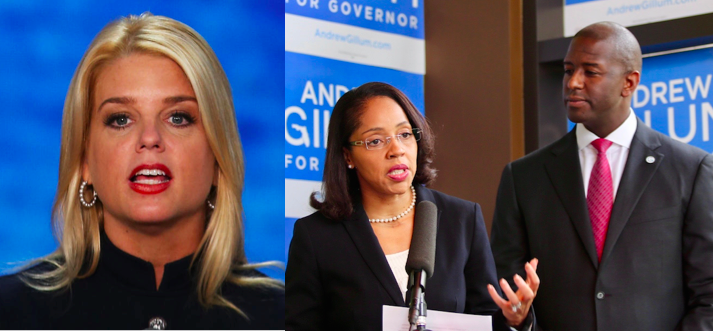 Attorney General Pam Bondi called out Democratic gubernatorial candidate Andrew Gillum for appearing at an event Saturday honoring controversial State Attorney Aramis Ayala.
"Andrew Gillum is demonstrating that he will not stand up for our brave law enforcement officers who risk their lives each day to keep us safe," Bondi said in a statement. "I know [Republican gubernatorial candidate] Ron DeSantis will stand shoulder to shoulder with all our brave first responders."
Gillum tonight attended the Miami Dade Blue Gala in Coral Gables, where the Miami-Dade Democratic Party honored four individuals including Ayala, the State Attorney for the 9th Judicial Circuit in Central Florida.
But Ayala, Florida's first black state attorney, proved herself controversial since her surprise election, particularly following her decision last year not to pursue the death penalty in any cases. She announced the decision as the office prepared its case against accused cop-killer Markeith Lloyd.
"It is unfathomable to me that Andrew Gillum would participate in honoring State Attorney Aramis Ayala, who refused to even consider the death penalty for the man who brutally murdered a true hero — Lieutenant Debra Clayton," Bondi said.
Lloyd also faces charges for killing girlfriend Sade Dixon and her unborn child.
Gov. Rick Scott reassigned the Lloyd case to State Attorney Brad King in the neighboring 5th Judicial Circuit.
Ayala fought that move, but the Florida Supreme Court ultimately ruled Scott had the right to reassign the case. Ayala afterward lifted her blanket ban on pursuing the death penalty and set up a panel in her office to consider the appropriateness of capital punishment case by case.
Ayala in July endorsed Gillum, who joined her for a press event in Orlando. Gillum praised Ayala then. "She is a deeply dedicated public servant and a strong advocate for justice and fairness, and the personification of leadership in her community and across the state," he said then.