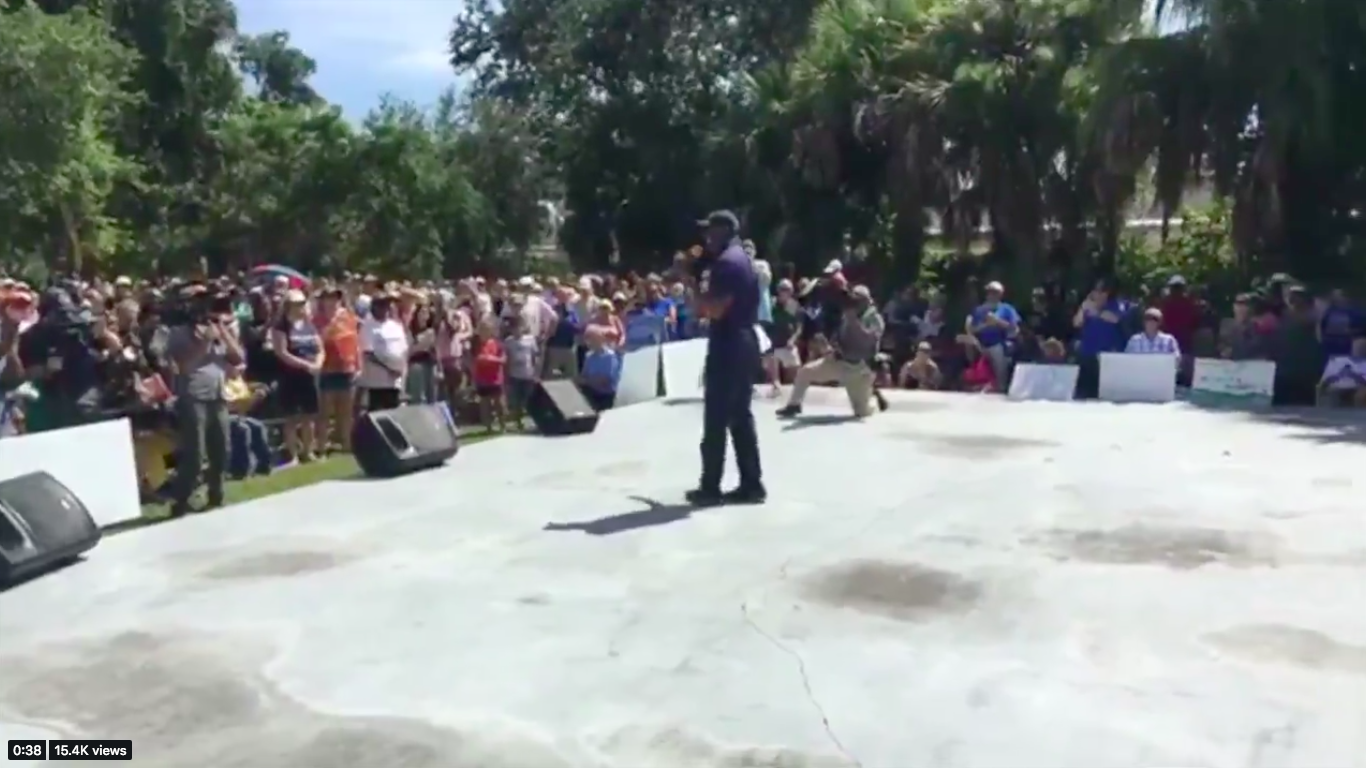 Democratic gubernatorial candidate Andrew Gillum enjoyed another high attendance rally in a deep red part of Florida, this time Martin County.
Gillum addressed about 1,500 people in Stuart after completing a boat tour of areas on Florida's east coast struck by toxic algal blooms.
"Crowds of this size in Martin County are unheard of," said campaign communications director Johanna Cervone.
"The energy and enthusiasm for Mayor Gillum and his vision for a Florida that works for everyone is incredible. Day after day, we're seeing record crowds for Mayor Gillum in some of Florida's most conservative areas. This movement is growing. As toxic algae and red tide hurt our economy and make people sick, Floridians are ready for a leader who will take on the special interests and make our environment a priority."
Part of the reason the crowd seems so surprising? Republican President Donald Trump carried Stuart with 65 percent of the vote to Democrat Hillary Clinton's 35 percent.
It's not the first time Gillum enjoyed large crowds in right-wing areas this month. He saw high turnout at a Palatka event last weekend.
Of course, high turnout for Gillum could mean good things for Democrats down-ballot as well. TCPalm reporter Ali Schmitz.
For those who aren't following: Stuart is a SOLIDLY Republican town. Definitely people here for nearby areas, but this is a red district.

— Ali Schmitz (@SchmitzMedia) October 7, 2018
While the event clearly drew from other cities nearby, the region simply doesn't see Democratic candidates rallying the masses.
This is big for the @LaurenBaer campaign too – because if there's this level of enthusiasm for @AndrewGillum in #FL18, it'll likely translate to some success for her too. (Not saying a repeat of 2012 Murphy v West race yet.)

— Ali Schmitz (@SchmitzMedia) October 7, 2018
Lauren Baer, the Democratic challenge for Republican U.S. Rep. Brian Mast, has been in one of the most closely watched Congressional races in the state. Though the last reporting period, she had raised about $897,000 to Mast's almost $1.8 million.
Prognosticators like Cook Political Report, Sabato's Crystal Ball and FiveThirtyEight all still list the race as lean Republican, but an increasing number of outside liberal groups have jumped into the race.