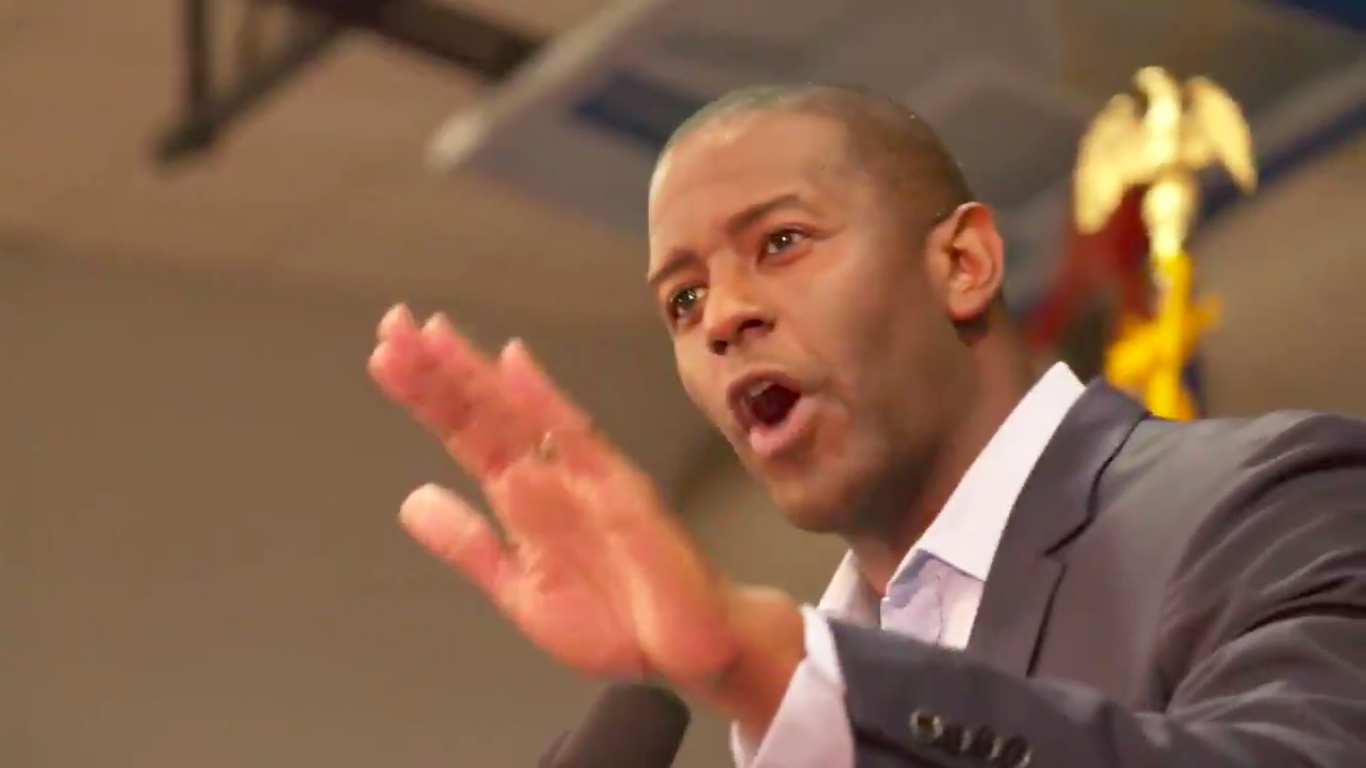 It took less than a day for Hurricane Michael to make partisan sparks fly.
Democratic candidate for Governor Andrew Gillum took to Twitter Monday evening to respond to vague criticisms offered by President Donald Trump earlier in the day at a stop in Orlando.
"Don't come to my state and talk trash about my city while we are preparing for a Category 3 hurricane," Gillum wrote in a tweet addressed to Trump. "We need a partner right now, not a partisan."
Hey @realDonaldTrump — don't come to my state and talk trash about my city while we are preparing for a Category 3 hurricane. We need a partner right now, not a partisan.

— Andrew Gillum (@AndrewGillum) October 8, 2018
Gillum was referencing comments made by Trump during an exclusive interview with WFTV's Christopher Heath following the president's remarks at the International Association of Chiefs of Police Annual Convention.
Trump, who endorsed Republican gubernatorial nominee Ron DeSantis and rallied alongside the former congressman in Tampa ahead of the primary election, praised DeSantis and criticized Gillum, along with his tenure as Mayor of Tallahassee — all without directly mentioning Gillum or the capital city.
"[DeSantis'] opponent runs a place that has a lot of problems and I know it very well, but it's got a lot of problems, tremendous corruption, tremendous crime," Trump told Heath.
Trump also suggested Gillum "runs an area and a city that's got among the worst statistics in the country and certainly in the state."
When it comes to crime, Trump may have been referring to reports released that have shined an unfavorable light on Tallahassee.
One report, which reviewed data from the FBI Uniform Crime Report, found Tallahassee had 767 violent crimes for every 100,000 residents in 2015, far more than in any of Florida's 21 other metro areas observed by the FBI. Another report, which only examined FBI statistics on property crime, found Tallahassee had 52 property crimes per 1,000 residents, making it the tenth-worst city in the country for crimes such as burglary or larceny
Those stats are nothing new. Leon County, which houses Tallahassee, has had the highest crime rate in the state since 2014, although Gillum has recently pointed to 2017 — which saw the lowest crime rate in the county since 2013 —as evidence that the area is improving.
Hurricane Michael is currently tracking toward the Panhandle and Big Bend regions. It is expected to make landfall somewhere between Pensacola and Panama City, possibly as a category 3 hurricane on Tuesday night or Wednesday. Tallahassee is expected to be affected by the storm, and many state offices have closed their doors in preparation.
Gillum spent Monday in Tallahassee prepping residents for Hurricane Michael's arrival.
Hurricanes have become a topic of contention in the race for Governor, with DeSantis hitting Gillum over the amount of time Tallahassee residents went without power in the wake of Hurricane Hermine in 2016 — Republicans claim the wait time could have been trimmed if outside workers waiting to help restore power to the city were allowed to pitch in on the effort.
Despite negative ads placing the blame on Gillum, he was not empowered to make that call.