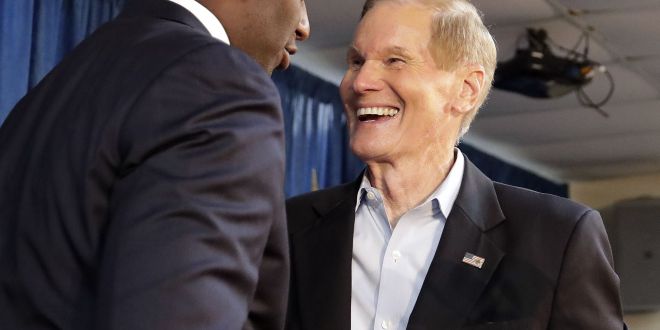 A month after claiming U.S. Sen. Bill Nelson was the most vulnerable incumbent nationwide, Nate Silver's FiveThirtyEight says his odds of defeating Gov. Rick Scott are improving.
Based on polls alone, the political forecasting website currently lists the third-term Democrat with a 57 percent chance of earning another six years in Washington. He fares a little better in the site's "Classic" model, which accounts for x factors such as incumbency, fundraising and historical trends.
Despite the improved odds, the vote tally is expected to be as close as ever: FiveThirtyEight currently predicts Nelson will take 50.5 percent of the vote on Election Day while Scott, a Republican, will get a 49.5 percent share.
Still, the new forecast shows a marked improvement over FiveThirtyEight's mid-September assessment, which predicted Nelson would eek out another term by just one-tenth of a percentage point.
"It might seem surprising that the fundamentals calculation regards Florida's Bill Nelson as the most vulnerable Democratic incumbent since Florida is quite purple and there are Democrats up for re-election in some genuinely red states," Silver wrote a month ago.
"Nelson has a very good challenger in Florida Gov. Rick Scott; one way our model accounts for candidate quality is by looking at the highest elected office the opponent has held, with races against current or former governors or senators falling into the top category."
Nelson one of 10 Democratic U.S. Senators running for re-election in a state that voted for Donald Trump two years ago, and his battle against Scott has been lopsided, spending wise, since the term-limited Governor entered the race in April.
Scott's media blitz and high name ID translated into polling leads in the early phase of the race, but recent polls have seen Nelson bounce back.
A recent St. Pete Polls survey, commissioned by Florida Politics, found Nelson, Florida's only statewide elected Democrat, and Scott essentially tied with 47 percent support apiece. Polls published by the University of North Florida and Public Policy Polling have also indicated Nelson has closed the gap since the general election began in earnest.
Florida's U.S. Senate election is seen as a "must-win" by national Democrats, who are holding out hope they can flip both chambers of Congress in the fall. Republicans currently hold a 51-49 advantage in the Senate.
When it comes to Democrats' chances of flipping the upper chamber, however, FiveThirtyEight says that possibility is rapidly waning as embattled Democrats in Indiana, Missouri, Tennessee and North Dakota have slipped in the polls.
"Republicans' chances of keeping the Senate are up to about a 4 in 5 (79 percent), according to the 'Classic' version of the FiveThirtyEight forecast," Silver wrote Tuesday. "Republicans have always been favored to hold the Senate, but that's nevertheless a meaningful improvement from recent weeks, when their odds were generally hovering between 2 in 3 (67 percent) and 7 in 10 (70 percent) instead."