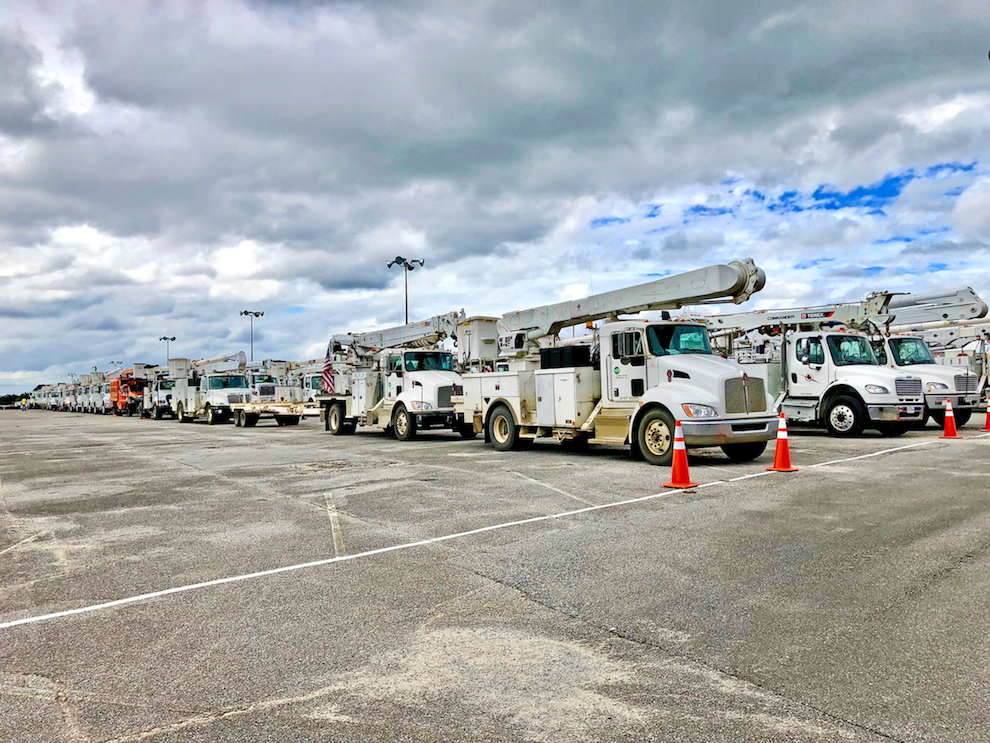 Gulf Power, which has more than 460,000 customers in the Florida Panhandle, said it's preparing for the possibility that system will have to be rebuilt in the areas hardest hit by Hurricane Michael, delaying power restoration efforts.
Hurricane Michael made landfall on the Florida Panhandle near Panama City on Wednesday afternoon as a Category 4 storm with sustained winds of 155 mph. The storm is expected to pass through the state stretching from Crestview in the west to Tallahassee in the east.
"Northwest Florida has never encountered a storm of this magnitude," said Gulf Power spox Jeff Rogers. "In the hardest hit areas, the possibility exists that we will be rebuilding our system while we are restoring power. Customers in the high impact areas could be without power for weeks. We're estimating that 225,000 customers could be without power after Michael passes through."
The high winds brought by the storm will keep Gulf Power's lineworkers — including more than 2,600 out-of-state personnel, 1,187 employees and 330 contractors — grounded until the worst is over.
"Crews will restore power until winds reach 30 mph when it becomes unsafe for them to be up in buckets," Rogers said. "As soon as winds drop they'll be right back out there restoring power. Every Gulf Power employee has a storm duty and they're ready for this," Rogers said. "We drill every year and crews train year-round — we've become very skilled in power restoration."
In the aftermath of the storm, Gulf Power said it's imperative for residents to not step in any water near a downed power line; not to attempt connecting a generator to your household wiring; and to turn off all large appliances during an outage and wait to plug them back in until 15 minutes after power is restored in order to prevent damage from a possible power surge.
Other preparation and safety tips are available on the Gulf Power website.
The utility company said it will remain active on social media throughout their power restoration and rebuilding efforts. Customers can get the latest information from MyGulfPower.com, Facebook, Twitter as well as through the Gulf Power apps available for Apple and Android devices.
Those without a smartphone can sign up to receive "PowerOut alerts" via text message by texting REG to MyGulf (694853). Customers with questions about their outage can also reach the company by phone at 1-800-487-6937.
Hurricane Michael is the company's third test of the 2018 hurricane season. Pensacola got hit by subtropical storm Alberto back in May. Last month, Tropical Storm Gordon hit the region and Gulf Power was able to get its customers within a day and a half.