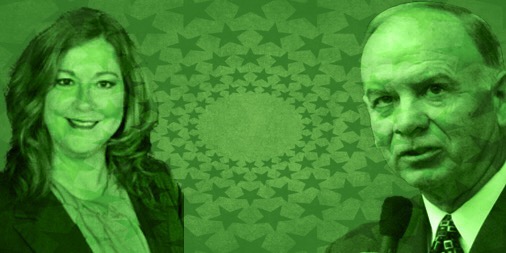 Former state Rep. Ed Hooper grew his campaign and committee coffers to more than $900,000 during the most recent campaign finance reporting period, covering Sept. 29-Oct. 5.
The Republican state Senate candidate's fundraising more than doubles his opponent's: Amanda Murphy's campaign and affiliated committees together have brought in $393,000.
Hooper's campaign raised $48,000 during the latest reporting period. His committee, Friends of Ed Hooper, raised $13,000.
The two candidates are facing off in a battle to replace former state Sen. Jack Latvala in Senate District 16. He resigned earlier this year amid sexual misconduct allegations.
SD 16 covers parts of Pasco and Pinellas counties, including Clearwater, Dunedin, New Port Richey, Oldsmar, Safety Harbor and Palm Harbor.

Fundraising trends between the two campaigns mirror that of other state matchups where Republicans are far out-raising their Democratic candidates.
Democrats, including Murphy, are raising funds locally through smaller dollar gifts while Republicans are relying on special interests and outside groups for high-dollar contributions.
Hooper raked in money from the pharmaceutical industry with giants like Pfizer, AstraZeneca, Eli Lilly and Co. and Bristol-Myers Squibb making large-dollar contributions to his campaign.
Hooper also received cash from entities affiliated with Walt Disney World, beer distributors and the auto manufacturing and sales industry.
Hooper's campaign brought in 65 individual contributions during the latest reporting period, with those averaging $738 each.
Meanwhile, most of Murphy's contributions came from Tampa Bay area residents. Her campaign received 54 contributions averaging $352 each.
Murphy tapped contributions from teacher's and ironworker's unions and the Flippable Florida Victory Fund created to push the so-called "blue wave."
Hooper spent $15,000 this report with most of that going to Direct Mail Systems for campaign mailers. His committee did not report any recent expenses.
Murphy spent $19,000 this report with $17,000 of that going to Tallahassee-based VancoreJones Communications for consulting. Her committee spent $39,000, but not for campaigning activity. The fund made payouts to other groups including Emily's List, Flippable Florida Victory Fund and Sensible Gun Laws Now.
Hooper had a combined $421,000 banked at the end of the reporting period, while Murphy had a relatively lean $55,540 banked between her three accounts.
Murphy lost her previously held House district by fewer than 700 votes to now-Republican Rep. Amber Mariano. The race was considered a huge loss for Democrats despite the narrow majority in a district that went against Hillary Clinton in 2016 by double digits.
Hooper left the house to run for Pinellas County Commission in 2014. He lost to Democrat Pat Gerard.
The race is considered competitive. A St. Pete Polls survey in June put the race at 47-45 percent with Hooper holding the advantage, though his edge falls within the poll's 3 percentage point margin of error.
SD 16 is, however, a "red" district. Republicans make up about 38 percent of the district's electorate while Democrats account for about a third. The district went plus-12 for Trump in 2016.