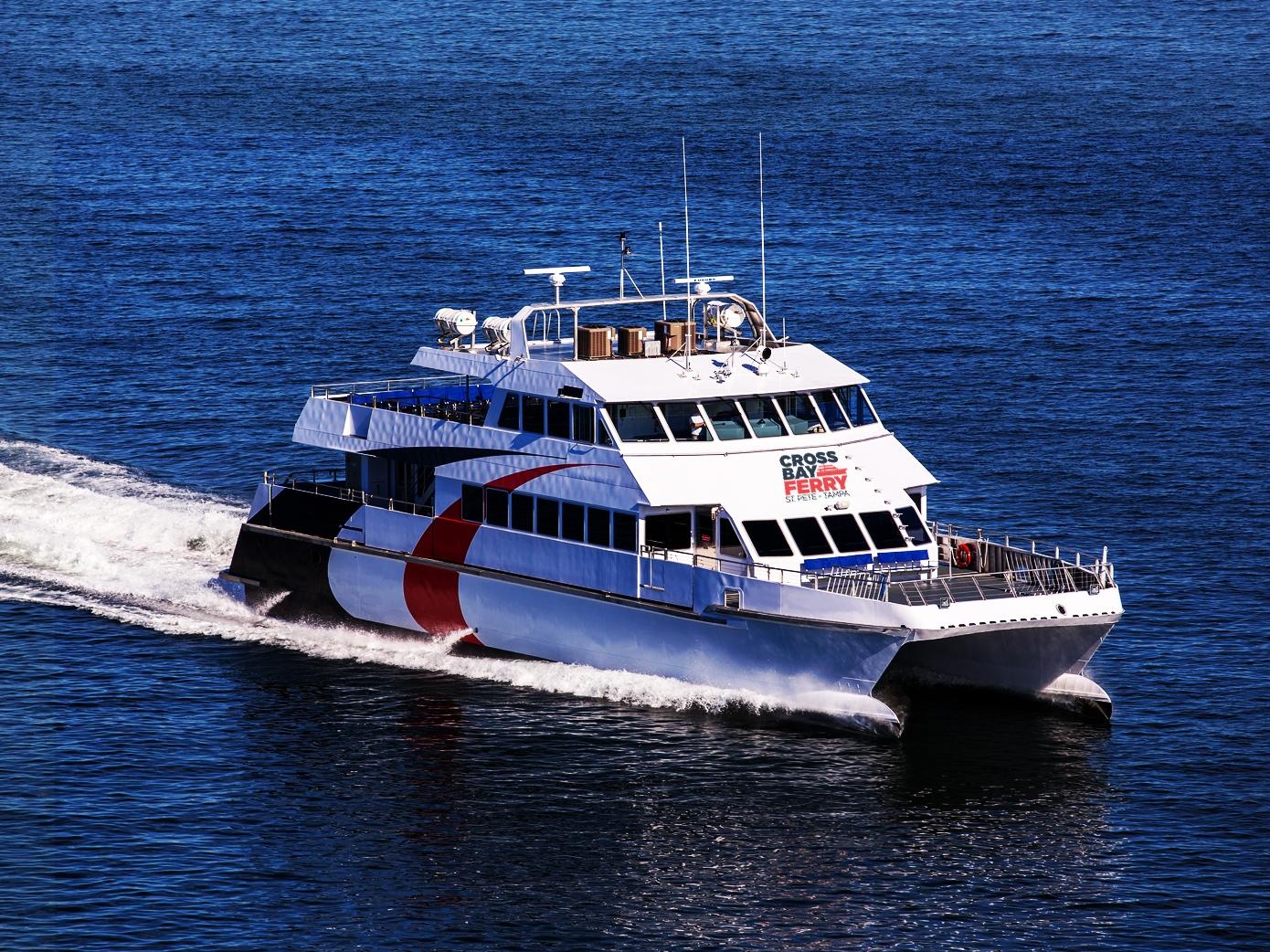 Cross Bay Ferry is coming back. 
The service between downtown St. Petersburg and downtown Tampa launches November 1 with two new docking locations, officials overseeing the program announced Tuesday.
The service will dock in the Vinoy Basin in St. Petersburg closer to the historic Renaissance Vinoy hotel. The previous dock in the Pelican Parking lot next to the St. Pete History museum is no longer an option because of construction on the new pier.
The ferry will also have a new docking location in Tampa. It will arrive and depart from space next to the Florida Aquarium. That new location gives passengers easier access to downtown Tampa amenities like Sparkman Wharf, Amalie Arena, the Tampa Bay History Center and the Tampa Riverwalk.
The ferry previously docked at the Tampa Convention Center.
The ferry pilot ran for six months between November and April 2016 and 2017. It did not come back the next year due to a lack of funding. Spearheaded by the city of St. Pete, this year all four previous funding partners again agreed to fund another six-month, seasonal service. The cities of St. Pete and Tampa, as well as Hillsborough and Pinellas counties, each contributed $150,000 to support the service.
The governments paid $350,000 each for the 2016/17 pilot. The cost went down because revenue exceeded expectations.
"Ever since the first season finished, people have asked me when the ferry will return, and I'm thrilled to say the answer is November 1," said St. Pete Mayor Rick Kriseman, an original backer of the ferry project. "The ferry provides a fun, fast and efficient way to connect two great cities across the water."
The new service has reduced fares and extended operating hours.
Fares will be $8 for adults, $3 for children 5-18 and free for children under 5. The service will also have discounted fares for seniors, veterans, active duty military and college students.
The ferry is a sister ship of the original boat used. It's the same make and model and still accommodates up to 149 passengers.
As it was during the pilot, snacks and beverages including beer and wine will be available on board.
The Cross-Bay Ferry will run Tuesday through Sunday, with new, late-evening runs so people can enjoy both cities. For instance, people from Tampa can take a 5:30 p.m. run to St. Petersburg, have dinner and take a 10 p.m. boat back to Tampa. Similarly, people in St. Petersburg can take a 4 p.m. run to Tampa to see a hockey game and catch an 11 p.m. boat back home. Advance ticket sales begin about one week before the maiden voyage on November 1.