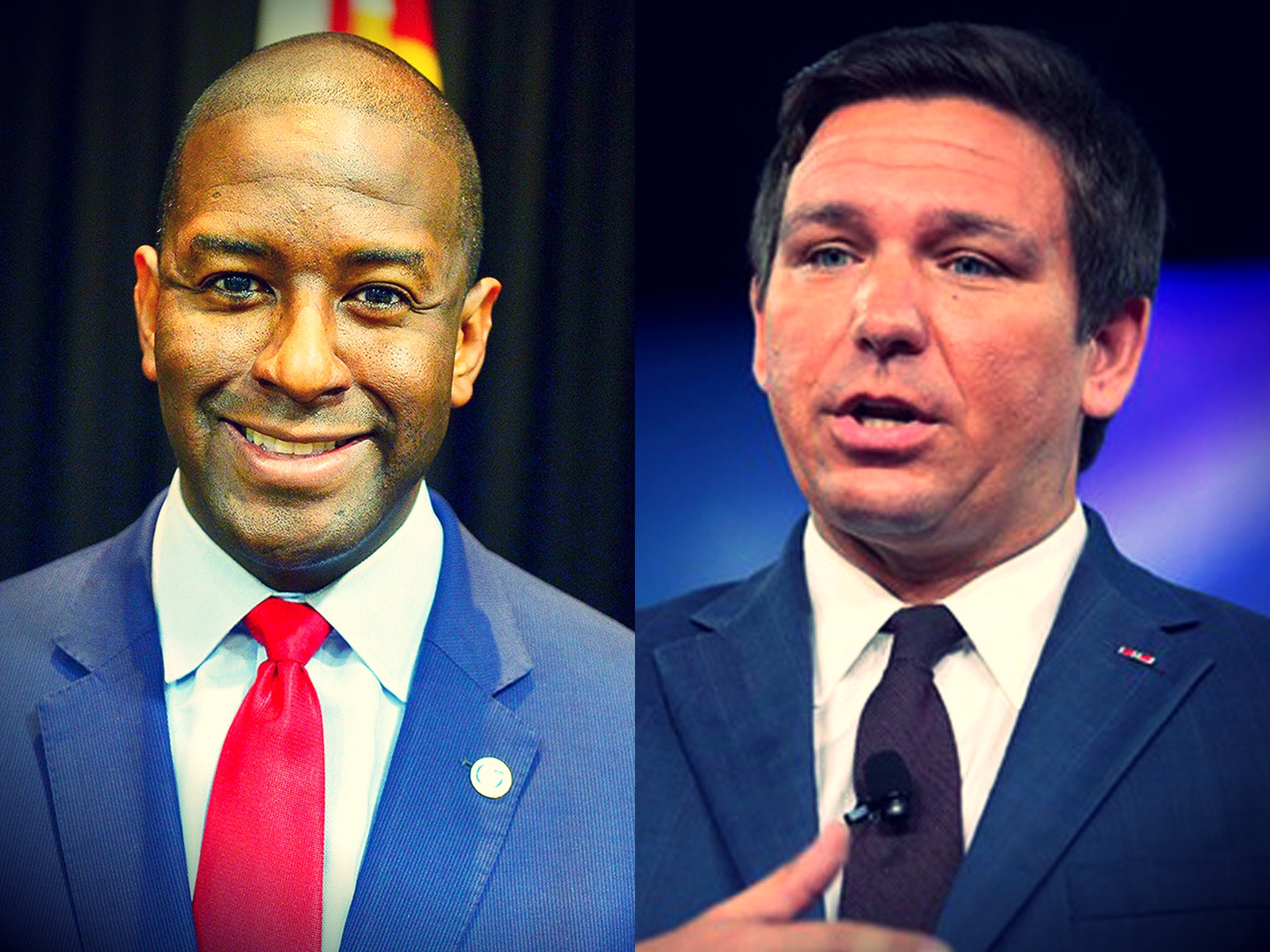 In the first poll since Hurricane Michael devastated the Panhandle — and changed the course of state politics — the race for Florida Governor is virtually tied.
Twenty days before Election Day, Democrat Andrew Gillum is at 47 percent, while Republican Ron DeSantis is at 46. However, among those who say they have already voted, DeSantis is at 49 percent, while Gillum is at 45 percent.
A similar scenario is set up for Florida's U.S. Senate race — heading into the stretch in dead-heat fashion, according to the new survey by St. Pete Polls. Republican Gov. Rick Scott has a two-point lead over Democratic incumbent U.S. Sen. Bill Nelson.
The poll comes with a definitive asterisk as respondents in portions of the Panhandle, specifically the Panama City media market, where Michael delivered his lethal blow, are under-sampled. A slight plurality of these voters typically supports Republican candidates.
Regardless, as Gillum and DeSantis try to find that pose looking still concerned about hurricane victims while scrambling for those last few votes, Florida appears headed toward the kind of election-night gubernatorial nail-biter the state saw in both 2010 and 2014 when Scott secured one-point victories only as final returns were posted.
There remain only a few of those last votes, according to the poll. Reform party candidate Darcy Richardson captures about 2 percent support in the Governor's race poll, while 5 percent of Florida voters say they are still undecided.
The survey was conducted by St. Pete Polls, has a sample size of 1,974 respondents and has a 2.2 percent margin of error.
In the race for Florida's U.S. Senate seat, Scott is setting up for what might be another nail-biter for his own record. He has a narrow lead over Nelson, 49 to 47 percent. Scott is at 50 percent with those who have already voted.
Respondents were also asked to rate Scott and Gillum's response to Hurricane Michael. While Scott received strong marks for his efforts, Gillum's numbers are a mixed bag.
Sixty-one percent of voters approve of how Scott has handled the response to Michael, while 21 percent do not, and 18 percent are unsure. Gillum, the Mayor of Tallahassee, is at 44/30 approve/disapprove with 25 percent unsure.
Compared with previous polls, spreads have tightened in the battle for independent voters, and across nearly every demographic group in the new poll. Past polling showed independents breaking solidly for the Democrats Gillum and Nelson, but this poll shows Gillum with only a 2 percent advantage and Nelson with a 5 percent edge. In past surveys, women were also breaking decidedly toward Democrats and men toward Republicans, but this time, the differences were mostly statistically insignificant.