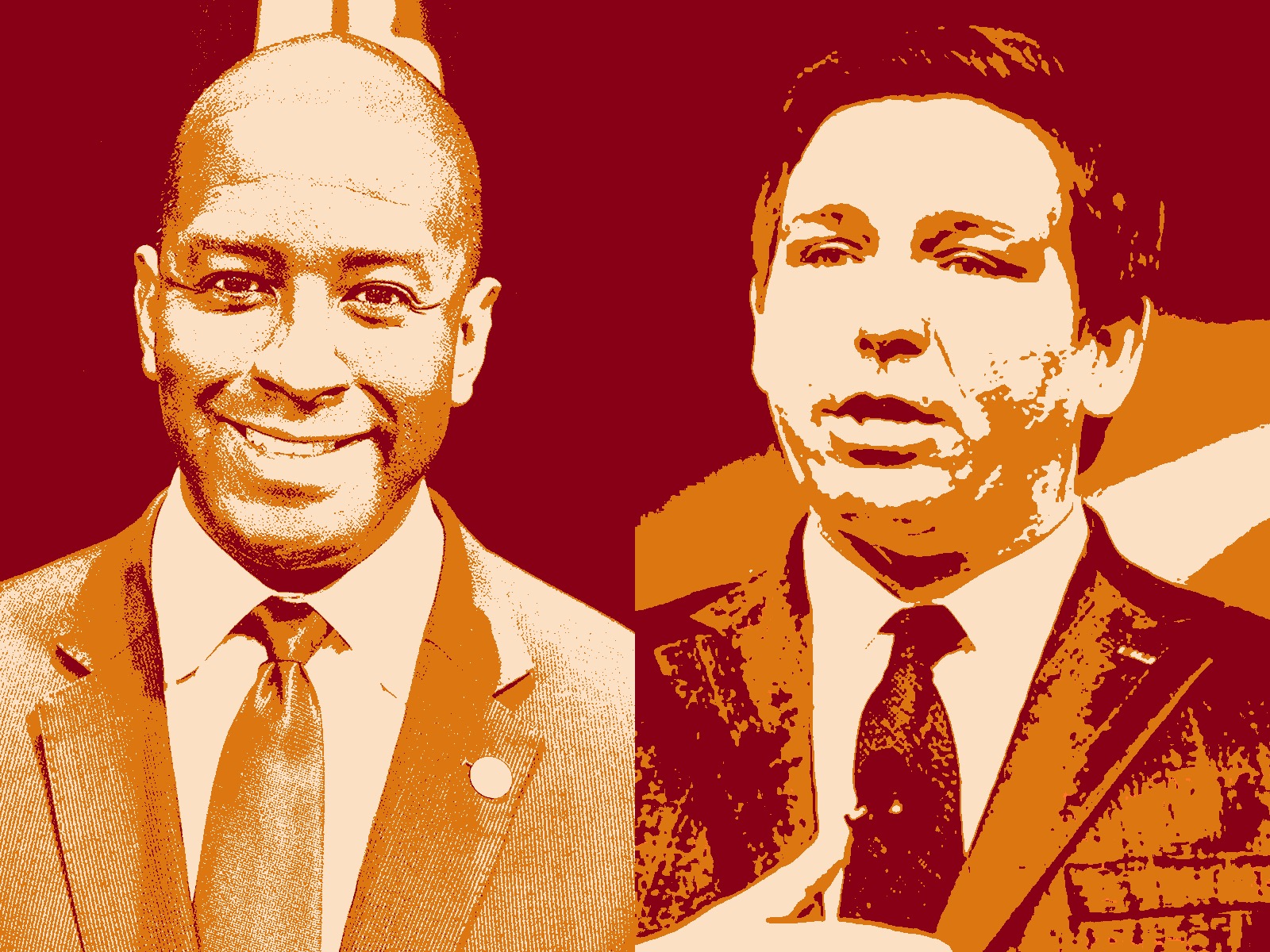 Hours before a Florida gubernatorial debate on the network, CNN released a poll showing Democratic candidate Andrew Gillum with a 12-point edge over Republican Ron DeSantis.
DeSantis officials pushed back against the CNN survey, which Republicans say "polled an electorate never seen in Florida."
The same poll asked voters their stance in Florida's U.S. Senate race and found Democratic incumbent Bill Nelson holds a four-point lead over Republican challenger and two-term Gov. Rick Scott.
With Gillum and DeSantis set to share a debate stage for the first time in Tampa tonight, with CNN's Jake Tapper moderating, the race for Florida's chief executive prompts the most immediate attention.
Gubernatorial dominance
The survey of registered voters, taken between Oct. 16 and 20, shows Gillum winning 52 percent of the vote over DeSantis' 42 percent. Another 5 percent reported no opinion and 1 percent said they would not vote for either candidate.
When pollsters narrowed the vote to likely voters, Gillum's lead grew to 12 points, up 54 percent to DeSantis' 42 percent.
Perhaps most importantly, the poll using either voter model puts the Democratic candidate above the critical 50 percent milestone.
DeSantis officials questioned the release of the poll immediately before a debate and the methodology used.
"This poll is as amusing as it is suspicious in that it was released hours before a debate between the two candidates–clearly meant to give the advantage to Andrew Gillum," said DeSantis surrogate Stephen Lawson.
The campaign criticized a polling sample that gave Democrats a 3-percent edge for a non-presidential election. Pollsters SSRS said the sample included 32 percent Democrats, 29 percent Republicans and 39 percent independent of third-party voters.
That NPA turnout, DeSantis officials say, also seems unrealistically high, as independents have never outnumbers Democrats and Republicans at the poll in a Florida statewide election. And in the past four general elections, Republicans outnumbered Democrats at polls.
This CNN survey is not worth the paper it is written on because the sample and weights do not reflect a Florida election," Lawson said. "It also makes no sense to use this sampling when you can buy Florida's voter file and voting history files for $10 and weight to those voter-level characteristics.
"That CNN takes this poll seriously enough to blast it out to their viewers right before a debate on their network is why so many Americans believe that CNN peddles fake news."
The poll showed that of those surveyed, 83 percent say they already have their minds made up and 16 percent may still change their mind. Among likely voters, 88 percent say they have already decided and 11 percent may still shift allegiance.
But notably, Gillum's voters seem the softest, according to the poll. Among registered voters, 82 percent of Gillum backers report they are solid and 17 percent could still change. For DeSantis's supporters, 85 percent say they made up their mind, and 14 percent have not.
That difference looks more stark among likely voters, where 90 percent of DeSantis voters feel certain and only 86 percent of Gillum voters feel the same.
The results notably stray far from an internal poll released by DeSantis today that showed the Republican with a 2-point lead. The numbers also look very different from a St. Pete Polls survey released earlier this week that showed the race virtually tied.
Senate edge
Nelson's campaign also found much to celebrate from the poll, though likely with more measured enthusiasm.
The poll found the incumbent with 49 percent of support among registered voters, compared to 45 percent support for Scott, with 4 percent offering no opinion and 1 percent expressing displeasure with both options.
Among likely voters, Nelson hits that critical 50-percent mark, while Scott stays at 45 percent.
Pollsters importantly report a 3.9 percent margin of error for registered voters and a 4.2 margin of error on the likely voter model.
But voters show much less certainty in the Senate contest than the governor's race. Among registered voters, 81 percent have their mind made up but 15 percent could still change their mind. Among likely voters, 86 percent feel certain on their choice but 11 percent still could change.
Again, the Democrat claims softer support. Among registered voters, 79 percent of Nelson supporters have made their final decision, while 82 percent of Scott voters report the same. On a likely voter model, 85 percent of Nelson voters feel certain compared to 88 percent of Scott supporters.
To the degree hurricane response played any role, Scott held strong positives, with 58 percent of all respondents approving of this post-storm response and 20 percent disapproving. For Nelson 36 percent approved and 23 percent disapproved
Other Findings
The poll, conducted for CNN by SSRS, found a plurality of registered and likely voters, 26 percent, listing health care as the leading issue guiding their vote, followed by the economy (253 percent among registered, 25 percent among likely) and immigration (15 percent for both groups).
Pollsters surveyed 1,012 Florida residents reached by cell phone and landline. The sample included 32 percent Democrats, 29 percent Republicans and 39 percent independent of third-party voters. SSRS weighted final results based on census figures for race, gender, age, education and region.