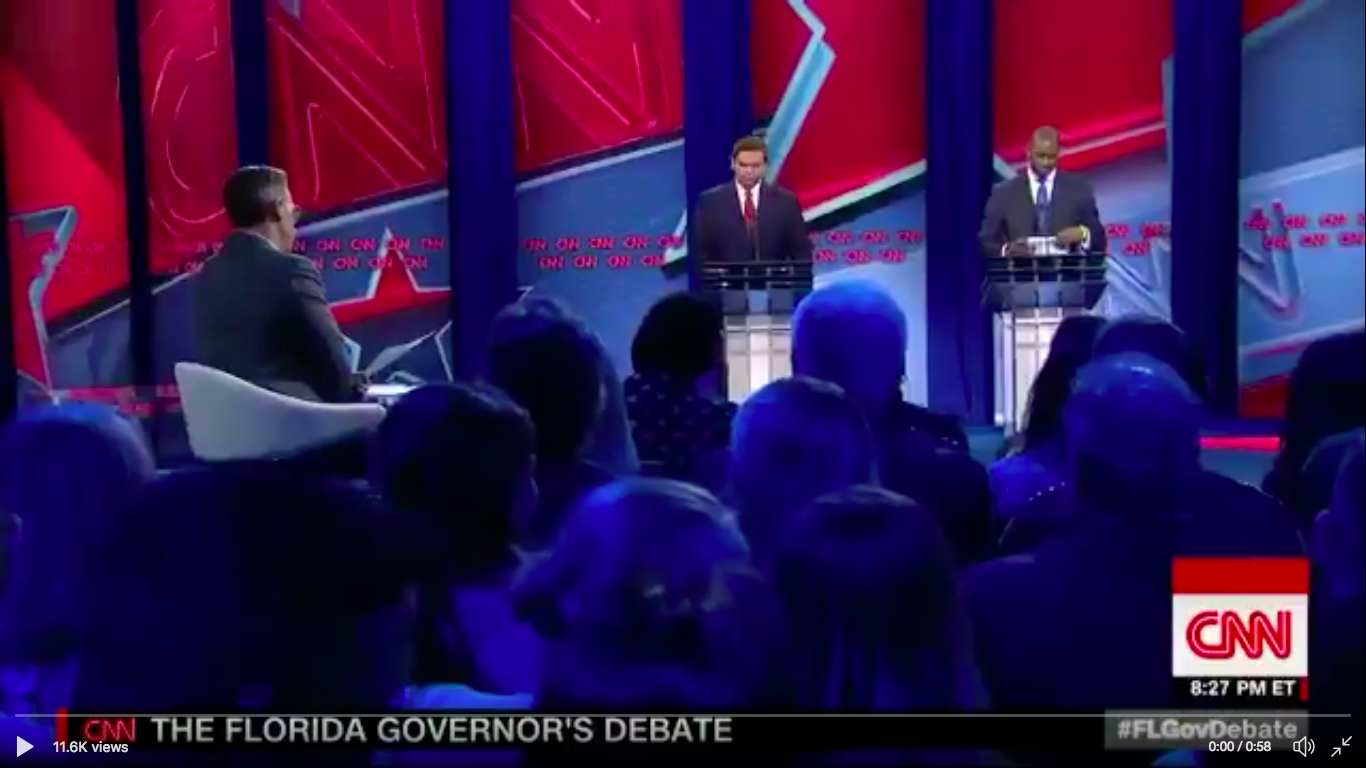 Florida's gubernatorial candidates took the debate stage—and met one another—for the first time in a debate hosted by CNN in Tampa.
Republican Ron DeSantis and Democrat Andrew Gillum traded barbs on President Donald Trump and the crime rate in Tallahassee, often delivering low blows amid high-minded policy points.
DeSantis stressed his record as an Iraq War veteran and a prosecutor, while Gillum spoke of his blue-collar upbringing. Old charges of racially-loaded language and inquiries about an ongoing FBI investigation made for an at-times-hostile conversation between the two men.
Personal Headaches
Moderator Jake Tapper raised specific issues that have plagued each candidate.
For DeSantis, that meant revisiting his infamous "monkey this up" comment and defending the fact he kept money from an individual who used a racial slur to describe former President Barack Obama.
DeSantis said he kept the money because the donor said he'd make a mistake. As for accusations he had demonstrated racism, he turned to his time in the armed forces.
"In the military, it didn't matter your race, we all wore the same uniform," he said. Similarly, he said as a prosecutor he helped victims of families regardless of race.
Gillum said DeSantis showed a willingness to use racially charged language early in the campaign.
"The truth is, I've been black all of my life," Gillum said. "So far as I know, I will die black."
Tapper pressed Gillum on an ongoing FBI investigation, one which the Democrat asserted has never been about him personally. Tapper specifically asked about his former friendship with Adam Corey.
"We all have friends that sometimes let us down," Gillum said. "I am not under FBI investigation and neither is my city government."
DeSantis, though, pushed on details, like tickets to "Hamilton," allegedly purchased as part of a sting and about a trip Gillum took to Costa Rica.
"He's dealing with an undercover agent posing as a contractor who he was on a junket with in New York City," DeSantis said of his opponent. "We went to a Broadway show with an undercover agent."
Policy Disputes
The debate touched on plenty of policy as well. DeSantis strongly touted his endorsement from The Everglades Trust, though Gillum noted one of its three board members since announced his dissent and his support for the Democrat.
DeSantis touted a recent vote in Congress to fund construction of a reservoir south of Lake Okeechobee, a possible solution to blue-green algal blooms that follow discharges into the Caloosahatchee and St. Lucie rivers.
"I ran in the Republican primary stressing the need for clean water," DeSantis said. "I stood up to the most entrenched interests in the state of Florida."
But Gillum said he held the strongest environmental credentials of the race, with support from national environmental groups. He said DeSantis voted 33 times against clean water in Congress.
"I appreciate the fact he is an election year environmentalist," Gillum said of DeSantis.
The two sparred heavily on health care. Gillum stressed the need for Florida to accept funding for the Medicaid expansion, which would help 800,000 additional Floridians get health care.
"I will hold down $6 billion from the federal government, that right now is being given away to other states because we philosophically disagree with getting folks access to health care," Gillum said.
But DeSantis kept pushing on Gillum's position as a move to single-payer health care, something he said would kill Medicare for seniors and take away insurance programs used by veterans.
DeSantis said such a plan "will make the V.A. waiting list look like the FastPass line at Disney World."
Gillum said DeSantis had opposed protection for individuals with pre-existing conditions when he voted more than a dozen times to repeal the Affordable Care Act. DeSantis said he's sign a bill as governor to make sure those with such conditions have access to insurance.
On guns, DeSantis said he did not support the Parkland bill because changes to age restrictions on guns would lose in court. Gillum said the position stemmed from DeSantis' unwillingness to challenge the NRA.
Federal Relationships
The subject of DeSantis' kinship with President Trump and Gillum's antagonistic relationship drove a large chunk of discussion.
"Donald Trump is weak and he performs as all weal people do; they become bullies," Gillum said. "Mr. DeSantis is his acolyte. He's trying out to be the trump apprentice."
But DeSantis said his relationship with Trump and his administration will be valuable as governor. He cited the president's support for a reservoir and willingness to exclude Florida shores from offshore drilling expansion as examples.
DeSantis said Gillum won't have Trump's ear because the Democrat has called for his impeachment.
"I don't want to be involved in the Washington food fight any more. I've been there, done that and got the T-shirt," DeSantis said. "I'm in position to a advance Florida's priorities."
Gillum, though, said personal friction between himself won't prevent him from working as governor in tandem with the White House when appropriate.
"You can look at how [Republican Gov.] Rick Scott and I worked with each other in there aftermath of this hurricane," Gillum said. "Now he and I don't agree on much on public policy, but when it comes to dealing with natural disasters we put the mess to the side and we get the job done."
That's not so easy in D.C., DeSantis said.
"That's not the way it works. The president has got too many irons in the fire," DeSantis said.
"Not with this president," said Gillum.