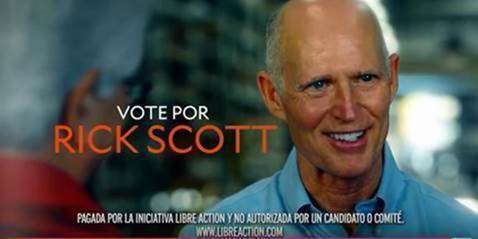 A pro-Rick Scott group today rolls out a new series of Spanish language ads promoting the Republican senatorial candidate.
LIBRE Action, a Tallahassee-based conservative Hispanic outreach organization, released two new video spots.
"Latino families across Florida are eager to support a candidate who is focused on real solutions that address the challenges we face as a community and as a nation," said Daniel Garza, senior advisor for LIBRE Action.
"Gov. Scott has been a champion for Latinos and a partner on the issues that matter most. He has shown his commitment to effectively serving a broad and diverse constituency, which includes engaging and listening to the concerns of our Latino community. This is why LIBRE Action is encouraging Latinos to vote for Rick Scott this November."
One of the spots promotes Scott, and encourages voters to elect the two-term governor to the U.S. Senate.
The other attacks Democratic incumbent Bill Nelson, with the message the three-term senator "failed Hispanics in Florida."
The group in the past has stressed Scott's work for Puerto Rican communities with economic opportunities.
"When you ask Puerto Ricans across Florida who has been present in the community, and who works for their priorities, you don't hear the name Bill Nelson," said LIBRE Action spokesman Wadi Gaitan earlier this month.
Rick Scott has constantly been active in the community fighting for solutions to the everyday challenges Hispanics face. Latinos deserves better than a politician like Bill Nelson who has continually been absent."
It's been clear for the months that Scott's chances of unseating Nelson depend largely on winning a higher share of the Latino vote in Florida, and Democrats have voiced concerns that might happen.
A poll last month showed Scott winning Hispanic and Latino voters by double digits. While more recent polls showed Nelson winning that demographic, the voting bloc this year proves to be among the most coveted in the federal contest.
The ads are below.