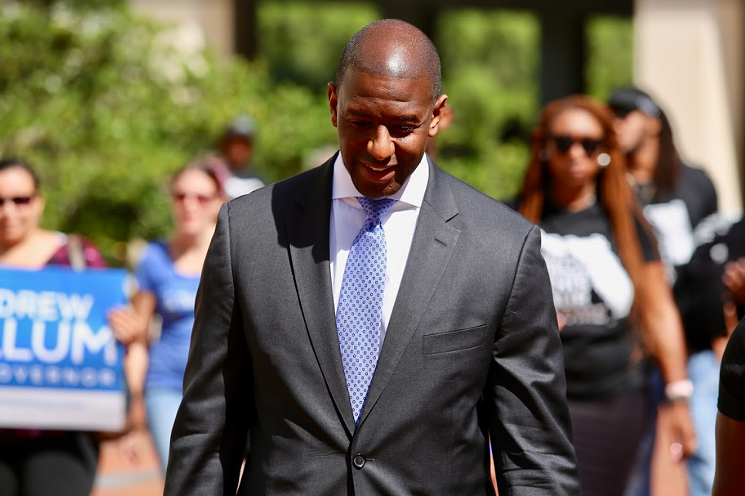 With a handful of days to go before the general election, Democratic gubernatorial nominee Andrew Gillum will be in Tampa for a Saturday evening fundraiser.
The event will be hosted by Shumaker, Loop & Kendrick attorneys Ron Christaldi, Carlye Morgan, Patrick Baskette, Erin Aebel and Linda Saul–Sena at the Shumaker Offices, 101 E. Kennedy Boulevard Suite 2800, from 6:00 p.m. to 8:00 p.m.
Among those joining in on the event as co-hosts are former Florida Education Commissioner Betty Castor, former Hillsborough County School Board member Doretha Edgecomb, Hillsborough County Clerk Pat Frank, former state Sen. Arthenia Joyner, Tampa City Council member Frank Reddick and Hillsborough School Board member Tamara Shamburger.
The event invite lists contribution levels ranging from $500 to $10,000, with the funds heading to Gillum's affiliated PAC, Forward Florida. Those interested in attending the event can RSVP online or by contacting Nicolette Springer via phone at (407) 484-3656 or email at [email protected].
As the general election approaches, most public polling has put Gillum ahead of his Republican rival, former Congressman Ron DeSantis. According to the RealClearPolitics polling average of the race, Gillum currently has a 5.8 percentage point lead.
Fundraising wise, DeSantis has the edge with a combined $41 million raised between his campaign account and political committee, Friends of Ron DeSantis. He had $3.2 million in the bank on Oct. 12. Gillum has raised over $30 million between his two accounts and had $4.4 million on hand on through the same date.
The fundraiser invitation is below.