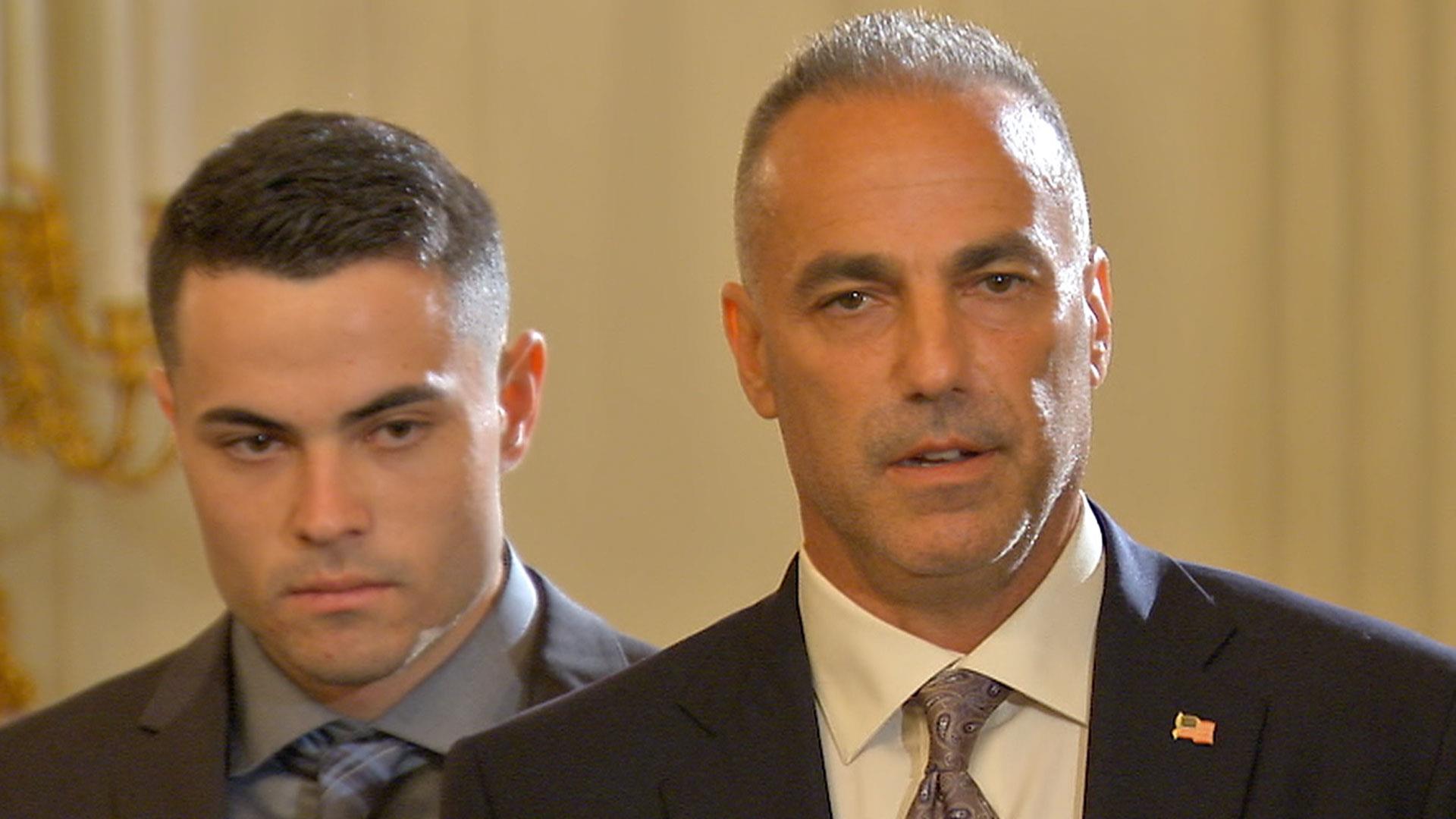 A family member of one of the victims killed during the Parkland school shooting is acting as Ron DeSantis' latest surrogate, as the Republican gubernatorial candidate attempts to discredit his opponent's relationship with police in the days leading up to the election.
Andrew Pollack, whose daughter Meadow was killed during the Marjory Stoneman Douglas High School shooting that left 17 dead in February, is featured in a new robocall paid for by DeSantis.
In the 45-second spot, Andrew Pollack suggests a DeSantis victory will "ensure that no parent loses their child in a school shooting again."
Democratic gubernatorial candidate Andrew Gillum, on the other hand, is "now saying that he will defund the police, and keep them out of our schools," Andrew Pollack says. 
"That's wrong and it's dangerous," continues Andrew Pollack, who introduces the call by noting his relationship to Meadow Pollack. "And it puts our kids at risk."
Near the end, the Parkland father makes his case even clearer: "Don't vote for Andrew Gillum, he's dangerous for Florida."
Gillum's relationship with police and crime has become a focal point for attacks from DeSantis' campaign. In the first debate between the two candidates, DeSantis accused Gillum of signing a pledge containing a "radical manifesto."
The organization behind the pledge, Dream Defenders, says "the police and prisons have no place in justice and that law enforcement should be defunded and the money diverted for welfare programs," DeSantis charged during the Sunday evening CNN debate.
The pledge signed by Gillum, however, was a promise to not accept money from the National Rifle Association, and return any donations to date. It was also a promise to not accept donations from private prison corporations.
But included in the signed pledge is a promise to support the "Freedom Papers," which contains a much more radical series of promises.
And that stipulation has provided fodder for DeSantis. It's what's led Pollack to claim that Gillum "will defund the police, and keep them out of our schools." It was also used by Florida Police Benevolent Association President John Kazanjian during another robocall attacking Gillum. 
During a Wednesday night debate, DeSantis again brought up the pledge. But Gillum maintained that the pledge was only a rejection of private prison money.
Following the tragic Valentine's Day shooting, Andrew Pollack was one of many to wade into political activism. He was an early supporter of Gov. Rick Scott's senatorial bid and starred in an ad released by Scott's campaign earlier this month.
Gillum, who has also been criticized for the crime rate in Tallahassee, where he presides as Mayor, has been endorsed by at least five Florida sheriffs.
You can hear the robocall here.
—
Background provided by Florida Politics correspondent Jacob Ogles.