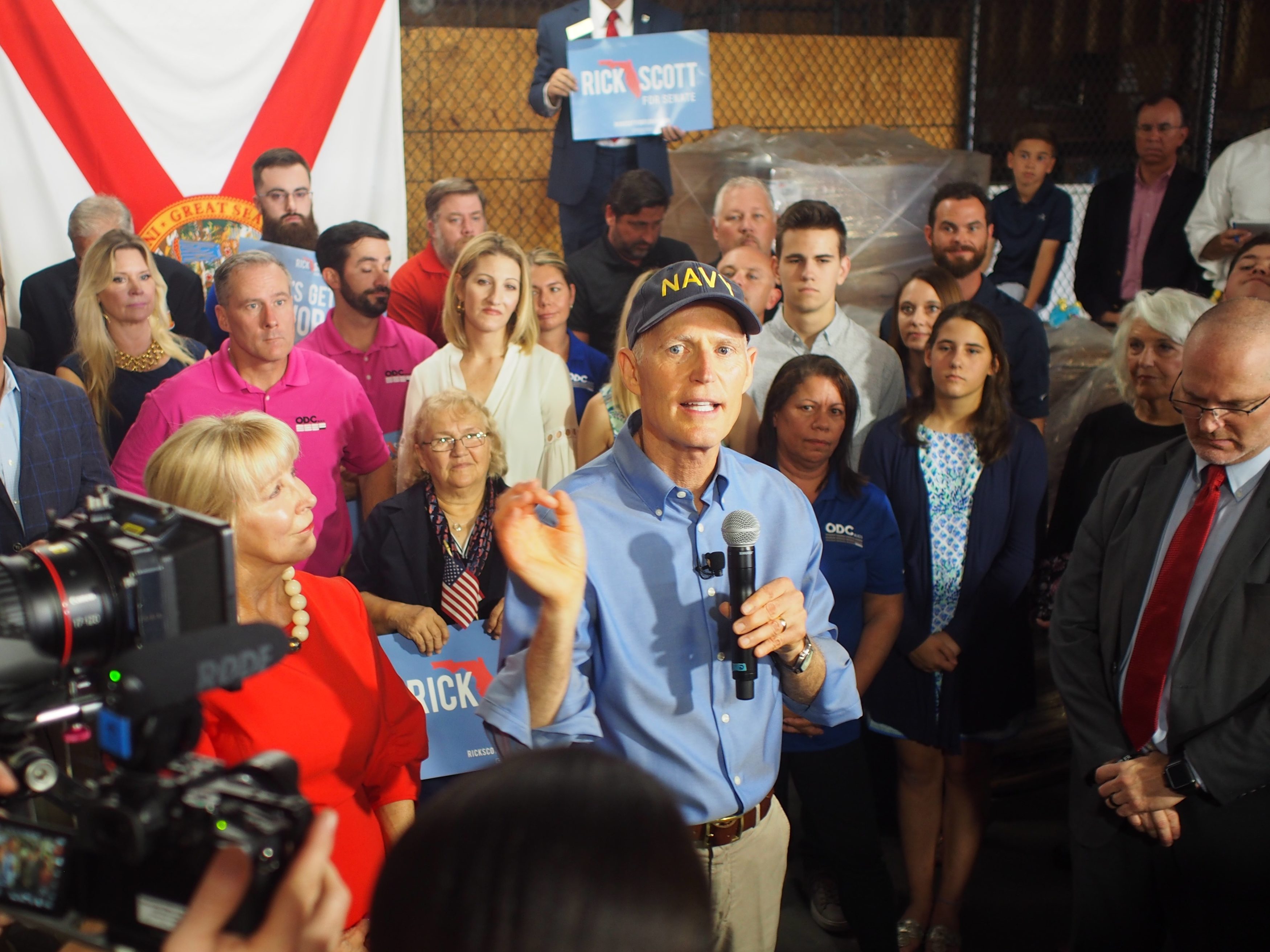 Republican U.S. Senate nominee Gov. Rick Scott will be returning soon to the campaign trail while still making recovery efforts from Hurricane Michael his first priority, his U.S. Senate campaign announced Friday.
The announcement did not say exactly when he'll be returning to campaigning or what events might be upcoming, other than his intention to join President Donald Trump and Republican gubernatorial nominee Ron DeSantis at the rally in Fort Myers next Wednesday. The statement emphasized that the campaign will not be his primary focus over the next 10 days before the Nov. 6 election.
Scott's taking on Democratic U.S. Sen. Bill Nelson for Florida's U.S. Senate seat.
On Oct. 15 his campaign announced that Scott was stepping away for the foreseeable future from actively campaigning and that First Lady Ann Scott would take his place on the trail so that he could focus his efforts on recovery from the Oct. 13 Hurricane Michael recovery. Nonetheless, Scott's campaign used footage of the governor's hurricane recovery efforts in campaign advertising.
Some GOP insiders have posited — or, more accurately, demurred — that Hurricane Michael served as an opportunity for Scott to continue keeping Trump at arm's length. The last time Trump came to the Sunshine State to stump for Scott and DeSantis, the term-limited Governor was miles away from the Florida State Fairgrounds holding a private campaign fundraiser fundraiser. Of course, Michael also gave Scott the opportunity to don his signature Navy ball cap and and play the steady hand during a crisis.
"With hurricane recovery still ongoing, Gov. Scott's primary focus will continue to be working to solve problems and coordinating efforts by federal, state and local officials to make sure communities devastated by Hurricane Michael can get back on their feet. Recovery has been going well, but there's still a lot of work to be done and Gov. Scott, unlike Bill Nelson who said he'd done everything he could do after one week, will continue to work to restore those communities until his last day in office," a statement from his campaign spokesman Chris Harline read.
"Gov. Scott will, however, be rejoining the campaign trail in the final stretch leading up to the Nov. 6 election. He will also continue to visit the Panhandle on a regular basis. The Governor's Office will continue to keep you updated on that," Hartline's statement continued.
That will include efforts to get out the vote at community events, businesses and churches.
The sequel to the July Trump rally comes as DeSantis is lagging behind Tallahassee Mayor Andrew Gillum in the polls and Scott is essentially tied in his race with incumbent Democratic Sen. Bill Nelson.
A survey released Monday by St. Pete Polls showed the Nelson and Scott deadlocked at 48 percent apiece, while other polls have shown similarly close results. As of Friday, election forecaster FiveThirtyEight says Nelson has a 75 percent chance to earn a fourth term next month. Their forecasting model predicts Nelson will win 52-48 percent on Election Day.
The forecasting site gives Gillum even better odds in the Gov. race, with his current chance of victory measuring in above 80 percent. An average of public polls compiled by RealClearPolitics shows Gillum leading the race by 4.5 percentage points. The RCP polling average for the Nelson vs. Scott contest shows a 3.2 percentage point lead for the incumbent.