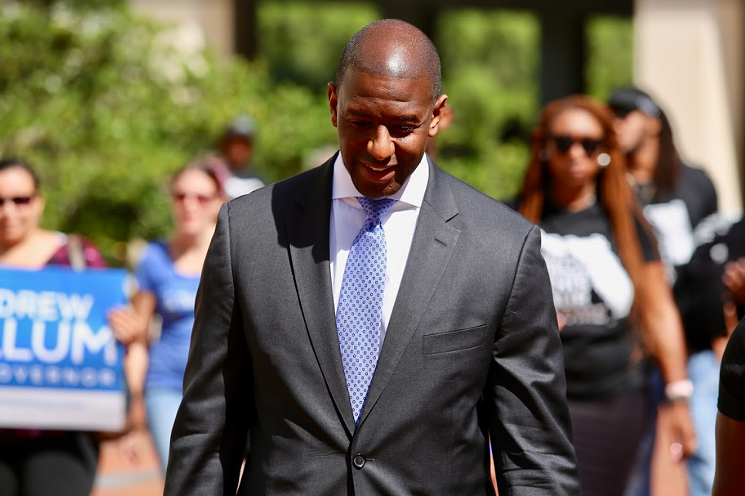 If Election Day were today, Tallahassee Mayor Andrew Gillum would "bring it home." At least in the Tampa Bay area.
That's according to a new survey from Public Policy Polling that found the Democratic nominee with 50 percent support among likely general election voters living in the Tampa media market.
His Republican rival, former Congressman Ron DeSantis, was the pick for 45 percent of respondents, with the balance undecided.
The PPP measure, conducted Oct. 25-26, is the latest of many polls to show Gillum leading DeSantis, but it is one of a handful to get into the weeds on top-of-ticket races within a specific region of the state. The most analogous is the St. Pete Polls measure of Pasco County released earlier this week showing DeSantis with a 52-44 percent lead.
Pasco County made up 14 percent of PPP's sample, while Hillsborough made up a third and Pinellas accounted for 28 percent. The remainder hailed from Sarasota County (13 percent) and Manatee County (10 percent).
Also included in PPP's poll was a measure of each candidate's favorability score as well as some top-line results for the U.S. Senate race between term-limited Republican Gov. Rick Scott and incumbent Democrat Sen. Bill Nelson.
When it comes to favorability, DeSantis is the more likable guy among Tampa Bay voters — 47 percent said they had a positive opinion of the three-term Congressman compared to 45 percent who said the opposite. His plus-2 score beat out Gillum's plus-1.
When it comes to the Nelson versus Scott question, the region prefers to stay the course, favoring Nelson 49 percent to 46 percent. Just like the race for Governor, holdouts account for the remaining 5 percent.
The positive numbers for the top-two Democrats on the ballot come in spite of respondents handing President Donald Trump a plus-2 on his job performance thus far, and self-identifying as Trump voters in the 2016 election 48 to 44 percent.
Republicans made up 42 percent of the 524 voters polled, followed by Democrats at 41 percent and independents at 17 percent. More than three-quarters were white, and the gender split was 53 to 47 percent, advantage women. By age, voters under 45 made up 20 percent of respondents, the 46- to 65-year-old bracket accounted for 45 percent with the balance being voters over 65.
The regional results track with the statewide polling averages compiled by RealClearPolitics. In the Guv contest, RCP says Gillum is up 4.5 percentage points. In the U.S. Senate race, RCP says Nelson is 3.2 percentage points ahead of Scott.
With only a handful of days until it's pencils down on the 2018 cycle, elections forecaster FiveThirtyEight says Nelson has a 75 percent chance to earn a fourth term. The site also says Gillum has an 80 percent chance of breaking the GOP's 20-year monopoly on the Governor's mansion.
Election Day is Nov. 6.